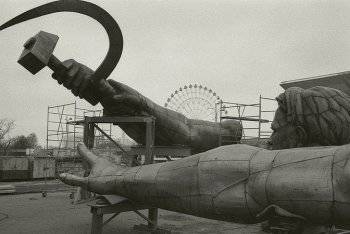 Part of 4. Not the last car in the Urals
I can imagine what a torrent of words will cause the continuation of my article. More than sure that some readers on this site have already mentally "buried" me. I have no doubt that someone, rubbing his hands, called me a coward. Well, is it so, bourgeois citizens? ..
At once I will make a reservation that for the people who wrote positive reviews, the 1-th paragraph in general does not apply to any side. You, who are not afraid to intervene for the author, writing such "uncomfortable for the ears" things, as always, thank you with an earthly bow.
However, not just angry, but, I would say, poisonous abuse with saliva swearing after the part describing my vision of labor relations, there was so much that I decided to devote more time and printed signs to the answer to it.
First of all, I would like to cite a couple of sentences from a book about an outstanding German fighter pilot, Erich Hartmann. To reject possible accusations of sympathy for the Nazis, I'll emphasize that as an enemy of my homeland I hate him, but I bow to his skill, 352 of victory is not a joke. For comparison, our Ivan Nikitovich Kozhedub - 64 victory.
So, the words from the book:
- Healthy criticism helps to work. But the senseless vicious swearing does not cause any other feelings, except disgusting regret.
How accurate! What is called "the apple." I am all of you, sprinkling poisonous saliva, to the depths of my soul pity. Yes, what makes you think that I need your mansions in the Mediterranean, yachts and "Bentley", stupid in conditions of Moscow "traffic jams"? I understand that with your short little bit, directed exclusively towards profit, it is even impossible to assume that there are still people living in the name of other values ​​?! Finally, what makes you think I'm a beggar. Yes, the one whose lines you are reading now is much freer than you. His head does not hurt about "throwing partners", the need for timely delivery of financial statements, borrowed money that you have to give. Among other things, being a "free artist", I don't have to execute stupid and "corporate rules" that are mostly inappropriate to the legislation of even the current bourgeois government. I am happier than you a hundred times, try to believe.
As far as I remember your feedback, the one who wrote about the "throwing partners" and called me "milk sucker" wondered what, after such an "unbearably heavy" share of the Russian bourgeois, to give someone some of his money in the form of a New Year award. I answer a question with a question: who ever said that this money is YOUR money? - Do they to a lesser extent belong to the one who worked for you and earned an increase in New Year's gifts to kids?
As for the complaints of the bourgeoisie about the "hard" life, besides sincere laughter she could not arouse anything in me. We know your "difficulties" - you can not change the car once a year, right? Or the fifth floor of a country house still can not finish? - Yes, I am exaggerating, but I do it intentionally, so that they understand if it is hard for you, your workers are ten times harder. And if initially they are not sure that they will be able to pay people on time and with dignity (DECENTLY, and not "on average in the market"), then don't undertake to create business. Or create, but without wage workers.
In other words, many of the "difficulties" of the bourgeoisie he himself creates. Example. One of my friends works for an individual entrepreneur who has several shops (3 or 4 already, I do not remember). So, the owner of these stores NEVER borrow money for development. He had the initial means - he opened 1 with his shop, earned money for opening 2 - he opened, and so on, but only for what he ALREADY earned. If I'm not mistaken, I waited several years to get the 3 point. And nothing, and New Year's premium diligent sellers pay to find an opportunity. The worst thing that threatens him is a ruin "to zero", but even in this case, nothing will have to be given to anyone.
Another very common reproach in your feedback was the complete conviction that if you raise wages, then immediately and prices will jump. Have you, who wrote this, ever read it carefully? Remember:
- Making the salary increase, observing the labor legislation to the letter (in this sense, labor law should become even more important than criminal or tax law), at the same time compelling not to raise the price of the products!
- This is from the previous part.
Of course, if you follow the salaries only, and the prices continue to be let into "free flight", then the depreciation of money (according to your "inflation") will become eternal and monstrous. Therefore, of course, prices must be curbed. How? - And all the same ...
Draw yourself a picture. Simplified. A certain owner of a chain of stores, among others, was ordered to raise wages, among other things. For this, his profits were checked in advance and found out how much he pays, and how much he could. He did this (did, did, did not want the consequences, which I will describe further in this part of the article). But the next day, the shoppers who came to the store were unpleasantly surprised by twice or even three times the prices. Some of them appealed to the consumer rights protection service (by the way, I also propose to hand it over to the subordination of the state security Commissariat). And after an hour or two, people in uniform or in civilian clothes, but with IDs, come to the owner's home (or where he is), and ask:
- By what right are you, brute, prices raised? After all, before you were ordered to raise salaries, the state considered everything. You and your family that a million rubles a month (well, purely for example, maybe 300-400 thousand) is not enough, life is bad ?! Do you want to know what is really a bad thing? ..
Our bourgeois in confusion, maybe he soaked his pants already, shouting:
- Do not ruin, fathers family (or something like that)!
To him in response:
"Okay, we are not fiends, return the former appraisals, but in the order of punishment you will post an announcement that everyone who has bought your goods today may come with a check and return the money, leaving the goods for themselves."
I hope it turned out intelligibly ...
I will answer also to the person who wrote that the proposed by me is "non-socialism". To be honest, after the following reviews, I'm ready to agree already. But if you destroy private property immediately and all (I don't even talk about strategic industries, they can only belong to the state, that is, to the people), this is where the economy can really collapse. Therefore, I believe that partly - to return to the state, but partly - to leave in private hands, while "playfulness" of these pens to temper. Well, and of course, it's stupid and harmful to ban the same shoe shops or tailoring workshops.
Someone else artel mentioned. Mention something mentioned, but completely forgotten that the artel is a collective property, the total, therefore, of all the workers in it, and not the sole. So, do not confuse the constitution with prostitution ...
I agree with those who called my article "theory". Yes, so far this is only the desired, and not valid, but YET! And when building a house, probably, you first draw a plan, or not?
In this first half of the introductory will be considered successfully completed, we went further. As promised, let's talk about the fate of the simple human happiness that is stubbornly unwilling to ordinary people.
Cheap labor and who it will be.
Alas, not even in a fair state of labor with decent wages and decent conditions. Yes, and cheap labor, which with a pickaxe and shovel will be engaged in the "zero cycle" of production in the undeveloped expanses of Siberia, the country also needs.
Who will go in freight cars to work out their guilt and build happiness for those whom they oppressed before?
First of all, the inhabitants of all sorts of "rublundy", which would be inappropriate to be left free. For those who do not know, I will inform you that in our country even now there is a CRIMINAL liability for non-payment of wages (Art. 145.1 of the Criminal Code of the Russian Federation). That's just the most severe punishment provided by the second part of it (this is when you did not pay anything at all) - 3 year imprisonment. Weak, is not it?
Why not to translate a gross violation of labor legislation into a criminal offense? And it is not at all necessary that this could be a non-payment (or delay) of wages. More precisely, the refusal to give a person honestly earned, condemning him to poverty or crime - is at the height of blatant arrogance, for such 15 years "it's not a pity". And there are fewer sins: refusal to provide timely leave, recruitment to work on weekends and holidays without the employee's consent and paying overtime to him, trying to dismiss a pregnant employee not to pay a "decree", just trying to illegally dismiss a person because actually did not commit, the notorious "fines" for "not so stood up", "not so sat down", "he told the wrong leader" ... the list of actions will pull to the page. To the desire to do such things have disappeared, does not prevent "those who wish" to prescribe "treatment by labor for the good of society" to the east of the Urals.
Again, justice here is probably very accelerated. Do not forget that it is not always correcting to pay for the volumes that were cited on him, but he also needs to pay for the contents in the camp, food, and clothing.
Maybe one of the readers will now think whether it is not too stern to equate the greedy bourgeois to a thief or a murderer. No, just right! Not to pay a person a salary is, in your opinion, not stealing from his pocket? And the creation of intolerable exhausting conditions (without days off and passing) - at least, causing grievous bodily harm, and even slow killing.
At the same time, I have no doubt that they will be among those convicted of labor crimes and those who, in addition to the first, managed to accomplish ordinary (including economic) crimes.
And for the "fullness of sensations" I suggest that the ranks of rich men sent for correction to replenish with thugs from the North Caucasus, fishing with "jihad" and selling Russian people into slavery. Let yourself feel what they were doing.
Needless to say that the first two types of prisoners will be used in the most difficult, harmful, and sometimes simply overworked jobs. Mines, digging of channels, peat development, laying of tunnels - everything for them. I propose to solve the task of organizing their residence simply in the best Stalinist traditions - the party of prisoners who arrived first builds camp barracks on a plot of land fenced with barbed wire. You can use the abandoned residents of the settlements, at the same time restoring them. Who knows, suddenly, over time, you will need more? Hastily built camps - a good opportunity to escape? - I agree, but let us remember how this problem was solved in the time of Joseph Vissarionovich. And just sent to places where nature itself became the watchman.
We'll add "illegal migrants" to the army of prisoners being formed. And what happens, they lived with us, although we did not invite them, worked for a penny, thereby lowering the level of salaries in the country, and now they will take them home at our expense ?! "No, let them work their way home." In short, then: women and children in common wagons we immediately send to
historical
homeland, but let their husbands and fathers work the road for themselves and for their families.
It is clear that the same Kyrgyz and Tajiks (of course, provided that, apart from illegal border crossing, there is nothing more behind them, and this is worth checking) you can be sent to labor camps for a period of only one and a half to 3 years. They didn't come to work for us from a better life, they don't have much evil. But Russia is not the eternal "mother Teresa"! Spoil us life, answer!
It is wise to use prisoners from among illegal immigrants in another kind of work. In contrast to the first two groups of "personalities," these too harsh punishments did not deserve. Many of them worked on construction sites. So let them build in the camps. Only not in Moscow or other major cities. They could well be sent to the construction of settlements for the Russians, which we will then invite from the same Tajikistan or Kyrgyzstan. Today, there is no support for compatriots from the former Soviet republics, but here they will immediately be offered free housing. And those who illegally enjoyed the hospitality of Russia will build this housing. In my opinion, fair.
For clarity, again an example. 2-3 Thousands of Asians are being thrown into the taiga (maybe even into an abandoned village) in late spring. The task is to build housing before the winter. If they are built, they should definitely survive the winter in their own houses. Guess why? - That's right, to check the quality. If they survive in such a way that nothing will be defrosted in the village, will not flow and will not fall apart, then the early release and the general carriage in the direction of the sultry south. Flow, collapse, fail - restore, dear ones. So that our Russian compatriots whom you did not give life to in Central Asia, at least at home (or apartments) in a new place, immediately received, suitable for life.
But it is senseless to build one housing, enterprises are needed near settlements. Well, their construction of uninvited guests can also be puzzled. It is clear that the Kirgiz nuclear power station, which is not capable of connecting two words in Russian, will not build, and why not a small factory (or the same farm in the countryside).
The presence of prisoners in the army of the country will solve another problem - it will give many new jobs. After all, someone will need to protect them, heal, manage their work. Can you imagine what a good opportunity to become camps for unemployed young people from a bent province? Especially if at the place of work (or service) of the same security guard or a foreman, or a foreman, or a medical worker, they will provide free housing.
Today, many young people from provincial towns and villages go to torture happiness in major cities, where they forget about the profession they have received, live by taking a corner. And here is the opportunity! - Of course, in Moscow more fun than in the Siberian countryside, but if the salary offered in Siberia is two times higher, just for isolation from the outside world? Well, and not forever ... As they say, stand up, and Moscow will not run away anywhere.
On this cheerful note, I conclude another part of the article, next time I will share ideas about agriculture and, possibly, education.