According to our colleague Said Aminov, at the stand of the Research Institute of Instrument Engineering named after V.V. Tikhomirova, was published a detailed appearance of the promising air defense complex Buk-M3.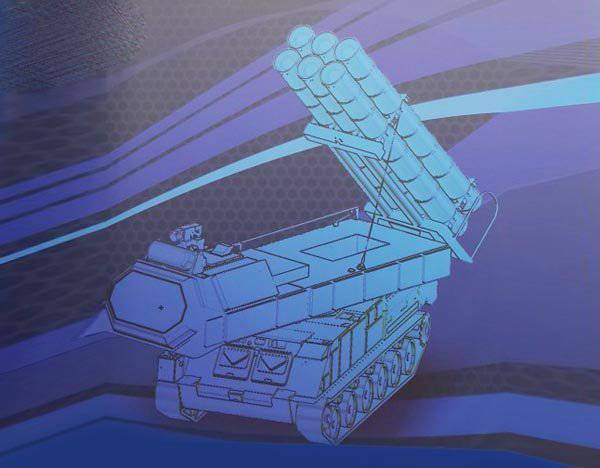 A graphic depiction of a self-propelled fire installation of the Buk-M3 anti-aircraft missile system was found on the Tikhomirov NIIP chalet. As can be seen, the tracked chassis, apparently, unified with the self-propelled fire installation of the Buk-M2 complex.
At the SOW, two rows of three anti-aircraft missiles are placed in individual transport-launch containers of the 9М317МЭ type. However, unlike the Shtil-1 ship-based air defense missile system, the launch of these missiles is not vertical but inclined. Radar target illumination is similar to the similar to the Sook Buk-M2.
Missiles are stored in hermetic transport and launch containers (TLCs) and mounted on mobile controllers for targeting. This solution greatly facilitates the operation of the complex. TPKs are a cylindrical container, hermetically sealed with rigid lids or semi-rigid diaphragms, in which the rocket is located from the moment it was released at the factory until the very start. It is made of metal or composite materials.
TPK protects the rocket from the external environment, simplifies the transportation and maintenance of the rocket, reduces the likelihood of vapors of propellant components in the atmosphere. The use of TPC has made it possible to reduce the mass of the rocket, increase its reliability and combat readiness, simplify the operations of transporting the rocket, installing it in the PU and preparing for the launch.
Also earlier, during the MAKS 2013 international air show, the image of a promising unmanned vehicle developed by Altius-M Kazan, an OKB Sokol jointly with the St. Petersburg group of companies Transas, was developed declassified.
From the outside, the Falcon OKB chalet was decorated with a panel depicting a previously unknown unmanned aircraft with the inscription aboard Danem. At the same time, many experts saw similarities with the promising UAV, which in February 2013 was demonstrated to Russian Defense Minister S. Shoigu during a visit to Kazan.