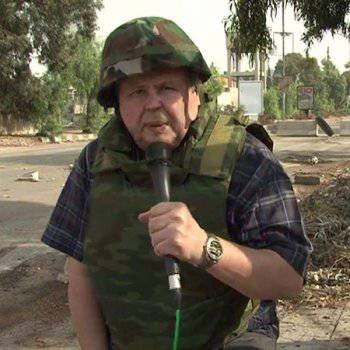 Camps for training militants from the CIS in Syria are headed by the personal bodyguard of President of Azerbaijan Ilham Aliyev. Marat Musin, a recently returned from Syria, told about this in an interview with Neuromir-TV, commenting on the information on the use of chemical weapons in the Damascus suburb of Dzhobare.
According to Musin, the West is promoting a terrorist elite in Syria. "When high-level professionals are knocked out into the elite, the rest, of course, will be set on the tail," he said, adding that Ilham Aliyev's personal bodyguard is involved in training camps for terrorists from the CIS countries. "The training camp for terrorists from the CIS is headed by Ilham Aliyev's personal bodyguard," he stressed.
The transfer of the main stream of citizens from the CIS countries to Syria, who are fighting on the side of opponents of President Bashar Assad, as noted by Musin, takes place through Turkey. "The Anglo-Saxons thought over all the logistics, like the Germans in 1940's," Musin compares.
"Citizens of the CIS countries penetrate Syria through Turkey. First they meet the Turks, who transfer them to the border, where groups are assembled. Taxi pulls up, throws them to the necessary points where they have to cross the border. Then the Turkish police car pulls up, collects documents, takes them to the station, scans them, arrives and hands them back. After they crawl over the border, they are greeted by Kyrgyz people who know Russian. Then they enter camps where there are a lot of Azerbaijanis. They are now put in packs in Jobar. NTRY in Syria make our fellow citizens from the North Caucasus now, we in Syria are preparing terrorist leaders who will return to Russia "in the future -. he said.