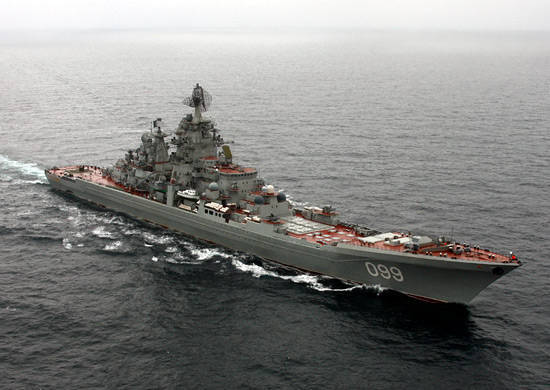 Today the squad of ships of the North
fleet
(SF) left the main SF base of the city of Severomorsk in the Barents Sea and headed for the eastern regions of the Arctic.
The detachment - the flagship of the SF heavy nuclear missile cruiser (TARKR) "Peter the Great", large landing ships (BDK) "Olenegorsky miner" and "Kondopoga", as well as support vessels of all main types - salvage towing and towing vessels, medium sea transport and tanker. Total squad has more than 10 warships and ships.
As the Commander of the Northern Fleet admiral Vladimir Korolev noted, under whose flag the detachment of the Northern Fleet ships went out to sea, "ships are proceeding as part of the activities of the Russian Defense Ministry and the High Command of the Navy to implement the Fundamentals of the State Policy of the Russian Federation in the Arctic for the period up to 2020 and further "In order to maintain the status of Russia as the leading Arctic power, strengthen its security and ensure the normal economic activities of the Russian Federation in the regions of the state nyh interests. "
A detachment of ships of the Northern Fleet will follow the route along the Northern Sea Route to the Novosibirsk Islands and perform a number of training and combat missions in designated areas in accordance with a plan to resume the regular presence of Russian Navy ships in strategic areas of the World Ocean.
This is the second large-scale campaign of the SF ships in the Arctic over the past two years. Last year, the ships of the Northern Fleet, also led by the flagship cruiser Peter the Great, conducted a series of exercises near the Northern Sea Route, and for the first time the Marines
stories
of the Russian Navy carried out the landing of the amphibious assault on the unequipped coast of the island Boiler house of the archipelago of the Novosibirsk islands.