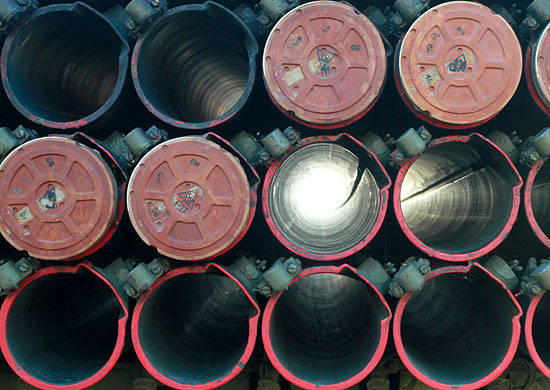 During the field output of artillery units at the Prudboy proving ground in the Volgograd region, artillery crews and combat vehicle crews are trained to conduct live firing from multiple launch rocket systems (MLRS) Tornado-G and self-propelled howitzers Msta-S.
Gunners master new artillery models, learn to equip firing positions, carry out their disguise, navigate the terrain, prepare data for firing.
MLRS "Tornado-G" entered but the armament of a motorized rifle formation of the Southern Military District (South-East Military District) as part of the state defense order in 2012. It is a deep modernization of the MLRS "Grad", but in comparison with it has an increased 2,5 times the range.
Due to the high mobility of the "Tornado-G" from the moment of launch of the last rocket in the salvo to the moment of its detonation, the target can go off to the distance of 5 km from the previous firing position, which increases its survivability. The installation can move at a speed of 60 km / h with a power reserve of one fuel up to 650 km.
The upgraded 152-mm self-propelled howitzer Msta-S with an automated guidance and fire control system ASUNO was also put into service last year. It is built on the 2C19 self-propelled howitzer chassis; it has long-range artillery weapons, armor protection and protection against
weapons
mass destruction, increased power reserve, has high maneuverability and autonomy of combat use.
Msta-S can fire Krasnopol-M guided missiles at small targets at a distance of 20 km. Thanks to the use of laser homing and high-explosive fragmentation warhead, Krasnopol-M effectively strikes various types of targets, regardless of their thermal, acoustic and other characteristics and degree of protection.
Unlike conventional artillery shells, Krasnopol provides destruction of point targets from closed firing positions with the first shot without zeroing.
More than 500 troops and 30 units of weapons and military equipment are involved in the field output.