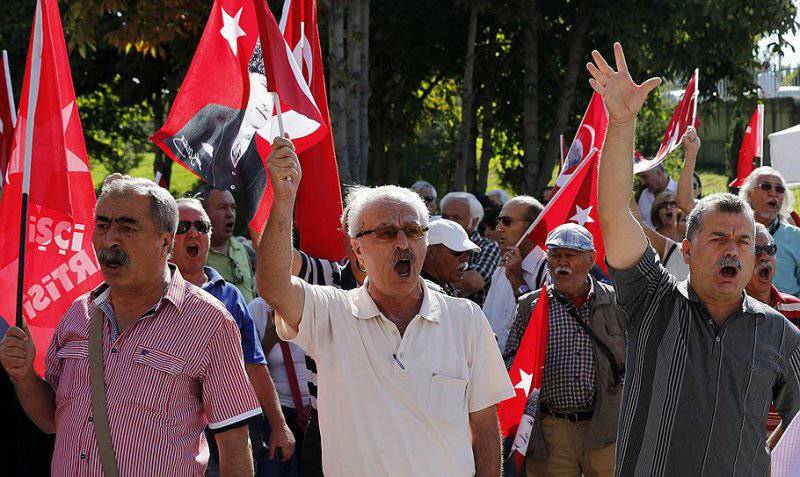 Turkey entered yesterday into a new stage in the struggle of the country's Islamist authorities with the army, which is considered the guarantor of the secular system. More than a hundred officers were brought to trial on charges of displacing the first government of Islamists in 1997, led by Nejmettin Erbakan, the predecessor and mentor of incumbent Prime Minister Recep Tayyip Erdogan, who had already initiated several demonstration trials of the military. The current one is intended to be another blow by the authorities on the ambitions of the generals.
Ankara's criminal court began yesterday a hearing on the "February 28 case." On this day in 1997, the military issued an ultimatum to the government of Necmettin Erbakan - the first Turkish Prime Minister of Islamist, the leader of the Welfare Party. The coup was called "postmodern" - unlike the previous ones, it was bloodless (the Erbakan government resigned, barely hearing the rumble of armored vehicles on the streets of Ankara), and no military dictatorship was established in the country.
However, the 1997 events of the year dealt a serious blow to the Turkish Islamists, who had to go underground. Erdogan himself, who served as mayor of Istanbul, was sentenced to several months in prison. The followers of Erbakan managed to regain their positions only five years later - in 2002, when Recep Tayyip Erdogan's Justice and Development Party (AKP) won the elections by a large margin.
The prosecution brought the first accusations of involvement in the 1997 events of the year to the military last year, after 15 years after the coup itself. One of the main suspects in the case is the retired General Ismail Hakky Qaradaya, who served as Chief of the General Staff. He faces life imprisonment.
The current process is another stage in the struggle of the Islamist authorities of Turkey with the army. From the moment when the criminal court in Istanbul issued a harsh sentence 250 defendants, most of whom are military, less than a month. They were all accused of collaborating with the Ergenekon terrorist organization involved in the attempted coup in 2003 - shortly after the AKP came to power (see Kommersant of August 6). A year ago, the court sentenced to imprisonment from 13 to 20 years over 300 military, who were accused of preparing a series of terrorist attacks in order to destabilize the situation in the country - this case went into
history
as "Sledgehammer" (see "b" from 24 September 2012 of the year).