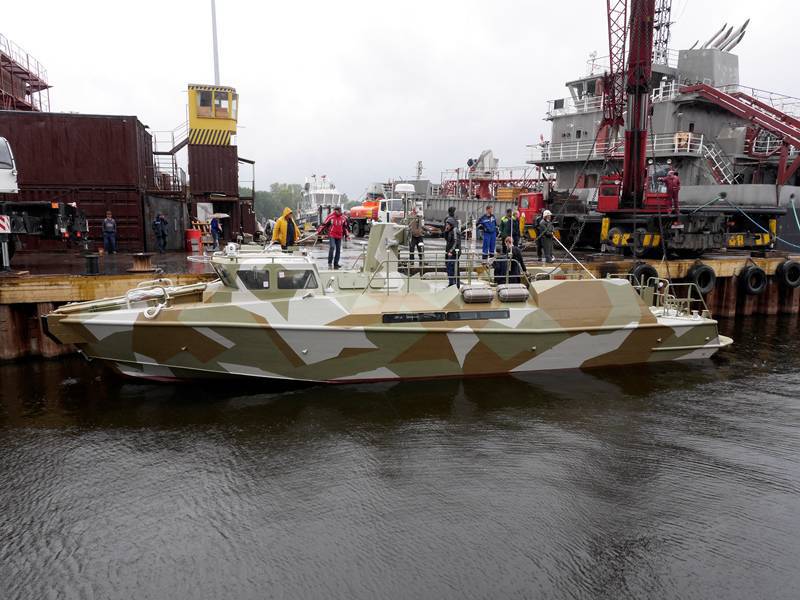 The Leningrad Shipbuilding Plant "Pella" (Leningrad Region) completed factory running trials of the head high-speed patrol boat of the 03160 Raptor project, designed and built on the order of the Russian Navy. It is reported by the press service of the shipbuilding enterprise.
The boat is designed to perform the following tasks on light and dark days: deliver a group of personnel of at least 20 people with the fastest possible speed when disembarking and landing a group; on duty in designated areas; interception and retention of small targets; rescue people in areas of duty.
Navigation area - coastal zone of the seas, straits, estuaries in the ice-free navigation period in the light and dark hours of the day, with distance from the place of refuge to 100 miles.
The main characteristics of the boat, confirmed as a result of the tests: maximum length - 16,7 m, maximum width –4 m, draft - 0,85 m, crew - 2 people, special personnel - 20 people, travel speed - 48 nodes, 23 displacement tons. The boat is armed with 14,5 mm remote-controlled fighting module "Uprava-Kord" and two 7,62 mm PKM machine guns.
The boat is supposed to be transferred to the state customer in September 2013 of the year.