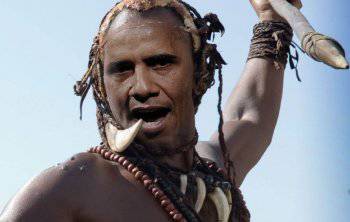 The US military attack on Syria reminded me of one hunting
history
from my old youth. When I was still spending my summer holidays in a remote village in Vladimir, a hunting rifle with cartridges fell into my hands — which made my relationship with my beloved nature at once complicated.
When I first went with a gun to a familiar and not terrible forest before, a feeling of fear seized me. I remembered that I had met here an elk, boars - and almost in vain I saw behind each tree their eyes, which were intently focused on me. It was precisely the fact of my armament that gave such an effect: how could they know that in my cartridges there was only a four-piece, solely on partridges, and not combat jacks? Suddenly, they will be mistaken for the enemy and attack for their own self-defense first? I am a hunter - no, and remember the name!
And at first, I even walked with a gun at the ready, stumbling over the hummocks and shuddering at every bitch crunch. Then, however, I got used to it: going for mushrooms, he hung a gun on his shoulder, hoping to shoot some bird out of those that had been fired every now and then almost from under his feet. But their trace was gone - as if noisy magpies in their bird language announced beforehand the rest of the birds about my intention.
But in the end, in the grove under the village, where I finally got a brood of partridges, I ran into a boar head-on - that's when I really slammed! Partridges with the crackle of their wings broke out of the bushes - but they always flew away in such a way that between me and them turned out to be a tree, shish shot. I went both way and that, all uselessly - and suddenly I heard someone sneaking in the bushes along the way. If there is another hunter, you need to warn him not to accidentally shoot each other, and I shouted: "Who is there?" - but there was no answer. Probably does not want to scare the game, I decided - and climbed into the bushes.
And of them to meet me - shaggy boar snout with carcass commercials in centner. The eyes are small, evil - and behind are striped boars, still, apparently, have not learned to run away from the person who disturbed their peace. And, apparently, their mother looks at me so fiercely that the soul goes instantly to the heels. They say what the hell, we lived here in the first place, they did not touch you, and you pushed it with your gun until you broke it! I perceived the threat of this ingot inaccessible to my shot more than real - and, pointing the trunks at it so that, in extreme cases, at least to knock out her eye, slowly slowly backed away. Just got out of the bushes, my legs turned me to 180 degrees and carried me to the village.
I was knocked down by fear only by a local resident who told me in horror: "There is a boar with boars!" - "And why?" - "Well, so terrible ..." He so neighed back, that I was ready to die no longer from fear, but from shame for your fear of being ridiculed.
But the gun all hangs on the wall - and calls for new feats. To the forest hunt after meeting with that boar that morally beat me, I completely cooled down - but under the village there was still a wide lowland with ditches from melioration, where I hit the duck hunting. But even here I was not lucky. For a week, lasagna in those ditches I scared a couple of ducks, but, unable to beat offhand, I didn't please any of them. Then I changed tactics: in the evening I started guarding them at the marshy lake, where they were supposed to fly for the night.
But they do not fly there and do not fly! A day does not fly, another; and I, having arranged for myself a caches on the bank, and I see it from him: with the last ray of the sun I plan to duck into the water, take it to the fly - and I'm no longer beating by!
And somehow, at dusk, someone with an obscure shadow really flies from the sky - but not on the water, but on the branch of a dry tree near. Even in the brain flashed: ducks do not sit on the trees! But I waited so much, in my hands a gun that had become sweaty from waiting, which had not yet caused any death to anyone, but put it intolerance is intolerable! .. And I, having decided that all of a sudden it was some kind of anomalous instance, I beat him, and he falls to the ground.
I run to him - alas and oh: this is not a duck at all, but an owl; and laughter and sin!
Conscience later, of course, tormented me - but not with terrible force: well, what can you do, kid, fool, was mistaken by inexperience, who does not happen! And in general, as it became clear to me a little further, the death of this innocent owl, who simply turned out to be in the wrong place at the wrong time, was not so much my fault as the gun itself that pushed me to sin. It had to, according to all the laws of the genre, to shoot one way or another - and the good thing is that everything cost one owl. Although the ducks, which seem not to be ashamed to kill, are not at all guilty of owls.
After such an unsuccessful beginning, I, having understood something for myself, nevertheless, with this hunt, did away with it forever. And our antipodes from America, on the contrary, were deeply entangled in her - that I, who had eaten this hunting bondage, is psychologically very understandable. When this gun is in your hands, everything in you is already itching to pull the trigger! Even more so if more than one day they were preparing for the shot, they were shot at the training grounds for a long time - but there is no new and no training victim! Then every owl will come for it - what Syria was for the United States, armed to the teeth and to the bone marrow. Politicians and analysts find here some economic and political reasons, but the essence is not in them.
Just like in my stupid youth, I wanted to take an owl for a duck - and took one for another, the states wanted to take their duck about the chemical attacks of Assad for a reason to unleash their trunks. And the thing is - in these trunks: if they are, itch, itch, and their powerful manufacturers only dream about firing of them, there will always be a reason for it. Moreover, the United States did understand international detente like this: freely, without the former rebuff from the USSR, discharge our barrels right and left.
To scare them once, if only morally, as I once had been protected by their boar forest rights - yes there is nobody. We, the miserable heirs of the USSR, increasingly hide only the speaker in the bushes, and then the head doesn't hurt, and sooner or later we will become such a duck into which the sin does not burn. Or an owl into which to burn is, of course, a sin - but not all God is for only a hunter who is looking for blood.