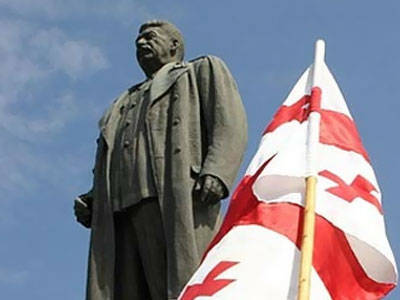 September 1, in the Georgian city of Telavi (Kakheti region), a monument to Joseph Stalin was unveiled. It is installed next to the memorial in honor of those killed in World War II.
The monument to the Soviet leader was created on the initiative of the public organization "Stalinist" and the Union of Georgian Veterans, a REGNUM correspondent reports. Money for him was collected from voluntary donations. They opened the monument in a solemn atmosphere - wreaths were laid at the memorial, and veterans read several poems dedicated to Stalin.
Earlier, Georgian President Mikhail Saakashvili spoke out against the restoration of the monument to Joseph Stalin. He called the communist leader "anti-Georgian." "Restoration of the monument to" anti-Georgia ", which committed anti-state and barbaric actions against the nation, will lead to the international isolation of Georgia ...", said the President of Georgia. Saakashvili was supported by the Secretary of the Security Council of Georgia Giga Bokeria. He made the same demands on the government. "I want to urge the prime minister and the new government to change this decision and not return the monument to the executioner in our cities," said Bokeria.