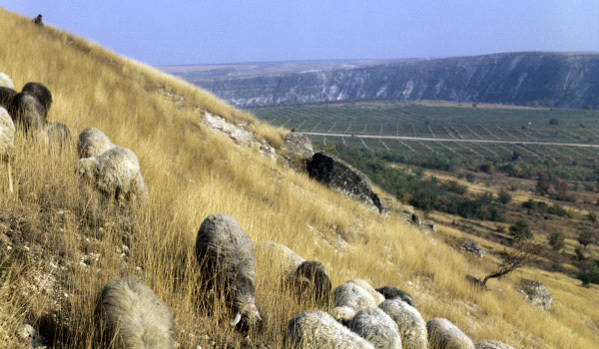 An officer of the Moldavian army was sent to graze sheep. The private shepherd and his parents said that they had not imagined serving in the ranks of the national army. However, the Minister of Defense of the Republic says that the case for a small and poor country is completely normal. In the intricacies of service in the Moldavian army versed correspondent "Voice of Russia".
Aleksey Byrke was drafted into the ranks of the armed forces in April of this year. Distributed in Kagulsky infantry brigade of the national army of Moldova. However, now the defender of the homeland looks like a tattered and starving village shepherd:
"I committed one violation and was sent here from the army to shepherd the sheep. For two or two and a half weeks I was here ... I eat what people bring ... Here we sleep, in the barn with other shepherds I sleep ... see for yourself - everything is dirty here, the lake is not far, sometimes I wash there, when it's not cold, when it's cold, I go to bed dirty. "
Upon learning of what was happening, Alexey's parents were outraged. At their requests, the management of the motorized infantry brigade reported that the soldier was sent to work as a shepherd of his own accord and initiative. Allegedly, Private Byrkay grazes army sheep needed to replenish the diet of employees with cheese, cottage cheese and meat. At the same time, the villagers claim that there are their own sheep in the flock. But the Minister of Defense of Moldova, Valeriu Marinuta, claims that the case of Private Byrca is normal:
"The army in our country must provide for itself, we are a poor country. Therefore, someone must grow corn, and someone to feed the sheep, so that the soldiers on the table have a variety of dishes - milk, cheese, lard, everything that is not included the official ration of the soldier. This is normal. Don't make tragedy out of it. "
The Moldovan defense minister has been subjected to frequent criticism - in four years, eight soldiers died for various reasons in a tiny republic. According to experts, such incompetence, coupled with the size of the country and its economic situation, is a serious reason for reducing the size of the army. Moreover, there are now six and a half thousand servicemen in the republic, but according to political scientists, its neutral status is fixed in the Moldovan Constitution. Therefore, it is quite possible that the poorest European country should completely abandon its own armed forces, since it cannot provide them with maintenance.