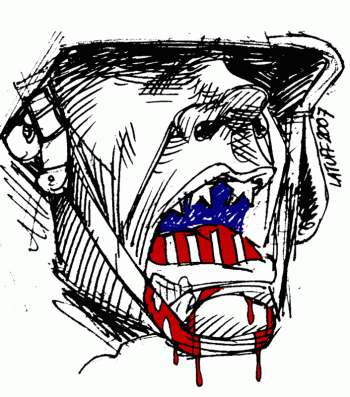 Last Saturday, Barack Obama addressed the Americans with a statement that the United States is ready to attack Syria without the approval of the UN Security Council. The grounds? In his opinion, the regime of Syrian President B. Assad should be responsible for what happened and should not be able to apply chemical
weapon
. That is, the United States has already decided who is to blame for Syria, and sentenced. However, Obama wants to get the approval of Congress, so the execution of the sentence is postponed at least until September September 9, when Congress meets.
Earlier, Obama, by the way, a law professor, said of the "meaninglessness of international norms," ​​since they do not allow the US to use military force at its discretion. That is, international law today for the United States is a simple thing: whom we want is bombed. Based on the "verified data" of its intelligence, an organization whose task is to mislead the competing countries of America.
Probably, the absurdity of such argumentation reached "where it is necessary", and it was decided to back it up: US Secretary of State John Kerry told 1 in September that new evidence of the use of chemical weapons in Syria had been obtained. "Blood and hair tests," taken from victims in the suburbs of Damascus, showed that they were exposed to a toxic substance - sarin. Moreover, according to Kerry, tissue and blood samples were "obtained in an independent way" from the victims, and they independently carried out the analysis.
Samples obtained from the victims ... Is that what: their bodies were provided? Or are the militants who cut off people's heads, cut out their organs and devour, and therefore they deserve absolute confidence?
Or in Syria, American special forces are already operating, but can you believe him because he is American? However, the main question: who applied sarin? - These analyzes do not respond, here the United States offers to believe the militants. And not a word about their humanitarian bombing for crimes against humanity.
Kerry believes militants so much that he said: Assad "ranked with Adolf Hitler and Saddam Hussein," who also used toxic substances against civilians. In this belief, the US militants are unconditionally supported only by Turkey and the monarchies of the Persian Gulf, perhaps because they are involved in the traffic of sarin by these same militants, information about this was in the press. And now they are all tied with one string ...
The speed of American chemical analysis is surprising, of course, while it will take two weeks for Europeans to process similar samples. It seems that the States already know that they will not be pleased with their European results, and they are in a hurry to present their "correct" ...
It is also surprising that Kerry had forgotten the shame of his predecessor, former Secretary of State Colin Powell, who, shaking a tube with a white powder in the UN, claimed that Iraq possesses weapons of mass destruction and therefore needs to be bombed. Then he justified himself: "Intelligence misled me." Tens of thousands of innocent people died, the whole country was destroyed, and the cost of their death was Powell's apology. And the American honor calmly withstands it: he did not allow himself a bullet in the forehead.
This is really dangerous when people with such a worldview are in power in a superpower ... We remember once former Secretary of State Madeleine Albright opened her mind: how unfair that Russia owns Siberia, and Richard Pipes, a historian and adviser to the US government, in an interview he said that Russia is worse than Bin Laden.
And after all, no one in America criticized them for such statements; the media somehow did not report this. Just admired the scandalous statements of people close to the US government. Who do Americans consider the peoples of the world? For the Indians who have not yet been placed on the reservation, as they did with their Indians in their own vast prairies?
Putin offered Obama to provide the UN Security Council with evidence of the use of chemical weapons by Syrian government forces, and to think hard before striking Syria. About what? Probably what will happen when the Syrian lies of America are revealed? Indeed, what will happen then? Such a global deception of the world will give reason to call the US an Empire of Lies. And Secretary of State J. Kerry will be in the company of Dr. Goebbels.