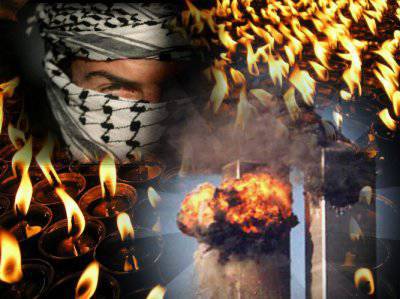 Each class has its own fundamental principle. What, for example, makes the teachers of a provincial high school breed bees instead of doing science? The reason is that for them it is the only way to at least somehow fix their family financial problems, because the income from the bees is much higher than the income from science. And is it possible to condemn them for this, because it is known, "what the fish is looking for, where it's deeper, and the man - where it's better!"
Sadly, this circumstance perfectly fits into the rather traditional view of things for millions of Russians, according to which in our state you can only "steal and sell!" On the other hand, this can be a pleasant hobby and a means of relieving nervous tension.
Here is also terrorism - in principle, exactly the same occupation, but only in a purely specific direction and carried out at risk for oneself and for others, and also having some reasons and goals. In addition, he, of course, destroys any society and creates a salutary ground for its destabilization, both "right" and "left". Well, any destabilization, again, to some groups of society is beneficial both politically and economically.
Suppose you have a company that builds underground bunkers for rescue on Day X. Naturally, you will finance publications in the most popular journals about the "end of the world," and about the fall of the asteroid Apophis, and about the impending nuclear war between Russia and China, and the imminent invasion of aliens. And this will be, incidentally, also terrorism, but only informational, the goal of which is to directly enrich your construction company by intimidating people who have something to lose! Accordingly, if you have a secret organization that sets certain goals for itself, and even financed from abroad, then ... it is clear that you simply cannot do without terrorist actions, if only legally for a part of the money you paid write off, and part - respectively bait.
Another thing, why ordinary terrorists go to terror? What motivates them? Desire for revenge? Clouding of mind as a result of convictions and sermons? Who knows ... Not so long ago, we met one dissertation work, the author of which cites a lot of references to reputable authors-scientists studying terrorism, as a phenomenon: "The theoretical and methodological basis for the conceptualization of the phenomenon of terrorism was created in the works of both foreign and domestic thinkers ..." - and then went to the list on two pages, which was read not to re-read!
That is - everything seems to be open long ago! You can take, study and ... resolutely end terrorism! But, despite the efforts of all these scholars, "things are still there" and, apparently, this problem is not solved, although today they give out grants and defend dissertations on the problem of terrorism. And here again, there are conclusions in dissertations on terrorism, but there is no way to overcome it!
Obviously, the "cause" is something attractive for some part of the population and we simply cannot get away from this! Of course, in this case, you can traditionally refer to the opinion of the above-mentioned specialists and look for an answer in their writings. But we, in this case, decided to act differently and turn to the opinion of the "popular masses", having carried out a simple study of the socio-economic and political processes in our society, because "the voice of the people is the voice of God".
Of course, this source is far from always convincing, especially if we recall how, in his tragedy "Boris Godunov", A.S. Pushkin spoke about the public opinion of the masses: "Senseless mockery / Changeable, rebellious, superstitious, / Easily empty hope is betrayed, / Instant suggestion is obedient, / For truth, deaf and indifferent, / And the fables feed on it." However, on the other hand, moreover, in the same work we also meet his other words about how the Pretender came to Russia: "Not by troops, no, not by Polish help, But by opinion; Yes! popular opinion ".
That is the opinion of the people makes sense, is not it? His collective mind finds the right decisions and assessments, judgments today instantly replicate and distribute the Internet, and as a result, the verdict of public opinion is sometimes far more accurate than numerous scientific studies, although nobody has, of course, denied the value of the latter. Public opinion polls are conducted regularly today, and we also conducted a survey in one of the provincial centers of Russia on the topic: "What, in your opinion, are the motives of people participating in terrorist acts?"
The survey sample was about 200 people, which may not be entirely indicative (the same "Romir" usually interviews 1400-1600 people in Russia), but, nevertheless, for a provincial city with a population of 500 thousand people, it allows to determine the main content of the opinions of a fairly large part of its population on this issue.
As it turned out, boys and girls under the age of 20 consider the main reason for the participation of people in terrorist acts to be mental injuries, psychological pressure and mental illness. But in general, this point of view adheres to 45% of respondents!
In second place - territorial conflicts, political views, impunity. On the third are such reasons as religious beliefs, manipulation of consciousness, the desire for heroism. Immediately behind them are money and other material interest, as well as the lack of proper upbringing, inner culture, ideology, propaganda and drugs.
Thus, the majority of people believe that the main reason why people engage in terrorist activities is connected ... with the presence of mental disorder! At the same time - it does not matter whether it is in fact or otherwise, - since people believe that this is so, then it is so - this is the effect of "mass consciousness". And now we note that in Russia, historically, there has not been a tradition to visit a psychologist, since, for example, it has long been accepted in the United States and, moreover, as we are told again: "They don't heal from the head in Russia! "That is, people are too poor to afford the luxury of visiting a good psychotherapist, hence the mass of phobias, borderline states of the psyche, mental disorders, and equally massive drinking. It turns out that one of the main causes of terrorism, both in Russia and in countries with a low level of economic and social development like it, is mass poverty, and the constant stress provoked by this poverty from which even shopping will not go away! It is possible and must fight this phenomenon, but it is very difficult, which is why it must be recognized that the problem of terrorism will not really have a forceful solution in the foreseeable future! Moreover, a very ambiguous result was obtained by a survey on our Internet base in Google. doc It turned out that 19% of respondents are potentially ready to assist members of terrorist groups !!! It is curious that this category of respondents stands out from the total mass of respondents by a number of characteristic features. Basically, these are young, educated men under the age of 30 who have a secondary vocational or even higher professional education. They cite heavy losses of life and the loss of the meaning of life as the main reasons pushing a person to participate in terrorist actions, and religious views and political convictions are singled out as the main motives for complicity with terrorists. That is, we almost one-on-one observe the social stratification of society according to the "Pareto law". And since a society with a ratio of 20 to 80 is considered stable, whatever processes it may concern, this can only mean one thing: today we are in a state where resorting to terrorist activities has become a kind of "norm" for representatives of certain social structures of Russian society . And it will be possible to overcome terrorism only if this proportion itself or the paradigm of social development changes !!!
It is enough to look into the comments of our citizens on
news
sites to make sure that discontent, ideas of violence and extremism are literally in the air, and in this particular case, on the Internet. So, we read:
News. Mile.ru
SuperCook.ru_ ENDING THE DISHES: Great Iran will soon free all Russian Muslims from the infamous Russian Orthodox yoke. The very name of Allah alone, as well as the pressure of the invincible warriors of Allah, will make the Russian admirers of the Jewish Orthodox God shudder and flee to Taimyr, defined for them by Allah as a permanent place of residence for infidel Russian kefirs. And only a circumcised Russian will be allowed to live in the Northern Urals.
Leonid Bozhok: To the wall of all the thief or to Siberia, on the Kolyma
These are just two examples (so as not to take up much space!), But on the Russian news websites there are one such statement out of every three. "All shot, hanged on the Kremlin wall, impaled, you need 37-th year", "Give Stalin!", "Death to Israel!", "Destroy the USA!" - the people themselves do not know what they write, but in this way dump accumulated irritation in the soul. However, this is also an important indicator of public mental health. In the "comments" there is no constructive dialogue, there is not even an elementary culture of communication, but malice, dissatisfaction with one's own position and envy of those who, one way or another, broke through to the "feeding trough" are abundant! So, a certain part of these people quite (under appropriate circumstances!) Can move from words to deeds, and here you have another terrorist act or aiding those who commit it!
Interestingly, the author of the above-named dissertation research came to the following conclusion: "The analysis of terrorism as a factor in the destabilization of modern society suggests that this socio-political and phenomenon is firmly established in the political life of modern society. In our opinion, the cause of terrorism lies in the growth of crisis phenomena, the inability of society to regulate complex socio-political processes, the rapid change of systems of human ideals and values. As a result, aspirations to exploit the weaknesses of the public and state system by means of terrorist influence are activated. " As you can see, everything is the same, but only said in other words, more clever and scientific words. And there is nothing about the fact that everything in this case comes from stress, bad heredity, spoiled psyche and ... poverty of the population of the country!