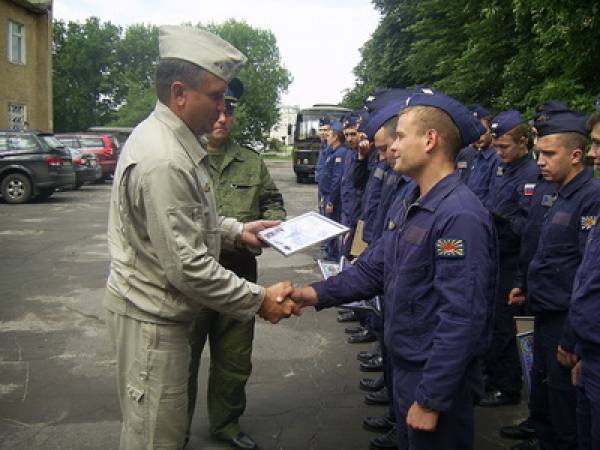 In August, at the Borisoglebskaya training airfield
aviation
base cadets of the faculty of front-line bomber and assault aviation passed the state exam in flight training. Fifteen graduates of the Krasnodar branch of the Air Force Academy brilliantly performed complex aerobatics flights. All of them - to the best - were rated "excellent".
Having been at the scene of the event, remarkable in the life of the air unit, it was also the fact that the current fifth year students were first released on Yak-130 airplanes, our correspondent met with the chairman of the state examination board for flight training (on the specialization of operational tactical aviation) Colonel Viktor Lyakhov and asked him to comment on what exactly provided such a high result.
First of all, Viktor Pavlovich paid attention to the examinees themselves:
- I carefully read their service cards and those reviews that were prepared by the pilot-instructors. The guys themselves are very disciplined, motivated to master a new type of aircraft and continue to serve in combat units in flight positions.
But, of course, the decisive role was played by another - the most serious attitude of the leadership of the Training Aviation Base, the flight instructors to its methodological training. The best specialists were involved in the training of cadets, and work with fifth-year students was organized according to a rather complex program of flight training. It began immediately after the on-site trial operation of the Yak-130 aircraft was completed. So, young people, who very soon, in October, will have to be distributed in accordance with the requirements for the flight personnel of the Air Force, are lucky. They were the first among the cadets who had mastered the difficult elements of flight training on the Yak-130. This includes flights at low altitudes, flights with complicated pilotage, flights at night. The average flight time per cadet for this type of aircraft was 64 hours 30 minutes. And overall, in terms of operational-tactical aviation, on average - 200 hours. It is really possible to recognize a good basic basis of cadet practice.
This fact was also noticed by the commander of the aviation training base of the 2 class (Borisoglebsk) Colonel Alexander Grun:
"I hope," Alexander Anatolyevich sincerely admitted, "that our graduates will adequately manifest themselves in the upcoming officer service, not forgetting that the Chkalov flight unit, which traditionally prepares pilots for the profile of attack aircraft, opened the way to the sky.
As for the guys themselves, who were rated in the sky by the highest score, they all rightfully considered themselves heroes that day. And again, only because they learned to fly on a new-generation plane, which, by its maneuverability and functional use, allows the pilot to master such sophisticated types of aviation technology as Su-27, Su-30, Su-34, MiG-35 aircraft other.