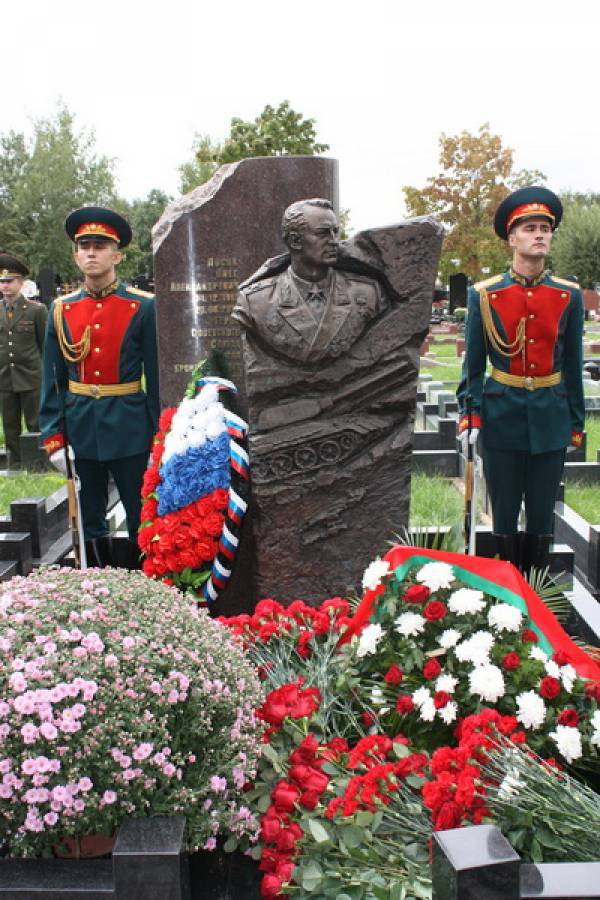 At the Troekurovsky cemetery in Moscow, the opening ceremony of the monument to the illustrious military leader, participant in the Great Patriotic War, Hero of the Soviet Union Marshal of the Armored Forces Oleg Aleksandrovich Losik took place. His whole military life was connected with
tank
troops - the main striking force of the Ground Forces.
To honor the memory of Oleg Alexandrovich came the deputy army chief of staff Alexander Lenz, chairman of DOSAAF Lieutenant General of Russia Sergey Maiev, Marshal Dmitry Yazov, Artillery Marshal Vladimir Mikhalkin, other veteran generals, representative of the Republic of Belarus Ministry of Defense, Major-General Alexander Nikitin, veterans of the Army troops, wars and local conflicts, relatives, friends and colleagues of the legendary tanker. Accompanying the opening ceremony of the monument, created on the initiative of Marshal Tatyana Olegovna's daughter, by sculptor Yaroslav Borodin, a member of the Moscow Union of Artists, was provided by the soldiers of the honor guard of the 154-th separate commandant's Preobrazhensky regiment.
Oleg Aleksandrovich Losik was born in the 1915 year in the Smolensk region. In 1938, he graduated from the Saratov Armored School. Being the commander of a tank brigade, he was among the first to liberate Minsk. He commanded the troops of the Far Eastern Military District, in 1969, led the fighting to defeat the Chinese aggressors who invaded Soviet territory in the area of ​​Damansky Island. For 18 years he headed the Military Academy of Armored Forces. After his dismissal from the Armed Forces, he continued his active work as the inspector general of the Russian Ministry of Defense. In addition, he headed the board of the Chevalier's Club of the Order of Zhukov at the Moscow House of War and Military Veterans.