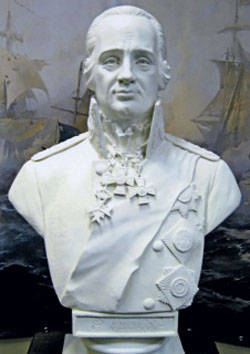 In the capital of Russia, a presentation of the bust-monument to the outstanding Russian naval commander Admiral Fyodor Ushakov by sculptor Nikolai Kuznetsov-Muromsky was held. The presentation took place with the participation of the Greek Embassy in Moscow and the military diplomats of Hellas. And this is not by chance.
At the end of the 18th century, Admiral Ushakov provided invaluable assistance to the Greek people in gaining independence and protecting the territorial integrity of the country, the state system of the seven islands of the Hellenic Republic. Moreover, the Russian naval commander autonomously wrote the Constitution of this independent republic, the most democratic document at that distant time. And by agreement with the current Greek government, a bust of an outstanding Russian military figure created by a Russian sculptor will now be installed in the Military Museum of Thessaloniki.
But this is only part
news
about Admiral Ushakov. Another part of it is that the initiator of the creation and installation of the monument to the outstanding Russian naval commander in Greece is a retired colonel, Assistant Chairman of the Committee on Defense of the State Duma, public figure and national diplomat Igor Novoselov. He is known for promoting Russian
stories
and culture. On his initiative and thanks to his enthusiasm, monuments to outstanding Russian writers and poets have been erected in various capitals of the world. In particular, only Alexander Pushkin in 17 countries of the world. Among them, naturally, Eritrea, and then Colombia, Bosnia and Herzegovina, China, Slovenia, Turkey, Bulgaria, Switzerland, Iraq, Luxembourg, Norway, Serbia, Kazakhstan, Armenia and South Korea.
Moreover, Colonel Novoselov is doing all this completely disinterestedly, at the expense of well-wishers. By the way, the necessary donations for the creation of a bust-monument to Admiral Ushakov were allocated by the Russian Admirals Club, headed by Colonel-General Ivan Skuratov, Rear Admirals Alexander Kondrashov and Nikolai Matyushin. The state provides an enthusiast, as well as sculptors cooperating with a retiree, with moral and diplomatic support rather than financial support. But it's not about money, of course. The main thing is that a person has an interesting and exciting business. He found himself, and this passion gives a charge of his creative energy. That in our life very much.