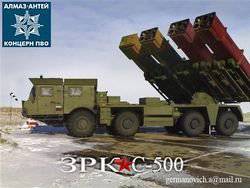 A promising C-500 anti-aircraft missile system capable of destroying targets in space, which is currently being developed in Russia, can be put into service as early as 2017, a high-ranking source in the Russian Ministry of Defense reported on Friday.
"A prospective C-500 anti-aircraft missile system is under development. It is planned to put into service in 2017 year ", - quotes the source of the RIA"
News
».
He recalled that the C-500 will be able to destroy targets even in space.
At the same time, about a year ago it was reported that the first set of C-500 Russian Armed Forces can be obtained for trial operation already in 2013.
The last chief of the General Staff, Army General Nikolai Makarov, noted that C-500 will be created at two new Almaz-Antey factories - they were planned to be built within two years.
The newest complexes are planned to be used as part of the Aerospace Defense Forces (WKO), and they will cover the entire Russian territory.