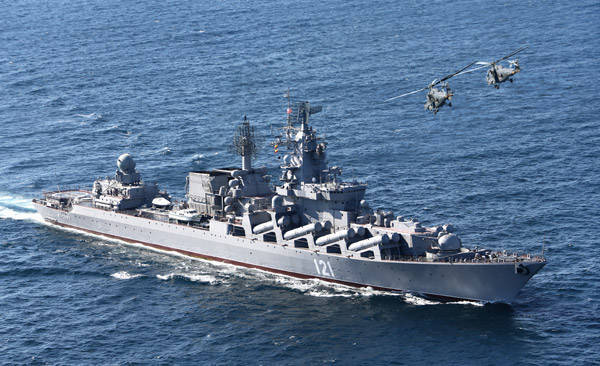 Naval command
fleet
In connection with the situation around Syria, Russia decided to renew the naval staff of the permanent operational formation in the Mediterranean Sea, a source in the Russian General Staff said on Thursday.
According to him, the situation in the Eastern Mediterranean has demanded from Russia separate adjustments in the composition of the navy group. In the coming days, it will be replenished by a large anti-submarine ship of the Northern Fleet, reports the Mayak radio station.
Later, according to the source, "the Moscow Black Sea Fleet's missile cruiser" Moscow "will join it, which is now completing tasks in the North Atlantic and will soon begin a transatlantic transition towards the Strait of Gibraltar".
In addition, according to him, in the fall the Mediterranean grouping of the Navy should be replenished by the Pacific Fleet missile cruiser Varyag, which will replace the large anti-submarine ship Vice-Admiral Panteleev, currently performing combat missions as part of the operational force, Interfax reports.
Earlier it was reported that the frigate Chevalier Paul ("Chevalier Paul"), one of the most modern in the French fleet, departed from the port of Toulon to the eastern part of the Mediterranean Sea. Prior to this, it became known that Washington sent two aircraft carriers to the Gulf region: Harry Truman and Nimitz.
The situation around Syria escalated after August 21 media, citing opposition to the statements reported the alleged use of chemical weapons in the suburbs of Damascus. Thereafter, in the West, where the application formerly known as sarin Syrian authorities under direct intervention in the conflict, openly talking about a possible military intervention in the Arab republic.
On Wednesday, NATO ambassadors stated that the information about the involvement of the government of Bashar Assad in Damascus under himatake confirmed from multiple sources, and British Foreign Secretary William Hague said the possibility of foreign intervention even without the unanimous support of all members of the UN Security Council.
Meanwhile, on Wednesday gave Syria's leading himataki UN inspectors investigating evidence that the republic's authorities did not use toxic substances. On Thursday, the media wrote that while the White House also can not provide indisputable evidence that it is involved in himatake Assad.