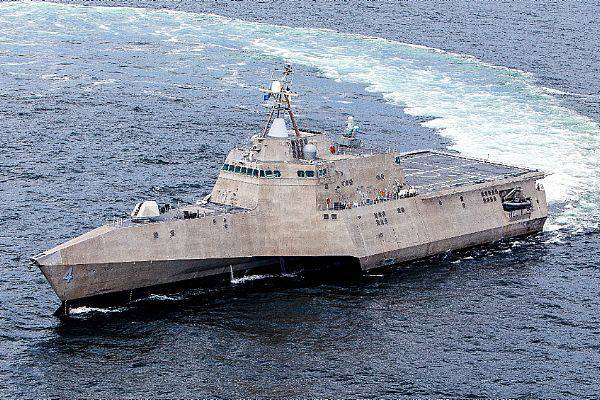 On August 23, the US Navy completed the acceptance tests of the USS Coronado coastal zone combat ship (LCS 4), ASDNews reports. Putting him in combat
fleet
scheduled for late September.
Comprehensive tests of the power plant, ship control system and auxiliary systems were carried out. During the tests, the ship brought the power plant to full power (continuous operation for four hours), self-defense systems from surface and air adversaries were checked, "high maneuverability" was demonstrated during sharp turns and speeds exceeding 40 nodes were achieved. Construction and testing of the ship were based on the experience of its predecessor - USS Independence (LCS 2).
Currently under construction are Milwaukee (LCS 5), Detroit (LCS 7), Little Rock (LCS 9) and Sioux City (LCS 11) (Marinette Marine Corp., Martinetta, WI) and Jackson (LCS 6) ), Montgomery (LCS 8), Gabrielle Giffords (LCS 10) and Omaha (LCS 12, are built at the shipyard of Austal USA, Mobile, Alabama). Wichita (LCS 13), Billings (LCS 15, Marinette Marine Corp) and Manchester (LCS 14), Tulsa (LCS 16, Austal USA) are in the pre-construction phase.
The coastal warships LCS are designed for operations in the coastal waters of the enemy, where submarines, mines and small boats pose a great danger. To counter the threats of various kinds of ships developed by the innovative concept of the Navy, which includes a modular replacement sets of equipment and weapons.