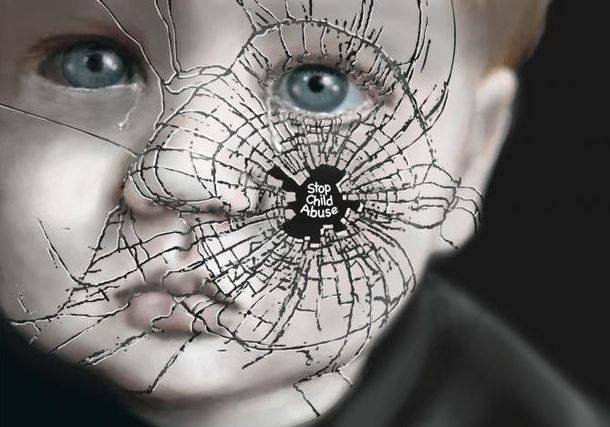 The mother hung the child up for the night on a hanger. The father dipped his son's feet in boiling oil. The stepmother brought the red-hot knife to the stepson's genitals with the threat of cutting them off. A married couple persuaded a woman to make and give birth to a child for $ 8 thousand, and then made him a "hero" of pornographic films - the boy became a victim of eight pedophiles. The epidemic of total child abuse has covered the United States.
Shovel for educational purposes
We are in Arizona, in the office of Childhelp, the largest national non-profit organization dedicated to helping victims of child abuse. Employees show us hundreds of letters of revelation. In these lines there are crippled fates, mutilated lives, a broken psyche. Fear and pain.
Ronald: "I was an active, talkative boy. Mother shut my mouth - I kept a towel on my face until I started wheezing and screaming that I could not breathe. I think mother hated us. I heard her beating her older sister, accusing her of sleeping with her father. " As a result, the boy ran away from home, but did not find protection from relatives. A cousin who worked at a gas station, once, as a punishment, stuck a rubber slug into the teenager's mouth to inflate car tires and let the air out. Ron's internal organs were torn to shreds, the doctors barely pumped him out. Only many years later, he decided to talk about his
stories
.
Brenda: "My mother started beating me from infancy. I remember, I was hiding under the bed when she threw at me everything that came to hand: irons, vases, chairs. This nightmare continued until I finished elementary school. It seemed to me that everything was over. But then my father got down to business ... Last time he beat me on the day of my eighteenth birthday. I ran away, went to another city. Now I communicate with them only by phone. So safer. Recently learned, they took a foster boy. I hope they will be kinder to him. "
Havenley: "Stepfather beat me with a shovel. Burned his buttocks with curling tongs. Once so hit in the face that I was nearly blind. He made me drink chemicals, eat food from a garbage can, threatened to feed me with feces ... Now I'm 19 years old, I'm constantly depressed, I can't build normal relationships with people. "
Lee: "Four years of bullying in your own home." I survived a suicide attempt, now I can smile. But the scars remained. The closest people took my innocence and stole my childhood. Will I ever really be free? These monsters raped my soul, killed my mind and dug a grave in my heart. "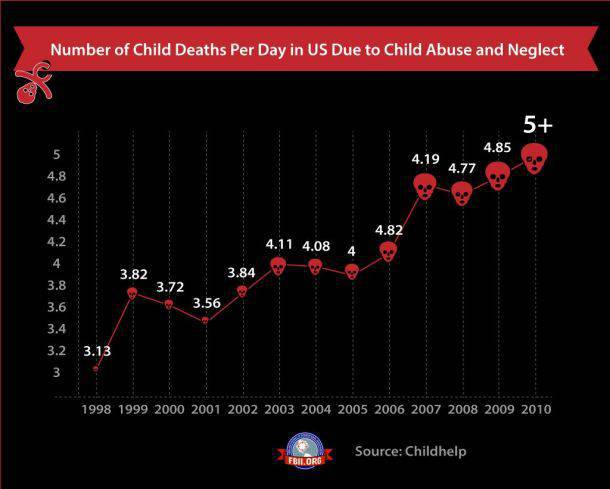 Five deaths every day
The facts from the Childhelp report on child abuse in the United States are shocking. Every day, only for reasons related to violence, more than five (!!!) children die in the country. Over the past 10 years, four times more children died from domestic abuse than soldiers in Iraq and Afghanistan. Thus, the authors of the study conclude, according to this indicator, the US has established an anti-record among all developed countries. The most common abuse of children is the neglect of their lives and interests (78,3%). In second place is physical violence (17,6%), then comes sexual violence (9,2%) and psychological (8,1%). 3,3 records millions of reports of violence against 6 by millions of children every year.
Four out of five who died as a result of violence, children were not even five years old. At the same time, in about 60% of cases, the death certificate does not indicate that the cause was precisely bad treatment. The true causes of the death of children in every way trying to hide.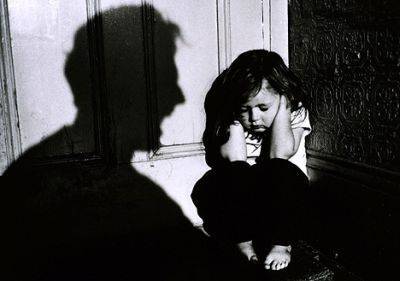 "The worst thing is that every year the situation in the country is only getting worse," notes Childhelp Development Director Michael Medoro. Since 1998, when Childhelp started keeping similar statistics, this monstrous figure has almost doubled. "Child abuse in our country occurs absolutely in all socio-economic groups, in all ethnic cultures and religious communities, regardless of the educational level of families. We note the fact that about 30% of abused children, later, already in adulthood, they also begin to mock their own children, continuing the terrible inhuman cycle ".
Last year, BBC journalists conducted a documentary investigation and came to the monstrous conclusion that over the past 10 years more than 20 thousands of children have died in the United States in their own home - at the hands of family members. They cite poverty as the main cause of such cruelty to children. It sounds absolutely crazy in relation to the most developed country in the world, but the fact remains that the majority of problem families needing help do not receive it, and children, in turn, are not provided with protection from the state.
Handcuffed from school
The American state does not stand on ceremony with its young citizens. Threat of life, imprisonment lurks children on the street and even at school. American education budgets are declining. Teacher qualifications are lower. All this led to a policy of intolerance, which ends in isolation, restriction of freedom, expulsion and - more and more often - the involvement of law enforcement agencies to punish children.
The news
about shocking incidents are full of newspaper pages of all states without exception. In Brooklyn, an autistic 5-year-old from preparatory class was injured by police. They were called to school when the boy began to have a tantrum, and the teachers did not know what to do. Arriving police officers simply twisted the boy, tied him to a stretcher and took him to a psychiatric hospital. When my mother and grandmother, who arrived at the scene of the incident, tried to intercede for the boy, the policemen handcuffed both of them, and their grandmother also broke a rib.
In Albuquerque, policemen handcuffed an 7-year-old schoolboy. The police were called after the child started running around the class, shouting and shooting with rubber bands at the teacher.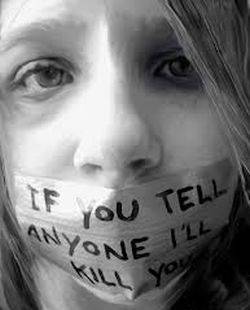 In Atlanta, disabled schoolboy Tony Smith sued the local police and school authorities for keeping him 7 hours chained to a closet. Tony was a witness of how one student took away two dollars from another. The police did not find anything smarter than how to use the "movement restriction" to get information out of the child.
In Idaho, police handcuffed and arrested Evelyn Tauri, 8-year-old. The incident began when Evelyn was not allowed to go to school, as she was wearing her favorite hoodie and embroidered cow from a cartoon. The teachers didn't like the sweatshirt. The girl started screaming and waving her arms, the teachers called the police, who took Evelyn to a juvenile prison.
And this is just the tip of the iceberg, the list of such incidents is increasing every day. School management does not take into account the characteristics of modern children. So, the 6-year-old Celesia Johnson case received a lot of publicity this year. She gave a tantrum in the director's office, but he did not calm her down, but simply called the police, who handcuffed the child.
In the American Civil Liberties Union (ACLU, American Civil Liberties Union) we were confirmed that the number of cases in which the school authorities use police officers to punish children for simple daily mischief has increased dramatically in all states. Moreover, this tactic is applied without considering whether it is a healthy child or a disabled person.
At the same time, the number of disabled children in the United States is growing steadily. The proportion of people with disabilities with various intellectual, emotional and cognitive developmental delays increases every year. It would seem that such statistics should excite the authorities of all levels, but in reality the situation is just the opposite, and school authorities are increasingly resorting to police force to punish schoolchildren.
Human rights activists from Oregon note that this practice primarily affects disabled children. There were even fatal cases. And this concerns not only ordinary schools. To pacify children with mental illnesses, the police are used even in specialized schools, where, it would seem, trained teachers should work.
For example, a patient at the Yonkers Children's Health Center, 16-year-old Corey Foster died after police called in to use force during his arrest. Later it turned out that the involvement of police officers to punish offenders of discipline is a common practice in this center. In Jackson (Mississippi), students of special schools for pacification are also handcuffed. In the state of Texas over the past two years, teachers 18 thousands of times used handcuffs to punish the delinquent students. And in the Rothenberg Center school, electric shock was generally used to violently calm children with autism in children.
Homemade sex rapists
We again leaf through the pages of letters. Sexual abuse of their own children has become a real scourge of modern America.
Cheryl: "I remember that they started beating me already at the age of four. Burn scars from cigarettes and hot coffee "decorated" my hands for the rest of my life. My mother married again, and my stepfather raped me, a minor, in front of her. He made me watch them have sex. Mother forced me to prostitution, forced me to take drugs, alcohol. I escaped from them in 16 years. "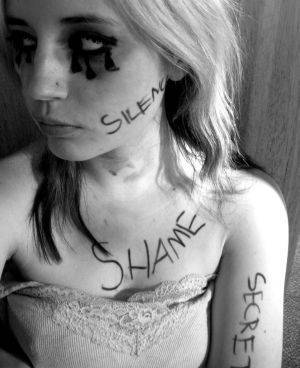 Jesse: "I was abused by my father and grandfather. My own father first raped me. And when in the summer my parents sent me to grandfather and grandmother, his father did the same. Grandpa daily forced me to crawl naked on it and have oral sex. They always said to me: what happens in the family should remain in the family. Many years later, it came to be an awareness of what these men did to me. "
Arian: "My parents divorced when I was about a year old. Then my mother had a boyfriend. He moved to live with us. Mom worked a lot, and I was left alone with him. At first he began to show me pornography, demanded that I did not say anything to my mother. Then he forced to excite his penis and engage in oral sex with him. Began to threaten. He began to buy me sexy clothes, underwear, thongs, so I put it on and looked at him when he masturbated. He photographed a lot of what was happening on his mobile phone. Soon he got tired of it, and he raped me. Then again. I cried, begged him to stop. I lost my virginity in 12 years. My mother did not believe me, called me a "whore", said that I slandered her boyfriend. Now I am 16 years old, and I already have a daughter. But can I forget what you did to me? Will I turn into a monster myself? "
The depravity, sexual promiscuity and depravity of modern America cannot be explained by this problem. Its roots are much deeper. This was partly due to the opinions spread by American doctors and teachers about the asexuality of children, expressed since the middle of the 19th century. The cultural heritage of those times when children were the property, "movable" plays a role, and the parent-owner had absolute control over their life and death. The dominant opinion was that children were insensitive, could not react to ill-treatment and could remember cases of violence against themselves.
Well! For the pedagogical sins of parents, their offsprings are paid for with their own body. And if you look wider, then the whole society. Children who have been abused become 60% more likely to become juvenile delinquents and 30% more often go to prison as adults. Among all female prisoners in the United States, more than a third were victims of violence in childhood. And among drug addicts, this figure generally reaches two thirds.
But the worst thing is that "one-story" America has become accustomed to all this and considers physical and sexual abuse of minors as an almost integral part of public life. Hell, which is happening in American families, has become so commonplace that it is almost not paid attention to - only horrible cases are received in the press. And as a result, America, always noticing the mote in another's eye, lives quietly with a huge log in its own. A log that gave rise to a real epidemic. Epidemic of child abuse!