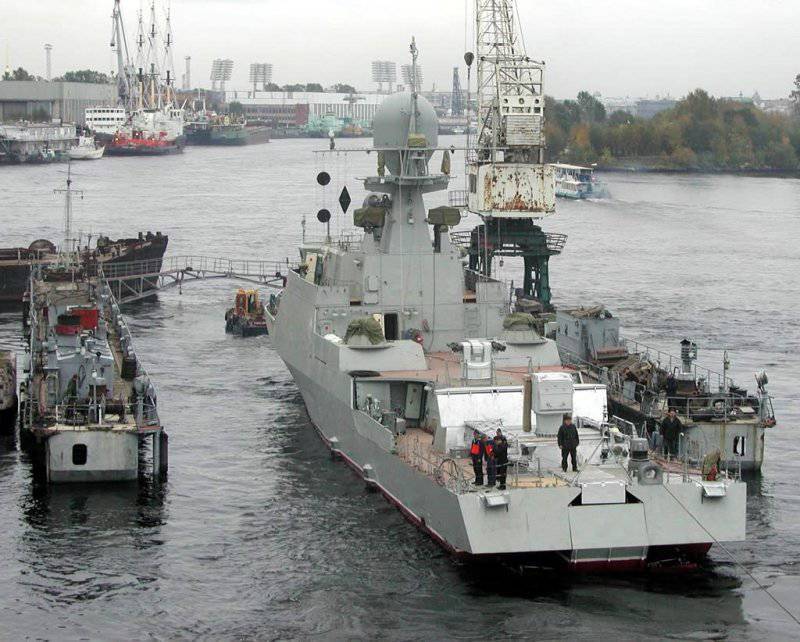 29 August 2013, on the eve of the Day of the Republic of Tatarstan, at OAO Zelenodolsk Plant named after AM Gorky (the company is part of the group of companies Holding Company Ak Bars) a solemn ceremony of laying the sixth of a series of small missile ship 21631 project development of JSC "Zelenodolsk design bureau".
Project 21631 small missile ships, being built by the plant since 2010 for the Navy
Fleet
Russia, are multi-purpose ships of the "river-sea" class, equipped with the most modern models of artillery, missile, anti-sabotage, anti-aircraft and radio-technical weapons. The purpose of the ships of this project is to protect and protect the economic zone of the state. The sixth ship of the project will be named "Vyshny Volochek".
The main tactical and technical characteristics of the 21631 project MRK:

displacement (full) - 949 t;
length (greatest) - 75 m;
width (maximum) - 11 m;
sediment amidships - 2,5 m;
speed - 25 nodes;
range (with 12 knots.) - 2500 miles;
autonomy - 10 days; crew - 52 people.
Increasing production volumes and reducing lead times allows the plant to implement a large-scale technical re-equipment program. It is planned to conduct an inspection of the next stage of modernization of the shipbuilding production with the launch of a robotic profile cutting line. This installation is intended for abrasive cleaning of edges for welding from the ground, automatic robot cutting with marking and barcode, sorting and stacking parts in cassettes and transferring to the assembly lines of flat sections and assembly lines of micropanels.
At JSC Zelenodolsk Plant named after AM Gorky, a large-scale program for the social support of workers is being implemented. And the next stage of the festive events will be the commissioning ceremony of a residential building built by the plant for its employees. In this house, which was built in just a year, 120 factory families will receive new apartments, which will become their property in 10 years of work in the company.
Representatives of the leadership of the Ministry of Defense of Russia, ministries and departments of the Republic of Tatarstan, leaders of the Zelenodolsk municipal district, the city of Vyshniy Volochek, JSC Holding Company Ak Bars, as well as representatives of the designer and counterparty organizations are scheduled to take part in the celebrations.