The first feeling that war is not only heroic films, books and stories of veterans, but first and foremost hard work came to me when I was a young fighter in the forests of Yaroslavl, a border cadet. Everything was unexpected - starting from daily physical exertion, when shooting was perceived as a rest, and ending with food, when gingerbread, thickly smeared with jam, was eaten by the whole platoon after the end. Then this feeling became stronger and even aggravated - after working on the subject of the "MSV on the offensive" we "attacked" the positions of the platoon of first-year students, who, respectively, defended themselves. From this training attack, two sensations remained in my memory: unpleasant, bordering on fear, when a freshman aimed me at the sight, and the second - enthusiastic, when, jumping over the trench with this cadet, and firing a blank at the parapet next to him, I saw his startle ... Then there were still many training and combat-training episodes, both funny and unpleasant, but these became a kind of landmarks.
Then there was every kind of life, the passion for military romance gradually turned into a serious interest in military conflicts, from there, in connection with the change of activity, to an interest in propaganda, ideology, etc. But interest in military topics remained. Books, documents, testimonies, our and foreign, frankly biased and with a claim to objectivity.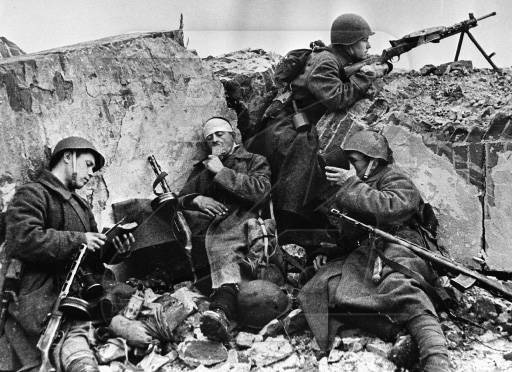 The realization that war is not only hard work, but also a very heroic death came when a sufficiently adult man first saw the remains of Soviet soldiers thrown out of the grave (nurses) by some marauders. Actually, it was ours that we managed to establish only by fragments of straps and a pair of sleeves from the "three" found nearby. This picture made an indelible impression on me, brought up in the spirit of the words "the war is not over until it is buried ...", which were spoken by large and small heads for almost my whole life. So indelible that to the question of a much more experienced friend: "See how our soldiers defended the Motherland?" I answered, almost without thinking: "I see how Motherland took care of its protectors".
Then there was a lot - nurses, planned, mounted, whole and broken, with bullets and shrapnel, buried by our and Germans ... And the traces of the war. Everywhere. The trenches, craters, unexploded ordnance, and - helmets, paddles, and shoe soles - are signs of what our fighters "raised" here. Lot. And mostly - the unknown. 3 signed "bomber" from 7 to 400 dead - a normal ratio. It was better, but rarely. Raised everywhere. In the swamp, where it is not easy to reach, a couple of hundred meters from the bridge, next to the village. The three extremes - not far from their own camp, where everything seemed to have been done up and "phoned".
There were also stories of local residents, in the villages of which the front stood a whole year. There are all sorts of stories too. But always - not heroic, but ordinary. "The Germans shot", "our grandfather was killed by our bomb" ... The phrase of the old grandmother, "they fought terribly ..." struck the memory. And for what? And this "for what?" Issued somewhere noticed, but now its own conclusion: the war is gray.
And all this is remembered now when you read posts on this forum calling for "striking," "launching attacks," juggling air defense divisions and
fleets
Navy, divisions and squadrons. An unpleasant feeling arises not even from the fact that those who propose all this do not understand elementary purely technical military problems such as the delivery of an S-300 battalion to Syria or preparation for the landing of an airborne division in the Middle East. It arises from the fact that these people just as easily juggle the lives of soldiers, competing in who will put them more on the line in a dump incomprehensible from all sides. But war and any Command & Conquer are completely different things. War is not a toy.