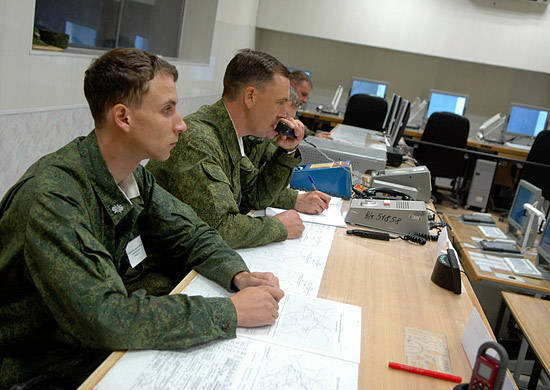 The detective characteristics of the new radar stations (radar) of the air defense (AD) will be tested during a command and staff exercise (CSE) of the formations and military units of the Aerospace Defense Forces (WKO).
KSHU runs from 27 to 31 in August of this year. About 1,5 thousand soldiers and more than 100 units of combat and special equipment of the Air Defense and Missile Defense Command take part in it.
Within the framework of the exercise, complex operational conditions will be created for the formations and military units on air defense of Moscow and the central industrial region of the Russian Federation, with a sudden massive rocket-air strike and a march to the new positional area of ​​the C-15 anti-aircraft missile systems. 400 "Triumph" and anti-aircraft missile-gun systems "Pantsir-S."
For the operational detection of airborne targets, the newest radar systems will be used - all-high-altitude detectors (BBO), which entered service with the radio-technical units of the air defense units of the East-Kazakhstan Air Force in 2013.
All-altitude detector is used in radio engineering and anti-aircraft missile units as a radar combat mode. The complex is designed to detect, determine the nationality of class recognition, set up and track air objects, issue target designations and coordinate information on all detected air objects via a radio channel, cable channel or fiber-optic communication line.
TSB can be used as part of the C-300 "Favorit" anti-aircraft missile systems, the "Triumph" C-400, including in combat operations by one division, combining the functions of a low-altitude detector, surveillance radar and command post.
In terms of its tactical, technical and operational characteristics, the all-altitude detector exceeds the capabilities of previous-generation radars. The radar has various space viewing modes that allow it to detect almost all types of aerodynamic targets - airplanes, helicopters, cruise missiles (including those made using Stealth technology) in the entire range of altitudes and speeds of their use.
Such modes of space survey together with a set of complexly encoded probing signals allow simultaneous detection of targets flying at high and medium altitudes and low-altitude targets, including under the influence of passive and active interference. The radar also provides a mode for detecting targets flying along ballistic trajectories.
Currently, the Armed Forces of the Armed Forces of Russia have received 4 radar complex VBO. During 5 years, the radar of the Airborne Troops should be put into service with all the radio engineering units of the Air Defense Command and the ABM Defense Force.