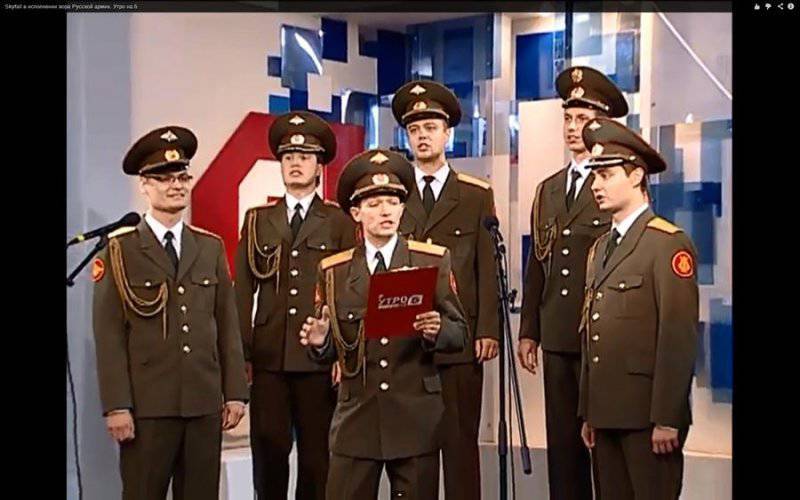 The video, in which the choir of the Russian army performs the live song of singer Adele Skyfall, scored more than half a million views on YouTube. The unexpected talent of the Russian soldiers was appreciated in Europe, causing a storm of enthusiastic comments from Internet users.
The "impressive and surrealistic" performance, as described by the British newspaper Daily Mail, was shown on a St. Petersburg television channel, reports InoTV.
On the "children's face of the soloist" one can see a sincere love for music. However, it is noticeable that he does not know the words by heart, as he often peeps them, notes the Daily Mail. He is sung by six choristers of "harsh appearance".
At some point it may seem that not all performers know the words, but still they sing with a confident tenor for four minutes, writes the British edition.
The video has gained a lot of rave reviews from around the world. So, one Russian commentator wrote: "Class! :) Such an inspired soloist! Where Adele to him :) ". Another user left such a comment: "Are they Russian? Cool! :-) Cool, when the military do what they are not expected to do :-D. "
The military choir chose an Oscar-winning song from a James Bond movie, despite the fact that in the bondian the Russians often get their full share of the agent 007. Perhaps they liked the last film more, because in it Bond fights not against Russians, but against cyber-terrorist Raul Silva, the newspaper writes.
The choir of the Russian army, which is now called the Alexandrov ensemble, usually performs Russian classics, for example, "Kalinka," rather than modern songs, the Daily Mail reports.