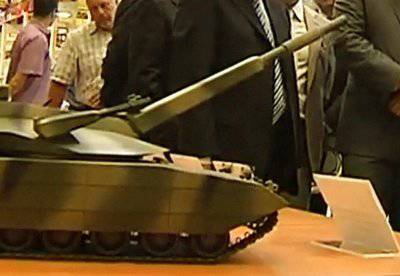 Chief Designer of the Scientific and Production Center for Special Engineering (SPC SP) MSTU. Bauman Sergey Popov said at the air show MAKS-2013 that the institute has developed the concept of the main combat
tank
(MBT) new generation.
"We know how to make a promising tank, which will have a qualitative leap in all combat characteristics. We have such a study, "said Popov.
"It will be a completely new design that has nothing to do with the existing one," he noted, without specifying the distinctive features of the promising MBT concept of the MSTU Bauman, ITAR-TASS.
According to the chief designer, the program of the promising heavy fourth-generation tracked platform "Armata" developed by the Uralvagonzavod, currently "being a meaningless exercise", is being implemented in Russia.
It will provide only the 10-percent increase in the combat effectiveness of the Russian military-armed forces in service with the Russian army, while demanding enormous costs for a complete change of the whole armament system, supplies, training, etc.
"The game is not worth the candle," emphasized Popov. - The whole structure is broken, and this is justified only if a qualitative leap is achieved. In Baumanka they know how to do this on the basis of breakthrough technical solutions. "
At the beginning of the 2012 of the year, it was announced that the Uralvagonzavod would create the first prototype of the Armata tank by the year of 2013.
It was assumed that the tank would have a gun with a remote (uninhabited tower), fully digital control, which the crew would operate from an isolated armored capsule.
The tank will be able to keep entering any type of modern and promising
weapons
. According to the plans of Uralvagonzavod, tank shipments to the troops can begin in 2015.
On the basis of the unified heavy platform "Armata" it is planned to create a main tank, an infantry combat vehicle, a heavy armored personnel carrier, a battle tank support vehicle, an armored repair and recovery vehicle, chassis for self-propelled artillery installations and other types of ground combat armored vehicles.