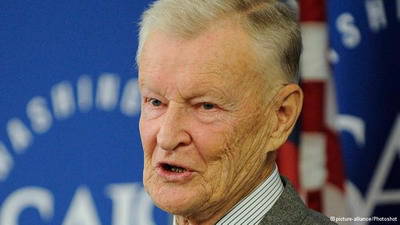 In an interview with Deutsche Welle (DW), former US national security adviser Zbigniew Brzezinski condemned what appeared to be an inevitable military attack against Syria, saying that the US administration lacked a coherent strategy for this region.
Zbigniew Brzezinski served as national security adviser under President Jimmy Carter from 1977 to 1981 a year, and is considered one of the outstanding professionals of American foreign policy.
DW: After an alleged large-scale chemical attack against civilians, it seems that certain military actions against the Assad regime are now inevitable. Do you support military actions, and what is your attitude to them?
Zbigniew Brzezinski: I believe that these measures, if they are taken, should be part of a broader strategy. Otherwise, this may be a punitive answer, but will it solve the problem? Is there a strategy to solve it? Who is part of this strategy and who is not? These are questions that, I believe, should be seriously considered before plunging into military actions - which, perhaps, are morally justified, but, nevertheless, will certainly have undesirable consequences.
DW: Do you think the Obama administration has a broader strategy for Syria for the period after the cessation of hostilities?
ZB: If there is, then it is kept in a very deep secret.
DW: What kind of plans would you like to see?
ZB: It seems to me that the problem in the case of Syria is part of a wider dilemma related to shocks in the Middle East. The solution of these problems cannot be based solely on military force, and should not depend solely on the Western powers. It amazes me how readily Britain and France seem to vote in favor of military action. But I also remember that both of these countries are former imperialist colonial powers in this region.
Given the current reality of what I call in my books "global political awakening", the policy of force, based primarily on Western (and in some cases, former colonial empires), does not seem to me a promising direction to the final solution of a regional problem .
DW: You mentioned the need for an expanded coalition, which should be part of any kind of military action. What did you mean by that?
ZB: I think that at a minimum, Turkey should take part in these military actions, if they really take place. And I think that the endorsement of this decision should be voiced in some way - especially by those countries which, in their economic well-being, are highly dependent on stability in the Middle East. I mean some of the Asian powers that are so dependent on energy originating in the Middle East.
DW: You did not mention Russia in your list of countries. What role do you think it should play?
ZB: A reasonable role for Russia would be to join the international community in jointly defining common standards in: A.) Solving the Syrian problem, B.) A broader approach to Iran and its nuclear program, and of course B.) Actively supporting the Israeli-Palestinian solution problems that creates certain friction.
In my opinion, all this should be dealt with in a wider context, and not only confined to a military response from a small number of Western countries, some of which are not the most constructive
historical
experience.
DW: How do you explain the fact that the Obama administration is not particularly trying to include the UN in its attempts to solve the problem, and, in fact, is trying to enlist the support of NATO instead?
ZB: I'm not sure that you are right in this case in the description of the Obama administration. I think she would be glad to get UN sanctions, but she is concerned that such efforts will be blocked by the Russians, and possibly the Chinese. For me, this means that a substantial part of a serious discussion must be conducted with countries that believe that one way or another may be affected by the consequences of the rapid escalation of violence in this region.
In a nutshell, the problem is that the issue itself is much wider than Syria, and you should not treat it as a purely Syrian issue. This is in the first place, and secondly - the response to serious moral crimes such as chemical attack, should be part of something bigger, keep strategic tasks in mind, and not just be punitive operations.
DW: What consequences do you expect or fear after a possible military attack on the Syrian regime? President Assad has already threatened that Syria will become the second Vietnam for the United States. How do you think - how serious is it?
ZB: Each analogy has a certain degree of expediency, but it can also be misleading. I think that in the case of the Syrian problem there are many aspects that are different from Vietnam - for example, in Syria there is a rather substantial opposition to Assad.
DW: To summarize: Are you not sure right now that military action against Syria is the right step?
ZB: I do not see a broader strategic context for this. And I am concerned that the parties to the conflict also have too narrow a base - especially America and the former colonial powers. In my opinion, this will immediately create a political problem.