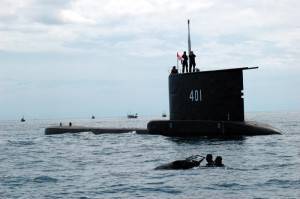 Mahfoudz Siddik, who is the chairman of the defense committee of the lower chamber of the Indonesian government, spoke about an interesting proposal from the Russian state. So, according to him, Russia offered the Indonesian government to acquire a dozen underwater diesel-electric boats. This proposal, according to the chairman of the committee, before being accepted, requires careful study.
In addition, Siddik noted the intention of Indonesia to cooperate with the Russian side in matters relating to the procurement of submarines, but it does not at all mean that we can expect an announcement of the transaction in the near future, this requires a longer period and not the fact that the proposal will be accepted .
It is still unknown what specific submarines are in question, but, thanks to some sources, it is noted that, most likely, the submarines of the 636 "Amur" or "Varshavyanka" project were proposed to Indonesia.
The total cost of Russian submarines is estimated at five, or even more, billions of dollars, and at present the Indonesian state does not have such funds. Allocated this year for the purchase of new military equipment and weapons, the country's budget is about 1,67 billion dollars.
Meanwhile, earlier the Indonesian authorities stated that the acquisition of new submarines is a priority for the country.
Back in 2007, the Russian side provided an Indonesian export credit worth 1 billion dollars. These funds were to go for the purchase of two submarines "Halibut" project 877, which are offered for export under the designation "Amur", twenty infantry fighting vehicles of the project 3F, five Mi-35M helicopters and ten Mi-17. Part of the above military equipment was acquired by Indonesia, but the contract agreement providing for the supply of submarines was never signed.
However, the Indonesian military department in December 2011 of the year signed a contract for the creation of diesel-electric submarines of the "Chang Pogo" type (modified draft Tour-209) in the amount of three copies, with a South Korean shipbuilding enterprise. These ships, according to the terms of the agreement, must be delivered to the customer in 2018 year. The amount of the transaction is estimated at 1,2 billion dollars, which is equivalent to 1,3 trillion South Korean won.