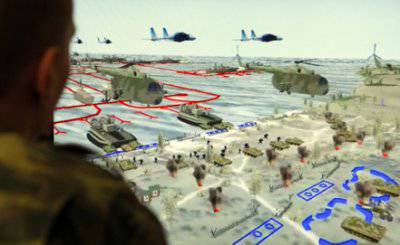 In the Armed Forces of the Russian Federation, a new geographic information system for military purposes "Operator" has been introduced, Anton Goncharov, a spokesman for the Department of the Press Service and Information of the Ministry of Defense for the Ground Forces, said today.
As the chief engineer of the Military Topographical Directorate of the General Staff of the Armed Forces of the Russian Federation, Alexander Zaliznyuk, explained, "the system is designed to solve problems of studying and evaluating terrain properties, providing informational support for exercises and command-and-staff trainings, conducting duty and operational maps and schemes, automating troops management, creating virtual 3D terrain layouts, information support for the combat use of high-precision
weapons
, navigation support of vehicles and other special tasks. "
The use of the new geo-information system, the Russian military notes, "will help improve the efficiency and efficiency of the decisions made and the formulation of tasks, prevent the potential adversary from receiving and processing incoming data, reducing the time required for organizing a combat operation."
"Working out documents using an electronic card database allows three times to reduce the development time of combat graphic documents and improve their quality," Zaliznyuk said.