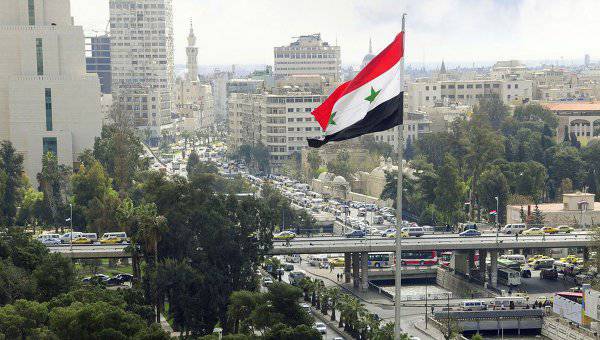 Recently, I read a lot of opinions of members of the forum about Syria. I could not resist and decided to express my thoughts on this matter. I do not pretend to a depth analysis of the geopolitical and military aspects of the conflict, I just allow myself to express in the text those anxieties and considerations that constantly sit in my head and do not give rest. Especially now, when the situation is tangibly tense, and many are wondering whether they will be hit or not.
I think it is no secret that the events in Libya and Syria are interconnected and the links of one chain. The situations there are in many ways similar in the original scenario, but very different in their development consequences. It all starts the same way - in states with internal contradictions, protests against government policies are provoked, then unknown snipers appear, riots, then unknown militants appear attacking police stations and military units, and then a massive injection into the media about bloody regimes that kill their own people ... All this we know. In Libya, we did not interfere, we intervened in the events in Syria. As they say, the result is obvious. But in Syria, everything else, the situation is much more complicated, Syria is surrounded by rather hostile states (Israel, Turkey, and, as it turned out, Jordan). Only Lebanon and Iraq are neutral. There was no such thing in Libya, but there was a long sea coast, and the enemies of the country took advantage of it to crush the forces of loyal Gaddafi into separate centers of resistance. Intervene, we then, but do not change Libya to the WTO - everything could be different and tens of thousands of lives could be saved, but what happened happened ...
I have a firm conviction that all the same in the near future, strikes on Syria will be inflicted. And I will try to explain why I think so. In Syria, the interests of too many countries and the poles of power are currently concentrated. For a start, it makes sense to disassemble the goals (the most obvious) of the opponents and allies of Syria, and their interests, even if very rude. Let's start with the neighboring states - Saudi Arabia, Qatar, Turkey and even Israel are interested at least in weakening the SAR. At the same time, each of them has its own interests, but they all became common within the framework of the destruction or weakening of Syria.
Let's start with the simplest - Israel
. As though representatives of Israel did not speak dismissively about the armed forces of Syria, nevertheless for them this is probably the only real threat in the region at the moment, since it is the only militarily powerful country with which Israel has a border and which is not connected with Israel by any peace treaties. Turkey, with which Israel has strained relations, to put it mildly, is much further away, and although it is technically equipped better than Syria, it does not pose a direct threat to Israel (at least for now). Therefore, with all this, Israel is extremely interested, if not in weakening the country, then in changing the political course of Syria for sure. In the meantime, Assad is in power - his pro-Israel, completely independent policy, unlike Jordan, is hardly possible. Well, the main thing - Syria - an ally of Iran. Those. in a hypothetical future, if suddenly, God forbid, a serious conflict between Israel and Iran occurs, then the Iranian ground forces and the IRGC will have a bridgehead for an overland invasion of Israel and the territory for its Air Force and missile forces, which is immediate and serious for Israel threat to national security. With the modern politics of Iraq - this option does not seem too fantastic. Israel has no such bridgeheads. Therefore, the policy of Israel, I at least understand. It now seems to them that even Wahhabi chaos with single missile launches across its territory may seem less evil than the Iranian army with tactical missiles within 100km from the state border ...
Further Saudi Arabia and Qatar
- here it's probably not a question of survival, but a question of money, a question of influence. These countries have entered into a temporary alliance with Turkey in order to destroy competing countries that can claim future leadership in the Arab / Muslim world of the Middle East. There were a lot of such applicants before - Algeria, Libya, Egypt, Saudi Arabia, Qatar, Iran, Turkey, Iraq, Syria ... Look who's left now. The monarchies of the Persian Gulf countries are looking far ahead, I understand perfectly well that in the future they will be able to survive only by creating a center of power under one leadership, and naturally, each of them wants to see this leadership as his own. Syria in this regard prevents them from interfering with the fact that it is an ally of Iran, that it is pursuing a relatively independent policy of monarchies, and it is also a conductor of the policies of other players (Russia and China), which greatly complicates the rather comfortable existence of these states as a political and economically (the development of the pipeline network from Qatar through Syria to Europe is constrained by the presence of Russian interests in Syria). Accordingly, since neither Qatar nor Saudi Arabia possesses strong combat-ready armies, they prefer to influence the situation with an available resource, namely money.
Next Turkey
. With Turkey, it seems to me all the more difficult. Turkey has interests in Syria — it's not even so much an influence — as a question of ambitions, very big and serious. Erdogan may have threatened to restore the Ottoman Empire, albeit in a smaller format, but nevertheless, at least a significant expansion of the sphere of influence of Turkey in the region. And the natural opponent here is Syria with Iran standing behind its back. Turkey has a powerful and well-equipped army to solve these tasks, and NATO is behind it. To fight Iran, you need to start to change the power in Syria, and even better break up the country into fragments and then put the authorities loyal to the Turkish authorities. Unlike Saudi Arabia, the Turks were not afraid to use their special forces for operations in Syria. They are much more determined and dangerous than the Saudis, and they are most interested in the destruction of Syria as a single state. And Erdogan is unlikely to accept the fact that Assad will be able to defeat the militants and regain control of the country. Of course, sooner or later, Turkey will grapple with Saudi Arabia, this is inevitable (and the events on Taksim Square, it seems to me, were just the prologue of these future events), but for the time being, these different players have a common goal - they will play agreed.
Now global level
- Great Britain and France (and for the most part the whole EU) - well, besides the execution of commands from the US, I think the EU is interested in increasing alternative energy supplies to Russia in order to reduce the dependence of industrialized EU countries on the Russian Federation. This seems to me to be the main reasons, i.e. in this they simply play along with Qatar. Naturally, we are not talking about any democratic values.
And the last and most important thing is the USA. We can speak very, very much about the goals of the United States (or rather, not even the United States, but for people who make decisions in the United States to please supranational government structures). The goal is primary and the simplest and most obvious - the weakening of Iran's position in the region. A more serious goal is to oust Russia and China from the Middle East region. The main goal is to drag the region into the center of complete destabilization, with the subsequent escalation of this destabilization to Central Asia, Russia and Europe, and subsequently to the western borders of China. Bleeding everyone with everyone and undermining the economy of all potential US competitors in the world. US forces (military and economic) will beware for the subsequent global confrontation with a weakened China and Russia (or rather, not even confrontation, but active action). About Europe, most likely it is not necessary to speak. From my narrow-minded point of view, the plan is very, very risky, with a huge number of variables, a completely unobvious result, but once it began to be implemented, it means that the alternatives are even worse, at least for its authors ...
Now about the allies of Syria - they are few ...China
- China is faced with the fact that he began to lose investments in other countries. A number of coups in African countries led to squeezing the PRC from there, then there was Libya, now Syria. Syria is, first of all, an attempt to protect its economic interests, and the first serious attempt to snap at the United States in the future global confrontation at long-range borders. But no more than that. It's simply unrealistic to expect decisive military action from China ...
Iran
- with all the rhetoric that is degrading Iran, this is a completely self-sufficient and strong state that survived more than one blockade, the hardest protracted war of attrition with Iraq (and not only with Iraq) and despite this it managed to develop its scientific and technical potential to a sufficiently serious level. Iran has been conducting an independent policy for quite a long time, and despite the efforts of very many countries, it has quite a large influence in the region. The main and most powerful opponent of Iran in the region is Israel. Israel, as a country possessing sufficiently large stocks of nuclear
weapons
, strong air force and missile technology represents a direct threat to the security of Iran. To compensate for these advantages, Iran is actively developing missile technology and has as an ally Syria as a direct means of pressure on Israel in the event of a conflict. Without Syria, Iran loses this tool and becomes significantly more vulnerable to preventive strikes until the creation of its own nuclear weapons. As soon as this moment comes, Syria's value for Iran will diminish, since Iran will be able to ensure its security by medium-range missiles with nuclear warheads, but even in this scenario Syria is very necessary for Iran. Therefore, Iran will hold on to it for as long as possible, helping equipment, ammunition and troops if required.
Russia
- here with our country the most difficult attempt to conduct an analysis. For our part, this is not only an attempt to save Gazprom, and as a result, the budget of Russia. There is more like a struggle for survival, an attempt to stop the approaching chaos, to create at least some kind of system of alliances from adequate states to resist the coming shock wave (or rather the war), which will inevitably cover us soon and try to gain time and save international law. And the policy of our country cannot but cause satisfaction - the official position of non-interference of external forces and the refusal of intervention, compliance with international law and strict observance of all laws, and at the same time non-advertised support for Syria, the supply of weapons and equipment, information support and information warfare. The only effective and flexible, correct position. It is effective, though, if only because the invasion was actually postponed for a year and a half. As the saying goes, "Practice is the criterion of truth ..." if it works, then it is true.
But, with all this analysis, very rude, the situation with the world in the region is still, although it's not stable anyway, much better than war. But the leaders of countries interested in stirring up fires do not seem to understand this. Why? Because each of them believes that he is keeping the situation under control.
Now about the prospects.
Everything that happened in the last year in the domestic, and as a result in the foreign policy of the USA, is a consequence of the most serious internal struggle. We have decided to simplify everything - there are hawks and pigeons. The hawks put pressure on Obama, he resists them. But it seems to me not so simple. People like DA Medvedev is sitting not only in the Russian Federation, but as practice shows, there are such in the EU, in the USA and in many other countries. Those. these people pursue a policy advantageous to supra-government structures, and not by the national interests of these countries. A classic example is modern France. I would venture to suggest that in the United States the struggle is between the US patriots led by Obama and these people serving supranational interests. And I can not say that Obama is a bad president. He understands perfectly well what the US's policies are trying to push through, and he desperately resists it. But again, judging by the latest events, his faction loses, or has already lost. And that means losing the US themselves. It seems that the decision has already been made, the deployment of strike groups in the region has begun. Turkey has intensified, France and Great Britain are making extraordinarily militant statements and sending attack planes and equipment to the forward bases. The mechanism spun, and it would be more expensive to stop it than to let it go to full speed. Problems with the economy do not confuse anyone - neither France nor the UK - barely got out of the past crisis. The position of Germany can no longer stop anyone. The US economy is now on the growth stimulated by the printing of money, the population and the near-minded pseudo-economists have the illusion that the crisis is over, so many will swallow another victorious campaign against the bloodthirsty regime in Syria. And when the effect of the printing press will end (and it will definitely end, and many far-sighted people understand this perfectly) - what will the United States be with? But this is not important yet, the main chaos in the Middle East and Central Asia. And the same people who are pumping up the situation with Syria will donate the United States as well as all other countries, if necessary, in their global policy of manipulating it means nothing.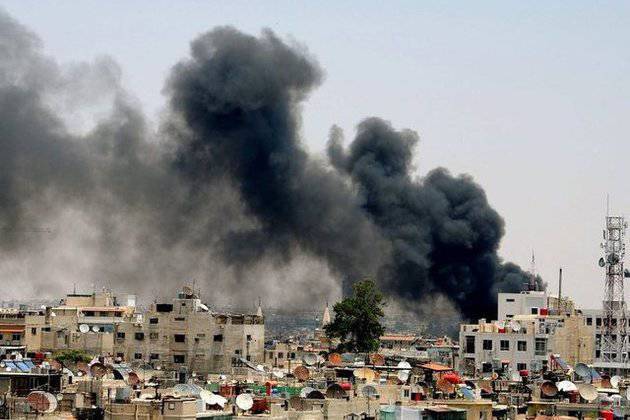 But the whole cynicism of the situation is that none of the player states will benefit from the fall of Syria. Qatar and Europe will not receive reliable gas supplies through the gas pipeline through Syria, Israel will receive instead of one, even if not very friendly, but nevertheless predicted state a bunch of feudal-fragmented principalities or rather jamaats stuffed with weapons (including chemical) from arsenals Syria, Turkey will receive a Kurdish autonomous region with Kurds feeling freedom, armed with heavy armored vehicles, while Saudi Arabia risks remaining without any influence or at war with gangs, spon supported by the Turks. And the United States - at first they will certainly achieve their original goals, but what will happen next? At least someone will be able to predict how events will develop in a couple of months after the change of power in Syria. Livia, before my eyes, but I repeat, there were no such influential and belligerent neighbor states. Yes, and Egypt - from the same area as an example. I am afraid that wars will begin between militants supported by different states, tribes, then it will all spread to Iraq, Jordan, Saudi Arabia, Bahrain ... Who will stop all this by force of forces? A rhetorical question ...
How events will develop
- I am sure that most likely according to the Libyan scenario - strikes with cruise missiles, then bombing, then special forces under the guise of militants (and the militants themselves) at key points, and then open input of "peacekeeping" forces. All this under the picture in the media about the atrocities of the government forces. Turkey can immediately try to invade and occupy the territory controlled by the militants ...
What can Syria do
- only one thing - to resist and hold out as long as possible, shoot down as many planes as possible, try to attack ships on the coast and destroy as many militants as possible. Time will work on Syria and against the aggressors.
What can Iran do
- if Iran understands that resistance in Syria is not immediately suppressed and the country resists, and Russia continues ideological, informational and military-technical support - by agreement through Iranian territory they can transfer a limited military contingent, they can threaten the United States to mine the Strait of Hormuz and defiantly do it on a smaller scale. By conducting an operation against Syria, the United States will not be able to immediately switch to Iran, and this may give just that delay of several months, which can give an economic effect during the blockade of the strait. Everything will depend on the situation. The longer Syria can hold on, the more likely it is to survive as an independent country.
What Russia
- I am sure that all military technical measures have already been taken, everything that is needed in Syria has been delivered. We need only one thing - not to give up and not give up the slack. Deliver weapons to Tartus (as long as it is possible), send ammunition, send intelligence, interfere, provide information support, treat the Syrian wounded, assist in troop control, wage information war and constantly defend their position at the diplomatic level, maintain diplomatic pressure on the state aggressors , constantly raise the issue of stopping aggression in the UN (at least China would support us in this). I see no other options. The troops will not enter there, it is almost impossible, to supply them will not work in large quantities. But the main thing is to prepare ourselves for "democratization". Probably the most important thing now is to withdraw all the reserves from the US securities and bring this money into the boom of industry and agriculture. Develop an army. And if Syria does not succeed in defending, fight for Iran, as if someone did not like it. We no longer have countries capable of resisting western chaos.
Well, a bit of common thought
. You know, we are all very fortunate that we live in Russia and belong to Russian culture, Russian worldview, based on a sense of justice ... For it gives me the impression that it looks like we are the only ones who resist the chaos of the new world war. Despite the collapse, the dominance of traitors and thieves in all echelons of power, the country is trying to stop this darkness that goes to the whole world. Will it, time will tell. But I believe that will work out. It will be a long, hard road, but it must be passed.