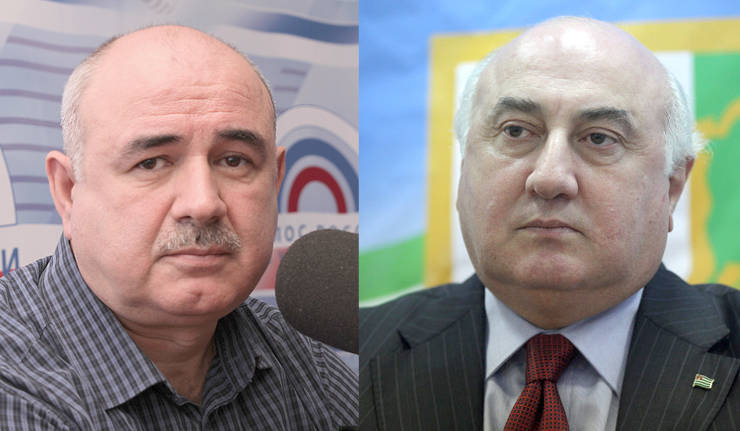 Dmitry Medoev and Igor Akhba
For the South Ossetia and Abkhazia, recognition of the independence of Russia by 26 August 2008 for the South Ossetia and Abkhazia and what successes the republic has achieved since then, Ambassador of the Republic of South Ossetia in the Russian Federation Dmitry Medoev and Ambassador of the Republic of Abkhazia in the Russian Federation Igor Ahba told Voice of Russia
Guests:
Dmitry Nikolaevich Medoev - Ambassador Extraordinary and Plenipotentiary of the Republic of South Ossetia in the Russian Federation (in the studio "Voices of Russia");
Igor Akhba - Ambassador Extraordinary and Plenipotentiary of the Republic of Abkhazia in the Russian Federation (by phone).
Presenters - Oleg Bulgak and Ksenia Sakurova.
Bulgak: Five years ago, Russia recognized the independence of Abkhazia and South Ossetia. It happened three weeks after the well-known events of 8 on August 2008, when Georgia attacked Tskhinval. Since then, the independence of the two former Georgian territories has been recognized by four more countries and several unrecognized states.
Sakurova: We are talking about the present and the future of the two independent republics. On the night of August 8 2008, Georgian troops attacked South Ossetia and destroyed part of Tskhinval. Russia, defending the inhabitants of South Ossetia, sent troops into the republic and, after five days of hostilities, ousted the Georgian military from the region. 26 August 2008 Russia recognized the independence of South Ossetia and Abkhazia.
Bulgak: In response, Tbilisi broke off diplomatic relations with Moscow and declared the two Transcaucasian republics "occupied territories". Official diplomatic relations with South Ossetia and Abkhazia Russia established 9 on September 2008, when the foreign ministers exchanged relevant notes in Moscow. September 17 Russia 2008 has signed friendship and cooperation treaties with Abkhazia and South Ossetia.
In our studio, Dmitry Nikolaevich Medoev is the Extraordinary and Plenipotentiary Ambassador of the Republic of South Ossetia in the Russian Federation. Dmitry Nikolaevich, hello, we congratulate you. 26 August you have a holiday - the fifth in a row.
Medoev: Yes, that's right. We celebrate the fifth anniversary of the recognition by the Russian Federation of the independence of the Republic of South Ossetia. Undoubtedly, this is a great holiday for us. One can even say that this is a day of victory - by this day the people of South Ossetia went their own way for a very long time.
On this way there were numerous difficulties, losses, deprivations. But fate decreed that it was in 2008 that the president of the Russian Federation recognized the state independence of our country by 1261 decree.
August 26 in Tskhinval and Moscow hosts events dedicated to this date. We expect many guests in the capital of our republic. All the people are preparing to celebrate this date. And, of course, in Moscow, we will also celebrate this anniversary. We are holding a reception on the occasion of this holiday, and together with the Embassy of Abkhazia. This date is the same for South Ossetia, for Abkhazia, and for Russia.
Bulgak: We have a direct link to the Extraordinary and Plenipotentiary Ambassador of the Republic of Abkhazia in the Russian Federation Igor Akhba. Igor Muratovich, we congratulate you on this holiday.
Ahba: Thank you. This is our common holiday. This is definitely a fateful decision and a great
historical
an event that predetermined the further development of our peoples, in particular the people of Abkhazia. With the recognition of the state independence of the Republic of Abkhazia, we can say that Abkhazia has become a full-fledged subject of international law. Recognition marked the transition to a new, completely different, level of relations between our states.
August 26 in Abkhazia - a holiday, non-working day. Solemn, cultural events are held, guests come, primarily from Russia. All fun. The people of Abkhazia take this decision with great gratitude and support it.
Bulgak: Igor Muratovich, Dmitry Nikolaevich told us that you are holding a joint reception - Abkhazia and South Ossetia together invite their guests in Moscow. Do you also invite official delegations to each other in your capitals?
Ahba: Absolutely. Here we hold a joint reception of the embassies of the Republic of South Ossetia and the Republic of Abkhazia in the Russian Federation, where representatives of the diplomatic corps, the Ministry of Foreign Affairs of the Russian Federation, the Federal Assembly, prominent public and cultural figures, representatives of our diasporas living in Moscow are invited.
Very famous, famous people, representatives of both the political elite and prominent cultural figures come together in Abkhazia. There, as far as I know, there will be a big concert with the participation of Russian and Abkhaz art masters. This is a solemn and very happy event.
Bulgak: I appeal again to the Ambassador of South Ossetia, Dmitry Medoev. Dmitry Nikolaevich, we want to ask you about the tasks set by 5 years ago. As I understand it, during this time it is very difficult to take big steps as an independent state, but do you already have some important achievements? Already something to be proud of?
Medoev: Naturally. The most important achievement (and this, apparently, we must always say) is that the bloodshed was stopped by the decisions of 26 in August of 2008.
A number of intergovernmental agreements were signed after the big 17 agreement of September 2008. And it is precisely these agreements that regulate, for example, the security of South Ossetia, the protection of the state border with Georgia. This is a joint guard of the Ossetian and Russian border guards.
The main achievement is the world. The last 20 over the years in South Ossetia, which was in the economic blockade and information blockade, were very difficult times. They constantly fired, committed terrorist acts, took hostages. We were losing the best people completely suddenly - terrorism in Georgia was elevated to the rank of state policy.
After the decisions of 2008 of the year, after the border was taken under protection, when the soldiers of the Russian army, in accordance with the relevant intergovernmental agreement, defended the population of South Ossetia, peace was established. We no longer think about the dangers, what will happen tomorrow. We know for sure that we will not give this world away to anyone, we will stand for it.
Since 2008, we have freed up our strength in order to engage in peaceful labor. Now there is a process of restoring the economy destroyed by the war. You correctly noted that half of Tskhinval was wiped off the face of the earth. And this is only a city - and after all the attacks were on regional centers and other settlements.
I note one detail: from 1990 to 2008 years, Georgia systematically killed the economy of South Ossetia. It was not just a gunfire war.
weapons
. It was a large-scale operation to free the territory of South Ossetia from the Ossetians. The goal (and Saakashvili did not hide this) was just that.
Naturally, we still have to restore everything for a while. Although a lot has already been done - the main communications have been restored, communications between the regions of South Ossetia, new roads have been conducted.
All the fundamental works have been carried out so that the economy of South Ossetia and the country itself will stand on its feet. The restoration of the housing stock has been almost completed. And this process continues - every day the government of the republic with the help of the Russian Federation deals with issues of reconstruction.
Bulgak: Igor Muratovich, are there similar problems in Abkhazia, or do you have your own specifics?
Ahba: We experienced the same difficulties, we went through tragic events. At the cost of large losses, primarily human losses, we came to victory and to this important event - the recognition of Abkhazia as an independent state.
I have already said that five years ago Abkhazia became a full subject of international law. Then very important decisions were made. For example, 9 September 2008, diplomatic relations were established between Abkhazia and the Russian Federation, embassies were opened in Moscow and Sukhum, and ambassadors were appointed.
17 September of the same year was signed a framework agreement on friendship, cooperation and mutual assistance, which affected various aspects of the interaction of our states in the field of economy, social life, culture, education, and security.
The safety factor is a very important moment. Russia has been and remains the main guarantor of stability in our region, in our republic. Solved the key problem - the problem of the physical security of our people.
Relations between Russia and Abkhazia in the field of military cooperation, joint efforts to protect the state border are governed by the relevant interstate agreements.
The issue of security is a key one, and today in Abkhazia there is an even greater opportunity to build and build a peaceful life. By the way, there was a weather forecast on your broadcast, and I would like to say that the temperature of sea water in Abkhazia is 25 degrees, there are a lot of tourists. This is another sign of peaceful life in Abkhazia.
Bulgak: Vacationers primarily from Russia?
Ahba: Of course.
Sakurova: Dmitry Nikolaevich, a question for you. It is clear that now the situation in the republic has normalized. At least, we can talk about some kind of first stability. Now the republic faces the tasks of further development. If we talk about the vector of development, in what direction will your country continue to develop?
Medoev: Yes, you are absolutely right. Our agenda is the development of the South Ossetian economy, with a focus on agriculture and other sectors that were previously present in South Ossetia.
On the one hand, it should be noted that we have a big problem with this. On the other hand, during the stay of South Ossetia as a part of Soviet Georgia, the Georgian SSR did not invest at all in the development of the economy of South Ossetia - a special policy of outflow of the population from South Ossetia to other regions of Georgia was carried out. Our citizens could not get a job because there were no jobs.
Nevertheless, the industry that used to be in South Ossetia is gradually recovering. Now there is a very positive process - the former Soviet garment factory is being restored, these are Russian investments. About 200 jobs will be created, and this is the first swallow.
All this concerns the plans for the restoration of agriculture. Basically the republic was agrarian, we did not have big factories. In Soviet times, South Ossetia was considered a territory with good recreational opportunities. I want to note that the only territory where in such a small area only the studied and explored sources of mineral water are more than 250, that is, we have 250 different types of water. This is a huge potential.
There are also natural resources that South Ossetia is rich in. We will develop all this, all this is included in the investment programs. In 2008, an economic forum was held in South Ossetia. It is expected that in 2014, we will hold a second such conference in order to attract investors.
First of all, we count on investments from the Russian Federation, private investments of our fellow countrymen who have been successfully engaged in business in Russia for many years, who would like to come and invest certain funds in certain sectors of our economy. For us, the main task is to create jobs, employment. In ensuring this, we see a pledge of future development.
Sakurova: Igor Muratovich, what are the challenges facing your republic at present? What industries to develop in the coming years?
Akhba: At present, work is continuing between the Russian Federation and the Republic of Abkhazia in the direction of deepening cooperation in various fields. As you know, on August X, NUMX, President of the Russian Federation Vladimir Vladimirovich Putin paid a working visit to Abkhazia. He met with President of the Republic Alexander Zolotinskovich Ankvab. At this meeting, a wide range of issues affecting bilateral relations was discussed.
The issue related to the socio-economic development of Abkhazia is highly relevant. You know that the Georgian-Abkhaz war unleashed by Georgia against Abkhazia caused an incalculable number of not only human victims, but also large material and cultural losses. The damage done to Abkhazia amounts to tens of billions of dollars.
In accordance with the signed agreement between Russia and Abkhazia on the socio-economic development of Abkhazia, great attention is paid to this issue. Russia is providing great assistance to Abkhazia in raising the socio-economic level of the population of the republic.
We feel the great support of the Russian Federation in the framework of a comprehensive plan, which provides for the development of various areas - health, culture, education, utilities, road construction, resort infrastructure.
Another priority is foreign policy, which is aimed at further international recognition of Abkhazia. After Russia, Abkhazia was recognized by Nicaragua, Venezuela and a number of other countries. This work continues. Contacts are being established and expanded with various countries on different continents.
Such work is promising. Another thing is that not everything depends on our desire, aspirations and even the big work that is being done in this direction. There are many factors, including the so-called "international conjuncture".
It is no secret that Western countries led by the United States, apparently maintaining adherence to the methods of the Cold War era that are becoming obsolete, see Russia as the main rival in the world and in every way impede progress in this direction. They put pressure on countries that are sympathetic, understanding about this issue and are ready to recognize Abkhazia.
But we are not asking anyone, not forcing. These are voluntary decisions. But we are sure that there is a prospect, and that in the near future the number of our friends will increase.
Bulgak: Russian Foreign Minister Sergey Lavrov, as always, speaks of a policy of double standards. I will quote a fragment of his speech about Russia's recognition of Abkhazia and South Ossetia, in which he speaks about Western countries: "They see and realize the realities, but by inertia they are trying to apply double standards and politicize attitudes towards the already established fact of independence of Abkhazia and South Ossetia."
Dmitry Nikolaevich and Igor Muratovich, do you have to deal with the fact that at the purely human level of relationships you see the sympathy and support of your actions on the way to complete independence, and when you come to official statements, you are denied?
Medoev: During our work in Moscow as ambassadors of our countries, Igor Muratovich and I meet with different opinions and approaches. We invite to our events, including ambassadors from different countries, and we ourselves take part in receptions or other events that are held by other embassies.
We are familiar with almost all the ambassadors and with many of them we have very warm, human, friendly relations. Many of them come to our receptions. And this does not put them and their countries in a special position. It is just a tribute to the host country. They are in Russia, and we are just the same ambassadors as everyone else in the Russian Federation - a country that recognized our independence. Naturally, they have this in mind.
But sometimes the ambassadors of individual states, apparently, do not want to notice the presence of the ambassadors of Ossetia and Abkhazia at some events as ambassadors of independent states. They, perhaps, think that, after greeting us, an act of recognition of our republics will take place. But we look at it normally - we do our work.
As Igor Muratovich said, we are building up our potential, expanding and deepening existing contacts. Naturally, in our address we see positive, good relations, hopes. But this process is associated with a number of situations that must occur. Undoubtedly, something must change in order for a country or a group of friendly countries, such as Latin America or Africa, to make such a decision.
But we continue our work. The Ministry of Foreign Affairs is closely involved in this. I want to emphasize that we do not send letters with requests and pleas for recognition. We just do our job.
Bulgak: While there is no universal acceptance, is it possible to attract investments from states that do not recognize your independence?
Sakurova: Maybe at the level of personal contacts?
Medoev: Yes, it is possible. In terms of attracting investments, we primarily consider the Russian Federation, because it is a country that has recognized us, it is close to us spiritually, historically, politically and geographically. We border on two countries - in the north with the Russian Federation, in the south - with Georgia. More we have no boundaries. With Abkhazia - through Russia. As Igor Muratovich says, maybe we will dig a "tunnel".
Of course, we have personal contacts with other countries. We invite potential and interested businessmen to our countries. These are completely different countries. It can be both European countries and countries of the Far East. People come to us, they are interested, they look, they get acquainted with our laws, tax policy. They are very interested.
I think that private capital will come faster than any investments from third countries. The legislation of South Ossetia is ready for this, and the government is ready to consider any proposals. South Ossetia is a country that is ready to interact with all interested countries and parties.
Bulgak: Igor Muratovich, it seems to me that from a geopolitical point of view, your situation is more favorable than that of South Ossetia. You have access to the sea.
Ahba: What we are trying to do. Naturally, our main strategic ally and our closest neighbor is Russia, therefore relations with the Russian Federation are priorities in the economic field, including investment cooperation. Although, of course, work is underway to establish such economic contacts with other countries on different continents - in Latin America, including among the states that have not yet recognized us, in Africa, in Southeast Asia.
In the interests of the matter, we cannot tell in detail about who exactly and what the prospects are in this direction, but I can responsibly say that there are prospects in this direction.
As for our relations in the diplomatic corps with the ambassadors in Moscow, I can say that the circle of our friends has expanded considerably in recent times. We meet with understanding and support. But, as I said earlier, there are many factors that impede the adoption of desired decisions, including the notorious practice of double standards that you talked about. It turns out that in one case it is possible to recognize, and in the other - not. Although every nation has the right to determine its political status and its fate. From this it is necessary to proceed.
We consider that the process of international recognition of our states is irreversible.
Sakurova: Dmitry Nikolaevich, it seems to me that just cultural ties, like economic ones, are exactly what usually holds together the relations of even those countries where there are political differences. As already mentioned, you have more and more friends and partners.
Maybe cultural cooperation can also become a binding material, a basis for other countries to recognize your independence in the future?
Medoev: Of course. I agree with that. In this regard, we already have a positive experience. Last year, the State Academic Dance Ensemble of South Ossetia visited brotherly Nicaragua, where it was a huge success. The team - about 30 people - made a great voyage on the day of the national holiday of this country. Nicaraguans took the Caucasian, Ossetian dances with a bang.
Sakurova: Probably, found something close?
Bulgak: Energy.
Medoev: Spiritually, all our countries are spiritually very close. We waged a very long struggle for independence, and we understand each other perfectly. This temperament brings together.
This trip was very important, because everything was broadcast not only on Nicaraguan television - there are a lot of channels in the Latin American region, and the countries also watched these concerts. Culture is the ambassador of the country.
We want to continue this practice. We want, for example, to make the exchange of the exhibition of our artists. For example, to meet the artists of Nicaragua and Venezuela with us - so that they come on creative business trips and can look at everything and write pictures. So that our artists can visit these countries. The government of our country supports this line.
The same goes for sports. You know that Ossetia is a fairly well-known sports country. This is not only football and wrestling - there are a lot of sports in which we could become consultants for other countries, could exchange coaches, athletes.
Bulgak: What is the situation in Abkhazia, Igor Muratovich?
Akhba: As for our cultural ties, here it is necessary to point out long-standing, deep cultural ties with Russia, our main neighbor, friend, brother and ally. We conduct a constant creative exchange, our creative teams come here, giving concerts, performing at various stages in Moscow and in other regions of Russia.
Also in the coming months we are planning cultural trips to the states that recognized us. This is very important, because culture is something that binds peoples tightly together.
Bulgak: Well, of course, tourism?
Ahba: Tourism is also one of the main directions. This is one of the main assets of our country. In Soviet times, about three million people from all over the Soviet Union rested in Abkhazia.
Today this figure is also significant. It exceeds a million. These are mainly citizens of Russia. But there are quite a few tourists from other countries of the CIS and far abroad.
Bulgak: People are attracted not only to seaside resorts. Last year, friends actively invited me to hunt.
Ahba: Yes, hunting is also one of the assets of our lives. In the future, ski tourism is possible in the mountains of Abkhazia. There is a very promising infrastructure.
Bulgak: Let's summarize. We talked about what has been achieved, what plans for the future. Maybe in short - a general summary? Let's start with you, Igor Muratovich.
Akhba: Today, Abkhazia is developing dynamically and is confidently taking the path of building an independent sovereign state. The factor of stability and peace plays a crucial role in this. Today there are a lot of tourists. Guests and friends come to us, and peace and tranquility in Abkhazia. This is the merit of the Russian Federation and those soldiers and border guards who serve in Abkhazia.
In conclusion, I would like to thank all our radio listeners and you, the hosts, for having shown attention to this important event and organized such a program, and congratulate all of us on this very important historical event - recognition of the state independence of the Republic of Abkhazia by Russia.
Bulgak: Thank you, Igor Muratovich. Dmitry Nikolaevich, you have the floor.
Medoev: I also want to congratulate the citizens of the Russian Federation, the Republic of Abkhazia and, of course, the citizens of the Republic of South Ossetia on this day. This is a truly historic day. This is the day when we received the right to independently determine our life and the ability to live and develop in safety.
This is a great merit of the leadership of the Russian Federation, which made these decisions in August 2008. We know that these decisions were not easy. But we know for sure that they were necessary, correct and at that time the only possible.
I want to say that the people of South Ossetia are on the path of independence and will build their sovereign democratic country. A country open to all, to friends. Welcome to South Ossetia!