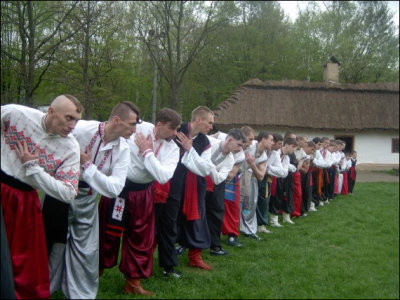 On the eve of the signing (and I personally am almost sure that it will be inevitable) of a phytulkina letter on the so-called. Associations with the European Union, the Ukrainian political technology machine, scrubbing properly across the bottom of the barrel, extracted the "theory of catastrophes" from there.
And now the Ukrainian public is told how a collapse for the Customs Union of Russia, Belarus and Kazakhstan will turn into a rejection of the European choice of Ukraine, expressed in the protective measures of its market from "ukroevropeyskih" goods.
So: what, in fact, awaits us all, if we persist in our delusions? That is, will we stop sponsoring the anti-union policy of the Ukrainian elite?
And it will be - trouble.
To begin with, Ukraine will cease to sell titanium ores to northern barbarians (since the Soviet times, ilmenites, rutile, etc. were actually mined and mined in Ukraine), which will drive down the famous Russian titanium rolled products. Which, as you know, is "built-in" in the so-called. "Transnational chains". As a result, the Russians for their evil ukroevyrovyu attitude will get hard on the cap from all sorts of different Boeing and other Airbus-s (this, as I understand it, is now such a replacement for "gas transit", because with the introduction of South Stream to the South Stream already "The value will be exclusively cultural and phallic, and even the most uprooted svidomye understand this).
And if this does not help, then the great Ukrainian ultrancy Tyagnibok will come to power (or will be close to it) with its "Freedom". In fact, in fact, this is a cardboard scarecrow and grown, so that not only Russians in Ukraine, but also in Moscow, frighten them. After that, of course, civil war will inevitably begin (and this is the holy true truth). Moreover, the "western part" will be monolithic, the center will "support" it, and, accordingly, all hostilities will go in the East. And these are wild streams of refugees that the Russian Federation simply cannot "digest", gangs terrorizing not only, say, Donetsk with Kharkiv and Dnipropetrovsk, but Orlovshchina and Smolensk regions.
In short, everyone will be scared, and especially Moscow.
Conclusion: it is necessary to clearly understand - since there are no other "pro-Russian politicians", except in the Party of Regions, Ukraine does not provide for Russia, then you, Muscovites, will have to support Professor Viktor F. Yanukovych in everything, including not only the EU, but need and NATO.
For otherwise it will be bad.
Something like that.
... Whether they themselves absolutely sincerely believe in it, or they understand everything, but according to an ancient habit that has fallen into flesh and blood, they hope that it will work. And Russia will continue to finance contempt for itself, pay for alienation from itself and invest in political projects hostile to itself.
... Here you are - already scared? Scary, huh ?!
Titan, crowds of hungry refugees, the inevitable rise of crime and economic decline, gangs again.
But to me personally - no.
But let's start in order. The easiest - with titanium.
Guys. As a matter of fact, titanium ores themselves do not represent such exclusive value. Moreover, their proven reserves are quite enough in the most indigenous Russia, not to mention all sorts of Sri Lanka. This is not a matter of ores, otherwise you would have been selling them to Boeing directly for a long time. You just understand what the dog rummaged in: the technology of converting these ores, first to the so-called. "Titanium sponge", and then in the rolling itself - only two countries of the world, namely Russia and, in part, the United States, have. I emphasize - in part. Otherwise, the "Russian titan" would not be the same global brand as, excuse me, vodka and a Kalashnikov assault rifle.
All.
Therefore, we do not develop our reserves, preferring to import: sooner or later (according to experts, the 15-20 years under the optimistic scenario), these technologies will become available to others, and this is our personal, I'm sorry, a bit. So your "spite of my mother's ears will get frostbitten" can be described here with another Russian proverb, albeit a bit more coarse: about a hedgehog and a bare ass, maybe you heard something?
Well, now - about the burden of refugees, gangs and civil war. That's what you seriously believe that the Russian Federation does not consider and, therefore, is not preparing for such a scenario as well!
Then once again I am upset: Saakashvili also suggested something like that. But he even had assets in the mountains, not quite peaceful Dagestan, Pankisi, and Chechnya, which was not completely peaceful at that time. What kind of "gangs" are you trying to frighten the Russian power structures having the experience of several Caucasian wars and, more or less, a fairly successful fight against a much more formidable and organized Salafi underground ?! Roll into a thin pancake, and - if in a real civil war - with complete contempt for the state borders of the "Nezalezhnaya" up to Kiev itself, especially if you give a reason. So do not be stupid.
And this is really the "main thing", because such a problem for a native Russia in general does not exist in principle. Because how to get such an amount of able-bodied, at reproductive age, fluent in Russian, close in mentality and forcedly undemanding (refugees!) Population, children, for the state the Russian Federation is not a problem. And if we are talking absolutely cynical, even luck. For the Russian oil and other fields in the same Siberia have long sincerely been waiting for workers, while for the time being, they are still waiting for you, all with the very same of your "mortgage workers".
And where are these "flows of refugees" to redirect - this, in this particular situation, is a matter of sovereign Russian power exclusively.
Because - you seem to have forgotten about this - it is sovereign. So it goes.
... Perhaps some Ukrainian readers will get the impression that the author is just waiting for the Ukrainian catastrophe and sincerely hates Ukrainian independence. But the question of who is politically more independent - Ukraine or Belarus, Ukraine or Kazakhstan - every non-hostile Ukrainian resident can answer himself. And if desired, and curiosity - to make sure that the "catastrophic scenario" and the loss of independence are directly spelled out, actually, for a moment, in the installation documents of Ukraine's movement to the status of a European colony.
Just in case (or rather, when) the Ukrainian elite will nevertheless go with the EU to the classic Eastern European transaction "management in exchange for obedience" - the Union in general and Russia in particular will find what to get from this catastrophe for its own benefit. Nothing personal.