Part of 3. From each according to his abilities, to each according to his deeds
Well? - Continuation, as they say, follows. And again I will try, as far as possible, in short, to answer the questions you are interested in and some of your reproaches.
First of all, you can be sure, the author knows "how." Maybe not how to achieve, but how to start to achieve. But, you should perfectly understand that if I write about this "how", then the article will not be published (in general, thanks to the creators of the site for publishing what they have already written), and for the author they will use a completely different, but also an article. ..
If you are ready to read, I will write a book. Immediately I say, artistic, so that there are no quibbles. One thing is the writer's free fantasy. And the other is direct instructions for action in the spirit of, well, let's say, "Journeys from St. Petersburg to Moscow" ...
What about the bourgeoisie. Bourgeois in my understanding - a state of mind. He doesn't have to do his job. Bourgeois can be bureaucrat, and "top-slap manager." The main thing is that there are two distinctive features: the desire to snatch as much as possible for yourself and at the same time not just a desire, but an obsession to pay less to hired employees (in the case of an entrepreneur) or subordinate (in the case of bureaucrats and "managers" from the bourgeois ). Those. the director (in fact, also an employee), forcing his subordinates to plow for wear, to work on weekends and, at the same time, not even thinking about overtime pay, for me is BURZHUY.
Who still considers the bourgeoisie to be a useful class, "creating production", find me at least one who would say one fine day: "I'm fine, I'm completely satisfied with the level that I have, for why should I have a private residence in 70 rooms, if 6 - for the eyes. I will do this: I will just keep my personal income in the same condition as it is now, and let the remaining profits serve my employees. They do not allow me to live in misery, so why shouldn't I make it so that they live better and allow themselves something else besides the most necessary? "Find this? - And so that he is ready to raise wages, not for an increase in labor productivity, and not even in connection with an increase in the price of life, but simply because profit now allows. In the meantime, they have not been found, I will consider ALL of them as enemies of my own people, subject, if not to executions and camps, then to a very tough re-education. This, when the state (well, of course, normal, thinking about the people, which one of the readers rightly noted) will FORCE them to pay not so much as they see fit, but as much as they can !!! If necessary, squeezing themselves!
Sorry, again ran ahead. So, let's talk about the attitude to the person of labor ...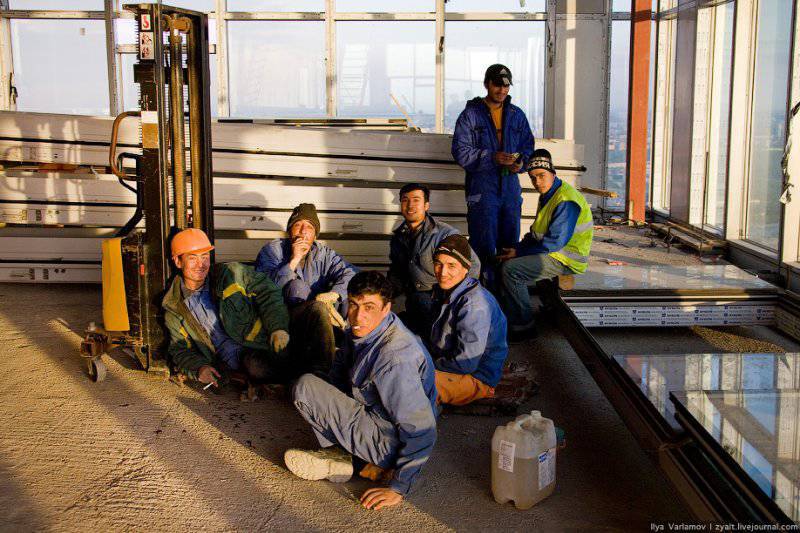 Labor Relations
And agree, if not to say about this at least a couple of words, then talk about the industry will not be complete. And so, in spite of the fact that efforts will be required truly titanic, this should in no way affect the length of the working day, the number of weekends and the length of the holidays! Enough! No more, they say, "tolerate a little more, and then" ... People want to live today and now, and not "later" !!!
So, only 8-hour working day, only five days. In general, we must work to ensure that the shift schedule is used as rarely as possible. A person should spend the night (and even more so, a working person) in his bed! There is a need for the company to work on weekends - no question, take a weekend break to work (it is also possible from students who want to earn extra money). There is a need for round-the-clock work (by the way, this should not be decided by the employer, but by a mixed commission of representatives of the state and the trade union of workers) - make three shifts of 8 hours (from 8.00 to 16.00, h 16.00 to 0.00 and from 0.00 to 8.00). Moreover, they are obliged to feed the second shift free of charge with a hot dinner (it's a problem for the employer if at least one worker complains about stale soup or meatballs), and feed the third one twice, and pay twice as much. Well, if the terrible necessity requires that someone go out on one weekend (there's no talk of work on Saturdays and Sundays even in case of a natural disaster or in the event of war), then the payment should not be established twice, but threefold! On holidays - 5-multiple. And in the New Year - equal in size to half of the average monthly earnings! Yes, for the mere fact that a person will spend the night from 31 to 1 at work, and not at a festive table with relatives and friends, as it should be.
I liked the reader's feedback, which was so enthusiastic about his favorite affair, that he was ready not to get out of work. Of course, dedication and responsibility must be rewarded. For example, in the following order: wishing to use the evening to refine their inventions (for experiments, for honing skills, etc.) gets this right (but whatever you like, on the weekend I would still drive such enthusiastic people home, work-work, and family worthy of attention, and the children of the father oh how they want to see at home). Further this way: with overtime work I achieved my goal (I opened a new door in science, improved technology, etc.) - in addition to all the awards, I received additional payment for all hours at once. It didn't work out - well, I'm sorry, I knew what I was going for.
As for the idea that "detouti" de ... And what, the realization that you developed the program (simply, the programmer wrote a review, as I understand it, sorry, if you made a mistake) helped the whole country - not an idea ?! And the fact that the country will open thousands of schools and hospitals from the sale of your offspring, will build tens of thousands of free apartments for people - is not it an idea ?! And, really, a deserved reward after such and such a valuable contribution will not be to your liking? - Yes, stop ...
After reading these lines, some bourgeoisie and bureaucrat involved in the allocation of budget funds, will in one voice cry out: "Nightmare! Yes, we will be ruined (the country will be ruined - in the case of a bureaucrat)! "Yes, neither the bourgeoisie, nor the country, only the first one, will change the car more than once a year, and once every two years, but lower your house "Throws off", in the case of the second one - about the same consequences.
I never tire of repeating: "The bourgeois is pathologically greedy and does everything to pay less!" The same rule works with the bureaucratic bourgeois state. We need to break this wrong way of thinking! Yes, to break, because "in an amicable way" it will not work here. I really wanted to describe, so to speak, visually (citing, by the way, a scene from a book on which I am working slowly), but ... I will not expose good people who have created a wonderful site (not a bit of adulation, by the way!).
Since, even if the people's government comes to power, many enterprises will remain in private hands (for if everything is selected at once, production will collapse), the state needs to return only strategic sectors, it will simply have to curb the owners of these enterprises. Making the salary increase, observing the labor legislation to the letter (in this sense, labor law should become even more important than criminal or tax law), at the same time forcing not to raise the price of the products! Do not comply with at least one of the requirements - the nationalization of the company and the prosecution of the owner! Believe me, one or two will burn, the rest - gritting his teeth, will obey. Well, someone's personal (personal, and not the profit of the enterprise) income from 10 to 5 million rubles / month will be reduced, and this "somebody" will not feel the difference. You say many will run to the West ?! - No matter how, a normal profit is considered to be just 7% per year! And we have both 300 and 700 ... Because, that it will not be 300, but let's say 150 will not break.
With all of the above, in order not to turn the bourgeoisie from the enemies of the people and the state into sworn enemies, you can take it easy. In the matter of taxation. For example, today the net income tax is 20%, in addition to it, the employer withholds 13% tax on all wages and pays to the budget, still pays 30% from each salary to extrabudgetary funds (pension, medical and social insurance) from their funds, there is also taxes. Lot?! - Let's admit it honestly, MIRACLE! Why not make a tax on net income 40, and even 45%, but to cancel all others, including income from the salaries of employees. It will be fair, the salary of 20 000 rubles / month is not so high (and I know perfectly well that in our country even not everyone earns that much), so that 13% can be deducted from it, even if the organization pays for everyone at once. Do not hesitate, 40-45% of the country's profit "behind the eyes" is enough (again, if the country goes, and not "servants of the sovereign" on the way). In addition, it is possible and should reduce document flow (it's time to make it on 100% electronic for a long time), which will be an unspeakable relief (I will not go into this topic).
You can, 1000 times you can go to such sacrifices, however - with the fullest observance of the rights of the working person. Personally, I would introduce the following rule: "We will lower half of the skins for tax evasion, but for the offense inflicted on the employee - 100 skins !!!" The labor inspectorate should be instructed to make atrocities during inspections, and the court should consider the complaint of a working person in 72 HRS! Moreover, God forbid, if a judge is disingenuous, unfairly supporting the employer (when the employee is actually right) ... But the punishment for officials is also a separate question.
By the way, it would be possible to transfer the labor inspection in general to the state security Commissariat (looking ahead, I am for combining the current Ministry of Internal Affairs and the FSB into one department). Include this service in the economic crime management.
A fair salary level for central Russia (the north is another matter, a different climate and other money) at today's prices, I think, should be the following: for low-skilled workers - from 50 000 rubles / month, for qualified ones - from 100 000, for people with humanitarian higher education (except for psychologists, political scientists and "managers" who have been bred like uncut dogs) - from 120 000, finally, for the most necessary and valuable people with technical higher education - from 150 000 (and for rare engineering specialties - and 200 000 Immediately after high school). Needless to say that ALL salaries are permissible only in "white" form, no envelopes !!! Only PAID and sick leave (by the way, and the last on 100%, do not believe that a person is sick - check, but it will be confirmed - pay in full). And about various "fines" (by the way, even prohibited by the current bourgeois law), I'm generally silent. For them - the responsibility until the shooting of the employer or the one who secretly from him used such measures.
Let these lines be especially carefully read by the one who decided that I propose to forget about the "uncultivated" ones.
You would not believe it, who among the world leaders called entrepreneurs who infringe upon the workers, saboteurs and enemies of the state ... Well, who do you think? - Marx, Lenin, maybe, Plekhanov (it was he who believed that it took Russia a little longer to live under capitalism)? - And no! Hitler !!! Not a "left" politician, is it? Nevertheless, even he, the "possessed corporal," understood that it is impossible to oppress a working person, it is impossible to give a reason for the anger of the people.
Once again, no cheap labor - only adequately paid !!! However, so no? ..
At first, freebies will need to be secret. I hope, guess where people for darma work? - In the next part about it.