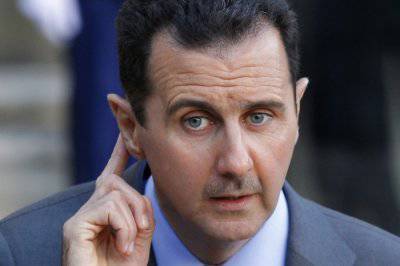 Reply to The war in Syria to be! Here we go
Team "gases"
What is, in fact, clumsy in the Gaza team, if it works successfully? Iraq reminds? Well, so the Americans in Iraq have achieved their. Why not use the recipe again? Assad recalcitrant? It's easy to be disobedient when China is yours. Asad's behavior is stupid, not in an abusive sense, but of little intellectual nature, and he pays for his own stupidity, not for endurance.
If he enjoys the support of a strong country for quite a long time, then it was necessary not only to be proud of the whole world for this remarkable fact, but to quietly agree with everyone, bargain for favorable conditions. He needed to carefully analyze the situation. Suppose, even six months ago, Asad could show the United States fig, but now Russia's economic reports have come out - the economy is worth (+ 0,2%), and it may soon begin to fall. But the fact that Russia is approaching a recession was already known a year ago - this should have been a reason to think about this to your Asad.
And if he watched his jacket for a smaller one, he would suddenly realize that the Olympics would soon come to Russia, and she herself would not be disgraced, as Assad is already here. In addition, the Far East flooded ... And China refuses to take gas at Russian prices and even at market prices; Europe, in turn, forces Gazprom to sign contracts on buyer's terms. Ukraine does not want to go to the Customs Union - this is all much darker than the war in Syria. This is the end of a hypothetical empire, even in a hypothetical far future. There are more internal problems in Russia than in Syria.
Assad should have foreseen this and not engaged in this nonsense. There is a duck about chemical weapons? Run to the UN, drag experts, journalists, anyone to yourself - show that you have nothing but a hoe and a noose.
The same from the beginning of the year, China has been repeating that it is reorienting to the domestic market, and in general he would have to support GDP growth by 7,5% - that's the main task, he's not up to Assad. If growth is less than 7%, then China will begin a dizzying fall into the abyss. Does he need this? Yes, when they start bombing, the Chinese Foreign Ministry will bring something about the Americans, but it will not do any real movements. There is no economic or political sense. Everyone already knows that he can roar at America, but the reason is too small.
Who for whom?
In fact, on one side of the scale there will be the United States and those they ask, and on the other side of the scale there will be Assad with the army and ... almost no one else, and the United States will be much heavier. This means not enchanting analytical reports in the media about how Iran and China send armada
tanks
and paratroopers by air on the Russian MIGs and Antonovs, and the alignment of forces in the event of a real military operation.
The United States does not begin to fight, if there is no overwhelming advantage in everything on their side, well, except for manpower (so it is not needed there, let the brave Aborigines be cut). And if the situation, now, after long quarrels at a diplomatic level, is developing so rapidly, it means that the United States has already created a total advantage and are confident of success.
Implications for the UK and France
None Freezing bilateral negotiations will not: terminate the contract - get isolation, freeze accounts of major "figures" of "science and art" of the Russian Federation, blocking businesses, weaning real estate, sending entrepreneurs, and even landing - all Russian entrepreneurs for the West are thieves and everyone has compromising. And if the boycott of the Olympics? Who will go? Snowden knows that no one will go anywhere. What is there to talk about if the Russian largest AvtoVAZ plant is controlled by the French and its director Carlos Gon? What is freezing here.
China is even simpler - China is pragmatic, the EU is its largest sales market and investment partner. Freeze contracts for Assad? Pffff ...
With regard to the return of bearded sons, this problem is dragged a little by the ears. Firstly, Syria is not for a couple of days, and from there it is still necessary to return, and secondly, besides Syria - after Syria - there are many excellent goals. No need to exaggerate the significance of individual terrorist attacks in Europe: ETA and IRA, and even earlier the RAF put people in Europe much more and more successfully than bearded abreks. Well, last year's shooting of special forces in France is just a naive example. In Beslan, the color of the group Alpha was knocked out in ten minutes. That's what - and that's where! - it is necessary to be afraid of bearded sons. And this was what some people needed to spend money on - to strengthen internal security - and not on the Olympics and not on the hikes of rusty boats to the shores of Syria. Chickens to laugh.
Jordan
With the beginning of the war, Jordan will simply stop accepting refugees and everything - that there will be no one to worry about with them. In which case they will apply
weapon
. So everyone does.
Turkey
With regard to refugees - the same as in Jordan. Everything else will be the same as now. "Massive Syrian Armed Response" after the first week of the American bombing will be possible only if in a computer game based on ... Turkey itself can take part in the show along with other scorers. Why not?
Israel
Refugees will not be accepted - where can I get something? A couple of rockets will fall, a couple of cars will be blown up at a checkpoint, Israel, as usual, will blow half of Lebanon back and it will all end. Iran will not bomb Israel, all the more "massively", because the war is not between Israel and Iran, Syria for Iran, as well as for Russia, is only a reason for unsubstantiated self-affirmation on the world stage. After Syria, Iran will simply look for another reason to rumble against Israel - this is much safer for Iran. And it will be right for a thin world better than a good quarrel.
Qatar and Saudi Arabia
What is the purpose of the overlap of the Gulf of Hormuz? Again - for what / whom?
The popular thesis that Iran has nothing to lose is rather strange ... Why is it that Iran has nothing to lose? Yes, there is an agreement on mutual aid with Syria, so what? Syria as a full-fledged strong state no longer exists. And Iran exists. Will decide whether to start a fight with the United States for a heap of stones. If so, for what purpose? Yes, he may be next after Syria, and maybe he will not. If it does, then we must not climb on the rampage, bringing the inevitable closer, but to develop a system of measures for prevention - to be smarter than Assad. Iran is called the "next" goal since the "Desert Storm" or even earlier. Well, it's better for him to focus on strengthening internal security, rather than on helping stupid allies. So he will do. Iran is not so powerful to be with the United States, but rich enough and it has something to lose. Will think what to do next.
USA
"Economic agony in the USA" is nothing more than a dream. It exists in the imagination of comrades of years ... well ... forty years, for sure. Yes, more! It's all in the heap usually - some nonsense about the bankruptcy of cities (700 bankruptcies from 37 year - everything ... kapets America came), poverty in Detroit (from 70-s.). For some unknown reason, people often see one side of a complex phenomenon. For example, "a quarter of the total volume of oil supplied to the United States from Venezuela." So compare Venezuela and the United States - this means that Venezuela depends on the United States not less, but more than the United States on Venezuela. If it were not so, the late light, Hugo Chavez, would cover up the crank, would cover up. But not covered.
And the trump card is "debt to China." Yes, more than that! Russia is among the top ten creditors of the United States. So what? What will happen the day after China demands that the debts be returned from the US? If the US turns out to be honest, (hahaha), then the next morning, it's not the USA, which has a cloud of reserves in case of wars with aliens and hundreds more reliable creditors, but China, which still lives due to export, and the USA - the largest importer of Chinese goods. Turn over the entire economy of the world. True, for this it is necessary for China to be supported by Japan (hyhyhy) because it is slightly less creditor than China.
But ... think for yourself, will China go to this for the sake of Assad? China depends on the United States as well as the United States on it, even the term appeared such "Chimerica" - an interdependent economic megastructure from the United States and China.
The possible gain from the war with Syria is the enrichment of the United States, isn't it? Rich USA is richer China. A wealthy China is a stabilizing European economy - a key partner of China ... Well, who the hell has this Assad surrendered to? Once again: China is pragmatic and this is the main quality of its policy.
Results
The analysis is really superficial. Millions of Syrian refugees are the problem of refugees, not of neighboring countries. Popular unrest is caused more effectively by homosexuals, and wars go on constantly, but all on the drum. For example, in terms of the level of terrorism, Russia is in a 4 place in the world because of the actual war in Dagestan. So what? Society is much more nervous not because of Dagestan, which is already here, very close, but because of Syria and because of homosexuals. Economic blows - in spite of my mother freeze my ears - no fools. Only Russia is capable of this, and only in the performance of the current management team, but it cannot hit anything. Direct intervention "on the South Ossetian variant" - yes, funny joke. Credit
Iraqi neutrality? The author probably wanted to say Iranian. Well, this is not neutrality, but non-interference.
Yes, most likely it will end with the words etc. I wish it ended with words.