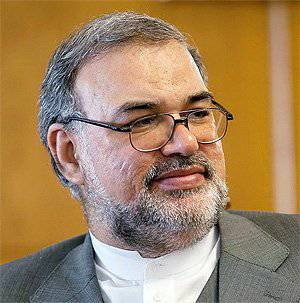 Iranian Ambassador Reza Sajjadi told Interfax about how relations between Moscow and Tehran will develop under the new Iranian president, Hassan Rouhani
Moscow. 25 August. INTERFAX.RU - Iran's new president, Hassan Rouhani, said that relations with Russia will occupy a special place in Iranian foreign policy. In his interview with Interfax correspondents Ksenia Baigarova and Olga Golovanova, Iran's Ambassador to Russia Mahmoud Reza Sajjadi told about what awaits Russian-Iranian relations after a change of government.
- A planned bilateral meeting of the leaders of Russia and Iran was reported on the sidelines of the SCO summit in Bishkek in September. This will be the first contact at the highest level since the coming to power of new Iranian President Hassan Rouhani. What do you expect from the upcoming meeting? What questions would the Iranian side like to discuss?
- Some spread rumors that Mr. Rouhani does not want to go to Bishkek, and I refute this. The Iranian presidential administration officially announced that the president is going to Bishkek.
It seems to me that this meeting will be very important, because it will determine the policy of the two countries in the long term.
Iran and Russia have many common interests, both countries face many common threats. On many regional issues, our opinions coincide or are very close to each other. Therefore, I think that the agenda of the upcoming meeting will include a wide range of bilateral, regional and international issues.

- How do you assess the prospects for bilateral relations in the coming period, will they continue in them, or will something be adjusted?
- The current trend will not only be preserved, but will develop even further. Both Iran and Russia are against the unipolar world. Both Iran and Russia consider the interference of foreign forces in the internal affairs of other states as unacceptable. Nations and countries should make decisions themselves, determine their own destinies.
Both countries are in favor of developing regional cooperation. Iran's active participation in the Shanghai Cooperation Organization - although Iran is not a full-fledged member, but an observer in it - shows that Iran is for the development of regional cooperation within such organizations.
I am very optimistic about the prospects for our relations in the future.
- The failure to supply the Russian C-300 complexes to Iran caused a sharp reaction in Tehran and even became a pretext for the Iranian side to appeal to the International Court of Arbitration. How does this poison the general atmosphere of a relationship? Under what conditions will Iran be ready to abandon the lawsuit against Russia for unrealized C-300 deliveries? When you expect agreements on the supply of the Russian Antenay-2500 anti-aircraft missile systems to Iran to replace the C-300 systems, what are the media reports about?
- Yes, the non-implementation of this contract had a negative impact on the mood of our people and members of parliament.
As for the second part of the question, we still have not received a concrete proposal from the Russian side.
If the first contract is implemented, naturally, there will be no need for going to court.
We, diplomats, hope that there will be solutions to the question posed. The realities that are observed today in our region show us that we should not allow such questions to become a problem, to spoil our good relations. I think that professionals - military, diplomats - will find a solution that meets the interests of both states. Thus, it will be possible to correct the mistake on the non-implementation of this contract.
- Can this topic be touched upon at the upcoming meeting of the two presidents in Bishkek?
- There are many other positive questions. I do not think that such an insignificant question is worth discussing at this meeting.
I consider that it is necessary to give the opportunity to the ministries of foreign affairs and the ministries of defense of the two states to settle this issue by common efforts. Although the presidents remain the final decision.
- But still, Iran would be satisfied if Russia offered the Antey-2500 system instead of C-300? Theoretically, is Iran ready to consider this proposal?
- We must first get the characteristics, find out what the system is, what its price is, compare, and then consider.
We have developed a general plan for air defense. The C-300 system was part of a general plan for the air defense of Iran.
If there is any other air defense system that could cover our territory as part of a general plan, and if the price and delivery time were suitable, then we could be flexible.
- The Iranian authorities have already announced their plans to build additional nuclear facilities. Does Iran plan to invite Russia to implement new projects? Can Russia count on any preferences in the case of tenders?
- The Mejlis of Iran recently approved the 20-year program, which provides for the construction of facilities for the production of 20 thousand of megawatts of electricity using atomic energy.
Given the fact that we have a good experience of cooperation with Russia, of course, we will welcome her participation in the construction of additional nuclear power plants in our country.
In addition, both sides have a desire to eliminate the shortcomings that occurred in the former, for example, delaying the construction time.
Our engineers are already familiar with the conditions, standards, and equipment of the Russian side. This experience will help ensure that future collaboration is even more fruitful.
- With the advent of the new government, is Iran planning to intensify cooperation with Russian oil companies? What steps will Iran take to this?
- To be honest, Iranian companies have shown interest in working with Russian companies in the oil sector. But on the part of Russian companies, we have not seen active desire and interest in working with Iranian partners. Three years ago we prepared a lucrative contract for cooperation between the two states in this area, but the Russian side was not ready to sign it.
I hope that Russian companies will become active players in the energy market of Iran. We are one of the first in oil and gas reserves, and there are statistics that confirm this. Although Iraq has more oil resources than we do, we have much more gas than Iraq. 14% of the world's gas reserves are located in Iran.
Cooperation between Iran and Russia in the field of oil and gas may have an impact on world politics in this area. The Iranian market for Russia is very attractive. General work can be started with engineering projects and completed with the management of the energy market.
- Last week, the House of Representatives of the US Congress passed a bill tightening economic sanctions against Iran. It provides for the introduction of new barriers to the import of oil from Iran. The bill, in particular, proclaims the goal of completely blocking the sale of Iranian oil on world markets by the year 2015. Do you believe that the US can really take such measures? And in general, how do sanctions affect your country's economy?
- Do I believe that Americans can take this step? Yes, there is such an opportunity, they can introduce new sanctions. Recently, the US Senate approved additional sanctions against Iran, despite the fact that the new government of Mr. Rouhani has just begun its work. The United States took this step instead of demonstrating its goodwill. Can the imposition of these sanctions be a good signal to Iran?
As for the impact of sanctions on Iran, this issue has two aspects. The first one is very positive. Because of the sanctions, we have learned how to produce things that we previously imported from other countries. The level of knowledge and technology compared with what it was before, that is, before the introduction of sanctions, has grown significantly. Moreover, we not only began to produce some equipment, but also to export to developed countries.
Previously, we exported more than 50% of our crude oil. Measures are being taken in Iran to turn crude oil into refined value-added products.
Another aspect is negative. First of all, this is a psychological moment. Secondly, our national currency - real - has "fallen" in relation to foreign ones.
In addition, it is clear that one country cannot fully satisfy its needs. There are problems related to the fact that we cannot, due to sanctions, purchase raw materials, products or equipment that we cannot produce ourselves.
But in general, it cannot be said that because of the sanctions, the end of the world has come for us. We are gradually turning these threats into opportunities.
- Do you agree with the opinion that after Mr. Rouhani became the President of Iran, negotiations on the Iranian nuclear program will go easier, and Tehran will show flexibility on a number of issues?
- I think that, as before, the progress in the negotiations is completely dependent on the goodwill of the western side. In past years, we also emphasized this point. We are not ready to deviate from our legal rights by one millimeter.
We are dealing with a discriminatory approach towards our country, when we are perceived as second-rate people. Some states even have an atomic bomb, but they are not under such pressure as we are. Iran also does not want to be the object of pressure and aggression.
The Western approach is to make us deviate from our position, but not to offer anything in return.
As for the prospects for negotiations after taking office as a new president, I want to remind you that Mr. Rouhani is very good at nuclear issues, he has a serious record of work in this area. I think this is a very good opportunity for the West, and if he shows goodwill, it will be possible to quickly sum up the negotiations. Of course, the introduction of new unilateral sanctions at a time when the new president has not even taken office, do not fit this canvas.
What flexibility do you want from us? The largest number of inspections of nuclear facilities was carried out in Iran. Cameras were installed at nuclear facilities, and the facility in Parchin was already fully inspected twice. And even the Deputy Head of the International Atomic Energy Agency (IAEA) once said that the issue connected with Parchin is closed.
We have developed an action plan agreed with the IAEA and fully implemented it. Iran's spiritual leader issued a religious fatwa, which is for us even above all laws in the world, that Iran will not create a nuclear
weapon
. Our country has become a member of the Treaty on the Non-Proliferation of Nuclear Weapons (NPT). If our government wanted to create nuclear weapons, would it have joined the NPT?
But we are again told that there are doubts about the nature of our nuclear program. I think that all this time the opposite side was engaged not in negotiating, but in imposing their opinions with far-reaching political goals.
- What are the political goals?
- Previously, Americans and Europeans had huge interests in Iran, as they controlled Iranian oil. The whole Iranian market was in their hands. The United States even recently admitted that they took part in the coup of 1953 in Iran. But after the revolution took place in 1979, the West lost its control and faced a strong independent government. Now, in the West, they want either to make Iran under their domination again, or to overthrow the regime. This is the main goal of the United States. If you look at the policy that the Americans conducted in the last 34 years regarding our country, there can be no other conclusion.
Now there is a powerful propaganda war against Iran. It is said that the rights of women are not respected in Iran. But go yourself and see how we treat women. It is said that the rights of the religious minority are violated. But we have a Jewish diaspora, and the Armenian diaspora, and Christian priests, and rabbis.
And if you take Iran's nuclear program, it's just amazing how such a noise was raised from a simple question. Now in American blogs they generally write, they say, what right does Iran have to develop nanotechnologies, biotechnologies, and so on.
All this is happening, because the Americans do not want the oil independent state, which could be an example and model for other states, to exist in the form in which it exists today.
- Former Iranian President Mahmoud Amadinejad is known for rather harsh statements about Israel, in particular, he stated that Israel should be wiped off the face of the earth. Are Iran still convinced that Israel has no right to exist as a state? Or, in your opinion, with the advent of the new leadership, we will witness a more restrained policy?
- At one time apartheid disappeared in South Africa. No war then happened, no one dropped the bombs. It was just that at some point people understood that this way of thinking is wrong.
We believe that such a phenomenon as Zionism contributes to the perpetration of unacceptable, immoral acts on the international arena. It is impossible to occupy someone else's house, and then come up with some name for this unsightly action.
We are convinced that soon Zionism, like apartheid once, will cease to exist. And with the collapse of Zionism, the existence of Israel will have no meaning.
- Do you believe that the Geneva-2 conference will take place in the coming months?
- We are delighted with the initiative of the Russian side to hold such a conference and hope that it will take place.
All this time, the Syrian opposition has demonstrated the lack of incentive to participate in the conference. There are two reasons for this. First, there is no consensus within the Syrian opposition; they cannot agree with each other. Secondly, lately the opposition forces have suffered defeat too often, and they are afraid to demonstrate their weakness if they take part in the conference.
On the other hand, I am not very sure of the seriousness of the intentions of the Americans and Europeans. In words, they demonstrate a desire to hold a conference, make a spectacular gesture. But in fact, we hear about the transfer of weapons to terrorists operating in Syria. And we see that they do not bother themselves with attempts to exert pressure on the patrons of the terrorists, who are like "allies in the region." It seems that they either do not really know what to do, or they say what they themselves do not believe in. I think they are trying to gain time in this way.
- Will Iran insist on participating in Geneva-2?
- Yes, we will insist. We believe that Iran is an influential state in the region and can play a constructive role.
- And Iran is ready to be at the same meeting table with Qatar, Saudi Arabia?
- I do not know whether to invite these countries. In any case, we believe that we can play an important role, and we take our presence at the conference very seriously.
- Many media claim that Iran actively supports Syrian government forces. Are members of the Iranian army or special forces fighting on the side of the Syrian government now? Maybe Iran advises the security forces of Syria, finances, helps with arms? Are the reports that Iran supplies arms to the Syrian government through Iraqi territory?
- Syria has its own powerful army, which does not need the presence of our troops. The reason for the conflict being prolonged is that for any army to fight in urban conditions is not an easy task, especially if you encounter terrorists without any moral values.
At the same time, Iranians, both civilians and military, are actively helping Syria, providing it primarily with economic and humanitarian assistance. We are talking about the supply of medicines, water, food.
- Do you deliver weapons?
- Not. What for? Syria has always faced the threat of attack from Israel. Therefore, they have good stocks of weapons.
- What, in your opinion, is the role of Hezbollah in the current Syrian conflict? Do you share the opinion that if it were not for Hezbollah, Assad would not have been in power for a long time?
- Hezbollah came to Syria because the terrorists were extremely outrageous. You are probably aware of the fact that terrorists destroyed the grave of the Companion of the Prophet Mohammed Khujr ibn Adi, the shrine of all Muslims. This is the most inhuman, the most anti-Islamic act that you can imagine. Moreover, the terrorists have openly declared that they are planning to desecrate another shrine near Damascus, the grave of our prophet's grandson. That is why the people and the government of Syria asked Hezbollah, whose members are willing to die, than to allow such abuse, to come and protect the shrines.
Bashar Assad can resist the last two and a half years thanks to the support provided by the people and the army of Syria. After all, why were Zine el-Abidine Ben Ali overthrown in Tunisia and Hosni Mubarak in Egypt? Because the people did not support them. In Syria, the majority is in support of Bashar Assad, so he is still in power.
You probably know that there are thousands of foreign mercenaries operating in Syria who commit terrorist acts with the help of foreign money. At least twenty of one hundred killed or detained militants are citizens of foreign countries. They even come across security officers from neighboring states.