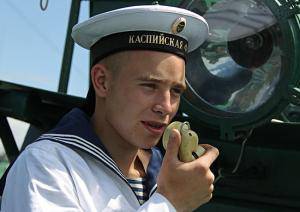 The first serial small missile ship (RTO) of project 21631 "Uglich" began the transition from the construction wall of the Zelenodolsk plant named after AM Gorky to the Caspian
flotilla
.
The lead ship of this project "Grad Sviyazhsk" is currently undergoing factory running trials in the Caspian Sea.
On inland river waterways, the ship in support of tugboats will pass about 1,5 thousand km. The arrival of the ship in the Caspian Sea is expected in September of this year.
Upon arrival at the Caspian Flotilla, the IRC Uglich, like the Grad Sviyazhsk, will go through all the stages of factory and state tests in the Caspian Sea and will be included in the union by the end of 2013.
The small rocket ship of the 21631 project was designed by the designers of the Zelenodolsk Design Bureau OJSC and built by the shipbuilders of the Gorky Zelenodolsk Shipbuilding Plant.
It is a multipurpose ship of the "river-sea" class, equipped with the most modern models of artillery, rocket, anti-sabotage, anti-aircraft and radio engineering weapons.
The architectural appearance of the ships meets the requirements for reducing radar visibility, thanks to the use of so-called stealth technology.
It is planned to build 5 ships of this project. Their purpose - the protection and defense of the economic zone of the state.