The head observation aircraft Tu-214ON (registration number RF-64519, serial number 519) was transferred to trial operation in the Armed Forces of Russia. This decision was made by an interdepartmental commission, which reviewed the results of state tests of this machine. About this to the agency ARMS-TASS 21 of August 2013 of the year, was reported by the General Director and the General Designer of JSC Concern of Radio Engineering "Vega" Vladimir Verba.
The Tu-214ON aircraft is a modification of the Tu-214 serial passenger aircraft, the design documentation of which was modified by Tupolev for the installation of surveillance equipment, and is certified as part of the obligations of the Open Skies Treaty for observation flights in the United States and Canada.
The construction of the first Tu-214ON aircraft (RA-64519, now RF-64519) for the Russian Ministry of Defense was carried out at Kazan
aviation
production association named after S.P. Gorbunova "(KAPO) since the early 2000s. The developer and integrator of equipment within the framework of the R&D" Open Sky Aviation Observation System "is the Vega Radio Engineering Concern OJSC. The aircraft made its first flight on June 1, 2011 and was originally planned for delivery to the customer by the end of 2011. However, due to the delay in testing and improvements to the BKAN airborne observation system, the deadlines for the delivery of the machine were repeatedly postponed, and now the aircraft has only been put into trial operation.
In August 2009 of the year, the Radio Engineering Concern "Vega" signed a contract with KAPO for the construction of the second Tu-214ON aircraft (registration number RA-64525, serial number 525). Under the terms of the contract, the second aircraft was scheduled for delivery also in the 2011 year, and according to later plans, CAPO should have been delivered in the 2013 year. The aircraft was almost completed by the beginning of the 2013 of the year, but to date has not been lifted into the air. The most likely date for its delivery is now called 2015 year.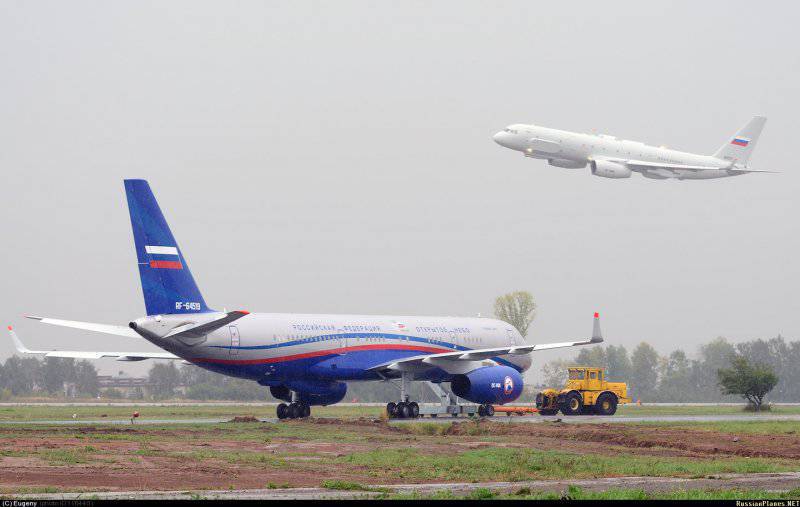 The head observation aircraft Tu-214ON (registration number RF-64519, serial number 519) at the factory aerodrome of Kazan Aviation Production Association named after SP Gorbunov. In the background is the Tu-214Р head reconnaissance aircraft in the test phase (64511 registration number, 42305011 serial number, 511 serial number). The picture was taken in mid-August 2013 of the year, currently the head Tu-214OH is located in Zhukovsky (c) Evgeny Polivanov / russianplanes.net