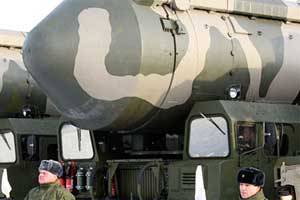 Rearmament began on the new strategic missile system of the Kozelsky Guards missile division of the Strategic Missile Forces. Instead of the used UR-100NUTTH liquid missile systems, or, as they are called in the West, SS-19 Stiletto ("Stilet") with separable warheads of individual guidance (RGCH IN), new solid fuel propellants will soon take up combat duty in the Kaluga region 15P165-М1 rocket complexes Yars or PC-24, as they are also called in the open press. True, they usually speak of the Yars complex as a mobile ground, and here, in the Kozelsk division, the Yarsy will be located in the mines.
Old mines are now actively reworking a new complex. True, not all. At one time in the Kozelsk division there were 60 rocket mines and 60 Stilettos. Now there are only twenty. Ten mines exploded, twenty mothballed, ten remake under "Yarsy." In the remaining combat positions, where the Stillets are still on duty, officers, warrant officers and soldiers of the compound are serving.
The commander of the Kozelsk Guard Division, Colonel Valery Kasyanov, told me that the rearmament of the missile division is a difficult stage in the life of any unit. At this stage, we work together with industry cooperation. Combat construction is a very important stage, a lot of enterprises work with us. The main course of work is performed by Spetsstroy Russia. There are problems, but they are solved in a planned manner. Received all the necessary operational and technical documentation, simulators, and our officers in parallel with the construction work stubbornly master the new complex, which has much better tactical and technical characteristics than the old one. When military equipment arrives, we will proceed to its trial operation, and then to combat duty.
More detailed material, including a photo essay on the rearmament of the Kozelsk missile compound, will be published in the next NVO issues.