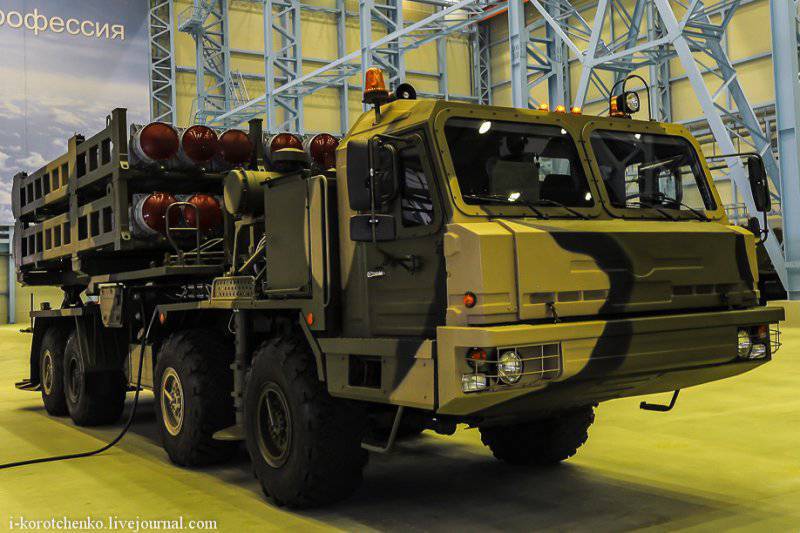 The Almaz-Antey air defense concern at the MAKS-2013 aerospace show is going to present the C-350E anti-aircraft missile system to the general public for the first time.
"The concern will demonstrate almost the entire spectrum of its military-made products, including a wide range of new developments in the form of full-scale samples for the first time," ITAR-TASS reports with reference to the concern's press service.
They clarified that the main novelty of the exposition of the enterprise will be promising air defense systems of medium-range C-350. "In terms of its tactical and technical characteristics, it is superior to foreign analogues and should replace the C-300 series of weapons in service with weapons", the company added.
C-350E is designed to protect objects from massive strikes of modern and prospective means of air attack, including those made using stealth technology, including tactical and operational-tactical ballistic missiles.
"The key factor determining the effectiveness of the new system is its ability to simultaneously repel the blows of various types of air attack weapons from any direction over the entire range of their flight altitudes, in all weather conditions, day and night, in difficult interference conditions," noted Almaz Antea ". "This is achieved through the use of a fundamentally new information tool, a multi-function radar, for the first time developed in our country."
In addition, the C-350E has a high mobility and survivability. Thus, the time to bring the means of aids to combat readiness from the march is no more than 5 minutes.
Recall that in late July, the Defense News publication ranked the most successful defense enterprises in the world. And, as it turned out, only Russian companies showed impressive growth over the past year. So, the Almaz-Antey concern rose to 11 places in the world ranking (from 25-th to 14-e) and entered the top five of the rating in Europe with revenue growth of 62%.