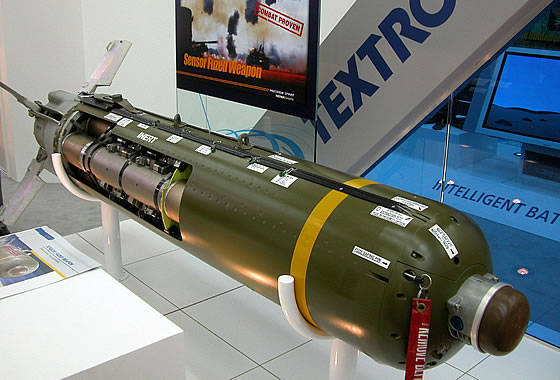 The United States Air Force signed a contract with Textron Defense Systems for a total value of $ 640,786 million for the supply of 1300 cluster bombs.
The contract will be completed at Wilmington (Mass.) And is expected to be completed by December 31 2015. According to the contract, the cost of one cluster bombs is 492,912 thousand dollars. The agreement provides for the supply of UAB in the framework of the program "Foreign military sales" for the Air Force of Saudi Arabia.
In October 2010, the United States Department of Defense Defense Cooperation Agency (DSCA) notified Congress of the planned sale of Saudi Arabia under the Foreign Military Sales 84 program of F-15SA fighters, as well as other equipment and ammunition. The total cost of this delivery can be 29,432 billion dollars. The Saudi Arabian leadership request, in particular, included 1300 ammunition with a wind impact correction system and a CBU-105D / B SFW ​​/ B sensor sensor fuse.
The main purpose of the 454-kg cluster munition CBU-105, developed by Tekstron Systems based on the UAB CBU-97, is the defeat in difficult weather conditions and at any time of the day of armored vehicles and air defense facilities, including medium
Tanks
, lightly armored vehicles, aircraft in parking lots, mobile radars and jammers.
The UAB CBU-105 contains 10 BLU-108 / B submunitions, each of which includes four striking elements of a precise SKEET aiming at about 3 kg, equipped with IR GOS and intended for attacking armored vehicles to a weakly protected roof.
The United States and Saudi Arabia have not signed the Convention on Cluster Munitions, adopted in May 2008 in Dublin (Ireland). As of May of this year, 113 countries have joined this document.