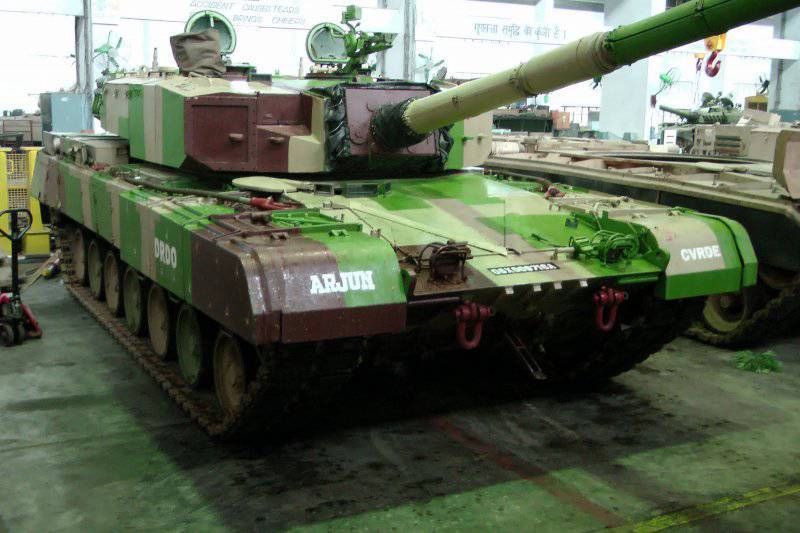 Indian Army begins operational tests of a fully assembled, modernized main battlefield
tank
(MBT) Arjun Mark II at the Pokharan Fire Test Range in Rajasthan, India.
The Indian Local Defense Research and Development Organization (DRDO), along with the Combat Research and Development Organization (CVRDE), developed the tank and brought it to the testing phase in the last two years. At the factory tests, technology was tested, introduced at different times, to meet the needs of the army.
An unnamed official at DRDO said, as reported by Indian news agencies, that for the first time, all modifications of the tank, including those using 16 core technologies, will be tested at the same time.
The upgraded version of the Arjun I MBT, the Arjun Mark II tank, has the ability to fire a rocket with an increased range, a panoramic sight with night vision, dynamic protection and advanced anti-aircraft guns to destroy helicopters.
Other functional changes include an improved auxiliary power unit, an improved main gun, an on-site navigation system, a commander's panoramic sight with eye-safe laser range finder, a digital on-board computer, a new on-board gear, tracks and driving wheels, as well as a smoke grenade launch system. to bring down the laser guidance of the enemy.
Commenting on the tank, an unnamed officer of the Ministry of Defense said: "We are pleased with the final product and its results, making it one of the most powerful battle tanks for the army with an unmatched ability to automatically detect and destroy targets, as well as offering maximum crew protection."
DRDO expects the army to place a contract for approximately 500 Arjun MK-II, which will make the tank economically viable, viable and provide the possibility of its continuous production and delivery.
A DRDO spokesman said the army had requested an advanced Arjun tank equipped with the specified features and capabilities, but the order must be increased by at least 500 units to make it viable for industry and users.
"If the army is satisfied, the order for 500 units should be placed in one breath, as this will save time for various formalities and procedures for updating the order," the official added.
Operational tests are planned to continue over the next few days.