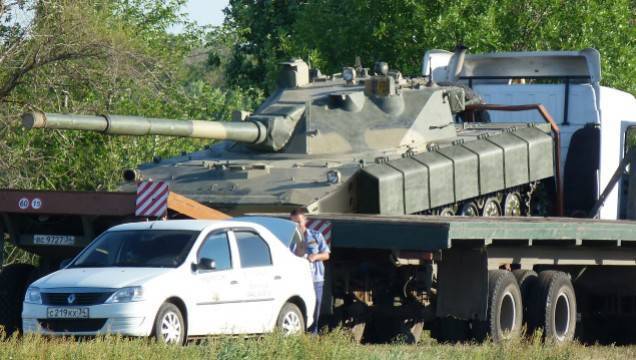 The first photos of the Sprut-SD self-propelled anti-tank gun 2C25 with mounted dynamic armor screens appeared on the Internet. The design of the mounted armor is similar to the armored protection of the upgraded amphibious assault vehicles of the BMD-4M type.
Currently, the leadership of the Ministry of Defense of Russia and the Airborne Forces are preparing to incorporate development work on the modernization of this product into the state defense order, and Volgograd Machine-Building Company, meanwhile, has intensively engaged in the development of the relevant topic.
In addition to enhancing the booking, it is planned to unify the machine with the BMD-4М. As part of the modernization, in addition to unification with the BMD-4М on the engine, transmission and chassis, it is planned to install the latest electronics on the SPTP. Thus, the new self-propelled anti-tank gun will be equipped with a modern digital fire control system with more advanced sights, including thermal imaging, as well as software and hardware complex, allowing to include the object into a single tactical level control system.
The number required to purchase self-propelled anti-tank guns will be determined by the Ministry of Defense.
In the 90s of the last century, the Volgograd Tractor Plant was the developer and manufacturer of this specialty. The 2005-mm 125 mm self-propelled anti-tank gun 2-25 was adopted. Therefore, its modernization in the direction of unification with the new assault vehicle BMD-4М is planned to be carried out in Volgograd. Potential collaborators of this development work are Kurgan enterprises "Tractor plants" - OJSC "SKBM" and OJSC "Kurganmashzavod", the developer and manufacturer of BMD-4М, respectively.