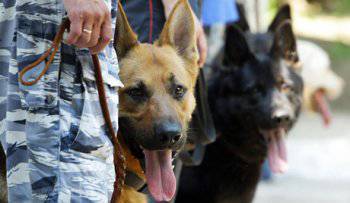 In Moldova, service dogs will need to understand only one language - Romanian. The government approved the relevant law on the basis of an agreement signed between the Ministries of Internal Affairs of Moldova and Romania. First of all, the order concerns four-legged people who are in public service.
Now in Chisinau cynological center, experts train 22 dogs - mainly for border guards and drug searches. At the same time, one part of the dogs has already been trained in Ukraine, and they understand the commands exclusively in Russian. Another part of four-legged students studied in Chisinau, where teams were given in Romanian. However, linguistic conflicts among students are not noticed.
- Evgeniy Tsigelnitsky: High technologies will not replace the service dog
- US will select puppies for the army with a tomograph
Experts say that to retrain a dog to understand the commands in another language is almost impossible. Gennady Bivol, a senior canine inspector, said:
"In dogs, the formation of the nervous system ends by the year. At this age, reflexes are fixed in it, including voice commands. If you try to address it in another language, it will not understand anything."
On the one hand, experts welcome the decision on the language unification of the training of four-legged pets. During the customs and border services, drug search for employees it is difficult to immediately find out what language to give commands to the dog. But on the other hand, many problems immediately arose.
For example, dog experts lack specialized literature in Romanian. The director of the cynological center Leonid Bely noted:
"There are no specialized books in Romanian in our country. I will tell you more: there are no such books in Romania! This is a problem for us, because we cannot develop without the subject literature!"
By the way, in Romania itself, due to the lack of special aids, dogs are taught to execute commands not in Romanian, but in French or German. Why did they choose Romanian in Moldova? It remained a secret for specialists.