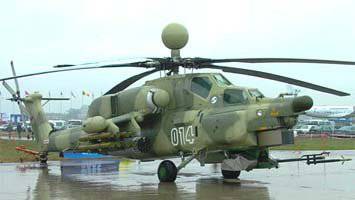 Concern "Radio-electronic technologies" will present a new helmet on MAKS-2013, which will enable pilots to see targets in any weather and at any time of the day, RIA told reporters
News
Andrei Tyulin, Deputy General Director for Strategic Planning of the State Defense Order.
"We will show at MAKS new developments that have not been previously presented anywhere. A helmet target designation indication system designed for pilots of combat helicopters and the PAK FA. We have created an image processing algorithm for it, thanks to which pilots can now see targets in any weather and in any time of day, "said Tyulin.
In addition, the company will probably present "a new nadpultochny radar for the Mi-28H helicopter, which is installed above the blades of the helicopter." "This solution allows helicopters to rise above the landscape, scan the surface and remain invisible to the enemy," explained Tyulin.
In addition to all this, helicopters can acquire a "parking assistant", this device will allow the pilot to see the virtual strip by day or night, but according to Tyulin, it will be presented at the next MAKS.
He also noted that one of the promising areas is the creation of ceiling reflex indicators.
"Now the pilot has a dashboard at his disposal, despite which he receives all the necessary information about the flight. In the future, this entire dashboard will not. Instead, there will be a clear glass that will contain flight information," said Tyulin. This system will not be presented at the upcoming MAKS, but such developments are already underway.