All hands did not reach to deal with
history
about the mysterious shale gas. But last week I was sitting in the country and I read a lot of different articles in the right mood. And now I will briefly retell you, because the thing is interesting. In short: shale gas is a gas from depths that weren't explored before. And there it is not just a lot, but the whole hell abyss: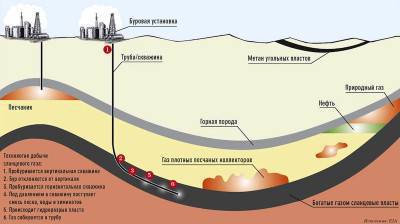 Traditional gas production consists in finding a classic gas field underground, piercing a hole and inserting a straw. The cost of such gas is from 20 $ for 1000m3. Gazprom was until recently the world leader in gas exports, selling it at 400 $ - mainly to Europe.
Shale gas is of a different nature. It lies very deep (from 1.5 to 4.5 km), but does not curl there in one place, but is finely scattered in the layers of rocks. Piercing the hole does not work - the gas itself will not work. They knew about it for a long time (there were Soviet scientists among the theorists), the first mining experiments took place almost 100 years ago, but only now American technologies made it possible to extract it to its full height. A deep hole is drilled for mining (three kilometers), and when the shale layer is reached, the mine is turned and further drilled horizontally - another three kilometers. And a few more of these underground passages in different directions. But even so the gas will not go. Finally, hydraulic fracturing is done — water is pumped into the mine with 1% hydrochloric acid and reagents to better dissolve the rock, and then (I didn't understand completely, this is still an explosion or a smooth pressure build-up) hundreds appear in its walls along the horizontal part of the mine snaking cracks in all directions in the thickness of the slate. As a result, the well, like a tree, gets a branched root system at a great depth. And only then does gas flow generously.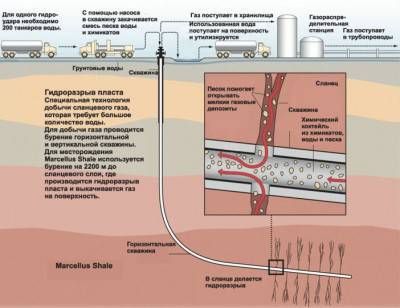 The matter is complicated by the fact that in such depths the temperature reaches 150 degrees, the pressure of 600 atmospheres (for comparison: an industrial cast-iron high-pressure cylinder withstands 300 atmospheres). Well, the thickness of the shale reservoir can be just 5 meters, and it is impossible to jump beyond its limits, therefore it is necessary to drill with complex computer monitoring and modeling. In general, the problem is high-tech, at the limit of engineering capacity. It is not surprising that it was resolved in a country where the words "intelligentsia" and "creative class" are not curses.
The cost of such production - from 100 $. With regard to the volume of reserves of shale gas, then to say that it is on the planet dofiga - it is still soft. In the US, gas has always been imported. Across the ocean, it is difficult to do, but it was being transported liquefied from Qatar, it cost 500-600 $. Then an interesting thing happens: a few years ago, shale deposits were launched in the USA and the price of gas in the USA plummeted - today it costs 140 $: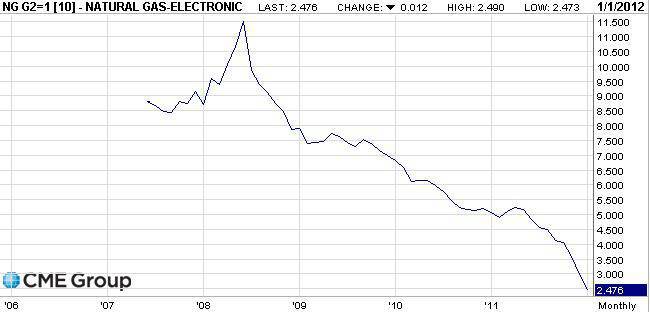 In terms of gas production, the United States immediately comes out on top in the world, displacing Russia and Gazprom from there. Qatar liquefied gas is now fucked up in the United States is not needed - they now have to sell their own somewhere. Therefore, Qatar gas goes to Europe. The gas market is starting to fever. Gazprom's market value as a global concern is halving, and European partners are starting one after another to refuse to buy gas, and Gazprom is running after them and is suing: like, the contract says that you promised to buy up to 2015 for that year, no one for you did not pull, keep buying.
Of course, an event of this magnitude gives rise to an incredible amount of rumors, conspiracy theories, alarmists, "experts" and other cretins-screamers — either voluntary or at stake (there is such a profession — to console upset Gazprom in domestic energy articles). Since the Internet on any issue gives hundreds of polar opinions, only a fool will conclude on a single article. It took me a long time to study various statements and arguments, trying to understand who was right and who was dusting and driving. I also advise you to make an independent broad search and listen to all points of view in order to create a complete picture. I will give a list of the most liked opinions:
- it's all nonsense and provocation, shale gas does not exist;
- shale gas is bad - it does not burn or liquefy;
- surrogate gas will never replace our habitual one - warm and lamp;
- shale gas was, but is about to end (or vice versa: shale deposits never end at all, because they are constantly self-renewing due to the reaction of the hydrogen of the earth's core with organic matter);
- shale mining is hellish harm to the environment, so it is now banned and no longer remember;
The Grand Prix of my readers' sympathies was received by a long article of some kind of "economic analyst", the whole point of which was reduced to the fact that (watch your hands carefully) shale extraction is so profitable; that the price of gas in the United States has fallen so much; that shale mining has become so unprofitable; that all US gas producers have already collapsed; and shale gas will not, because unprofitable!
And, as always, ecology science is the most highly paid prostitute of modern times. If something needs to be promoted, a couple of billions have been brought into the global environmental sects, and tomorrow the press is yelling that the Boeing plane is destroying the ozone layer, and not only the Airbus plane. Or vice versa. In general, environmentalists notably raised the dough for shale gas. No matter how I read tales about gas production at a depth of three kilometers! And this gas is radioactive! And earthquakes from this happen! And drinking water in all wells of Pennsylvania is now easily set on fire by matches and burning (!), And Phil marmot gets out of the hole and sees not a shadow, but a puddle of black chemistry ... For those clever people who will now send me a link to I will repeat one of these articles: I have already read all this, thank you.
And the essence, as usual, is not in the terrible movement of the eyebrows, but in numbers. The numbers are simple. The price of gas in the United States fell several times. The United States has become the leading exporter from the importer, and this is limited only by the absence of a pipe across the ocean. Therefore, now in the United States, one after another, new gas companies are being created and mines are being drilled, as well as transport terminals are being built that will allow this gas to liquefy (it is liquefied and really a little worse, but this is a matter of engineering and cleaning) and sell overseas. Because this gas is an ordinary gas: a mixture of methane, propane, butane and other organic matter, ready to produce energy during combustion.
While it was only about the United States. We have so far flown on the head with a rebound from some Qatar, whose gas was not needed across the ocean. But the second nuance is that in addition to the United States, there are many places where shale gas is stored. And the extra-deep mining technology allows drilling a mine even in residential areas. Therefore, the network of great gas pipelines through half a continent is not really needed in the future. Like the monopolist-Gazprom, sitting on the pipes. And finally, the third nuance is that in Eastern Europe there are awesome reserves of shale gas - in Ukraine and especially in Poland. 22 firms from the USA and Canada have already left for this Poland, got 68 mining licenses and drilled down the races of the mine. Or did you think the Americans would keep their technology in a fierce secret, so that the overseas enemy would not get it? These Polish mines will earn almost simultaneously in 2014. And Ukraine starts a little later. I emphasize: in 2014 year. Official commissioning numbers.
And this, my dear friends and compatriots, is very sad for you and me.
news
. Because it means the coming changes in our lives, and these changes will certainly not be joyful. After all, it is no secret that Russia lives, even though it is poor in some places, but looking with whom to compare. The prices of products and goods are no less than in a prosperous Europe, and apartment prices will be a shock to any foreigner. Somehow, so magically it turns out that we live is not rich, but the prices we have - th. As a result, the average Russian from the provinces, working lazily and with a bottle, can afford to buy the TV of the diagonal that the Chinese, who work at the 14 TVs factory a day, cannot afford. And this very difference in the standard of living with our production stopped, we are given precisely oil and gas money. And over the past 10 years, we have very much forgotten how to sew, solder and build, with such oil and gas we do not need to work: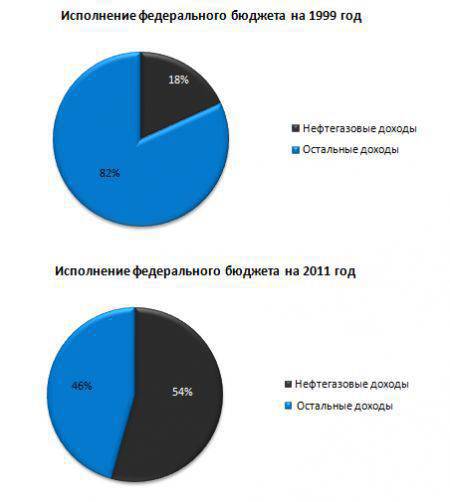 There is a conspiracy theory that the evil Gorbachev ruined the country, and then the people had nothing to eat, and then a strong statist came, and satiety returned. That's just magically the growth of the Russian economy coincided with oil prices, which in 1999 was 20 $ and in ten years grew to 140 $: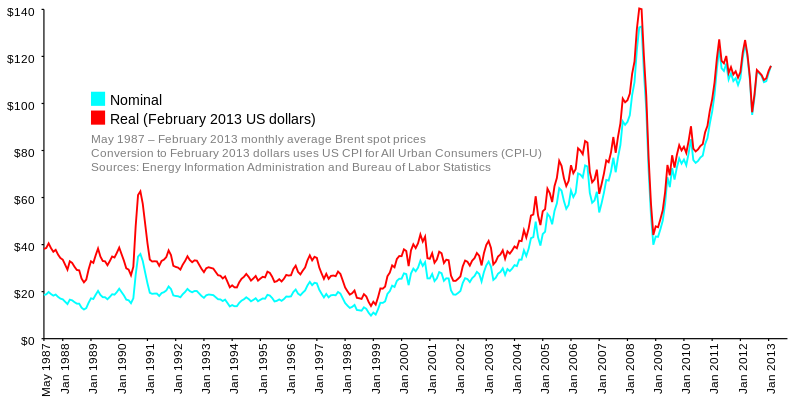 And now remove all imported goods and products exchanged not for our labor, but for our oil, from stalls - and it will be again like in the nineties: Balabanovsky matches, local bread, Voronezh sprat in tomato, and jackets sewn in N.Tolokonnikova zone . So oil money, albeit in a different volume, but gets everyone in the country, even if you have nothing to do with selling gas. Pelevin wrote best of all in the fairy tale about Khavroshechka and Motley Cow: "You can no longer grow an apple tree for your Havroshechka. You can only give the disgraceful wolves oil so that the cookie-yukis-Yuxi-puks will unfasten their loera, the loyer will throw off the security chief, the security chief will roll back the hairdresser, the hairdresser, the cook, the chauffeur, and the chauffeur hired your Havroshechka for an hour for one hundred and hundred bucks ... And when your Havroshechka otpitsya after anal sex and drive away all their garbage and gangsters, then, perhaps, she will have enough for an apple that you so wanted for her to become, Motley Cow ... "
Therefore, today only a complete idiot can rejoice in the misfortune of Gazprom - after all, guys, our common misfortune. Whoever you are - a hairdresser, or a designer who makes up a business card for a hairdresser, in Russia you get a solid oil and gas premium from the top of the chain for your work. You could receive incomparably more if the top did not take billions to personal offshore, and developed the country and invested in the economy, medicine, culture and education, as does the government of the Emirates with its petrodollars. But all the same, there is money in the country, and we feel this when we routinely buy a package of juice for 3 $, and not 1 $, as in Germany. If you do not feel this, then go to impose your business cards in China, and there they will quickly explain to you how much you need to work a day to get a slice of soy oil for bread.
Can Gazprom do something in this situation? Answer: nothing. First, the reserves of shale gas in Russia are depressingly small, the Lord gave it mainly to the USA, Canada, China and Australia, leaving a little Poland and Ukraine: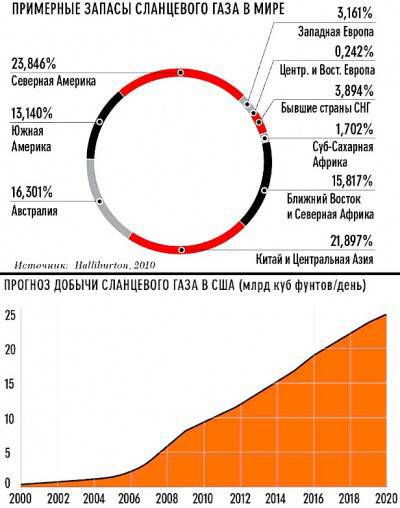 The volume of Polish deposits is estimated at 5,3 trillion. cubic meters is the very thing that will begin to flow from 2014 year to Europe instead of Gazprom, which used to be a monopolist. For comparison: the volume of the famous Shtokman field in the Barents Sea, on which Gazprom so hoped, is 3,7 trillion. But it still needs to be taken from the seabed and somehow transported to the mainland. And Poland will dig holes, put down roots - and together with Ukraine it will drive gas all over the finished gas network, where gas used to flow from Russia. And Gazprom has officially put an end to hopes in the development of the Shtokman field. Gazprom analysts are so open and write: they say nothing can be done, it remains to try to "restrain" and "regulate" the market. Read: foul and build obstacles to the spread of new technology. Well, there are all kinds of lawsuits, environmentalists and the Kyoto Protocol with an ozone hole ...
Of course, a saving thought comes to mind: well, we lost the gas, but the oil will remain! But this idea is not very saving, because energy is a plastic thing, not a chest of drawers with three drawers, one of which is empty, but the others are still full. A simple example: today, gasoline costs 30 rubles, and tomorrow, gas, suppose, there will be 13 rubles, and all car owners, all taxi drivers, buses, taxis, and trucks will rush to set themselves a gas cylinder in the trunk, as they put in 90's. And who will need oil? Although Russia can still trade in nickel and aluminum, this is not to take away.
In the summer of 2010 of the year, I accidentally heard the words of a television presenter about the anticyclone and the front of the African air. At that moment, I realized that there would be absolutely unheard-of heat in Moscow, although no official forecast had promised that. For three days I ran like mad, but by the onset of 40 degrees in both rooms I had air conditioners (the latter, at the old price from the Hindu warehouse), and I also helped friends with air conditioners. Now, when I read about the shale revolution and the start of the Polish field in 2014, I had the same clear feeling of an approaching asshole. Information about which is already quite publicly available, but so far is not realized at all - as a TV mumbling in the corner. And then it starts to fry. The only difference is that in case of economic cataclysms I don't have any ideas. And you?