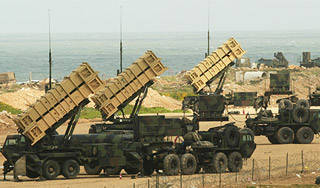 In 2009, military spending worldwide reached $ 1,53 trillion. This is 5,9% more compared to 2008. In general, over the past ten years, defense spending has increased by almost half. The global financial crisis and economic downturn, as it turned out, had little impact on the modernization of the army and
fleet
. It remains in first place in terms of US military spending, followed by China, and Russia closes the top five.
The Stockholm International Peace Research Institute (SIPRI) has published a regular yearbook, SIPRI Yearbook 2010, on trends in armaments, disarmament and international security in the world.
Swedish experts estimate that over the past ten years, military spending in the world has grown by almost half. In 2009, their volume reached 1,53 trillion dollars, which is 5,9% more than 2008 in the year and 49% in the year with 2000.
Interestingly, the financial crisis had virtually no effect on military spending. Of all the countries for which relevant data are available, military spending increased 65 countries last year.
The most notable growth was shown by the states of Asia and Oceania - 8,9%. However, the title of the country with the highest military spending is still being held by the United States - they accounted for 54% growth in world defense spending. In absolute terms, the costs of Americans in the field of armaments amounted to 661 billion dollars.
The United States is followed by China (100 billion), France (63,9 billion), Great Britain (58,3 billion) and Russia (53,3 billion).
The top ten, according to SIPRI, also includes Japan (51,8 billion), Germany (45,6 billion), India (36,3 billion), Italy (35,8 billion) and Saudi Arabia (41,3 billion), ITAR-TASS reported.
"Many countries increased government spending in 2009, which was one way to increase demand to combat the economic downturn," said Sam Perlo-Freeman, SIPRI program for military spending.
According to him, military spending did not become a noticeable part of these stimulation economic packages, but they were not cut back. States preferred to cut other articles, finding them less important than spending on defense.
"The data show that military spending is often a long-term strategic choice of many large and medium-sized powers, such as the United States, China, Russia, India and Brazil, and they adhere to this choice even in difficult economic times," the expert explained.
It should be noted that the SIPRI collection contains fairly detailed statistics not only on military expenditures, but also on stocks of nuclear arsenals, on global manufacturers
weapons
, as well as trends in the arms trade.
By the way, according to SIPRI, Russia is not only among the top five leaders in defense spending, but also ranks second after the United States on the conventional arms market. The share of the United States in global exports for the past five years amounted to 30%, Russia - 24%.
In general, over the past five years, the growth in international arms supplies amounted to 22%. The leaders among the recipients of weapons, as in the case of increasing defense spending, were the countries of Asia and Oceania.