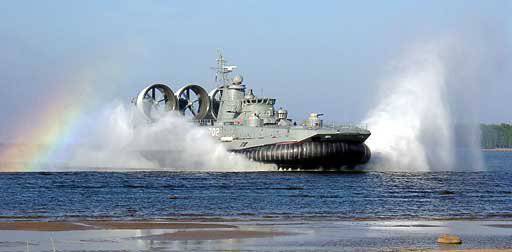 An air-cushion landing ship Zubr moored to the beach near the village of Mechnikovo in the Kaliningrad region, scaring holidaymakers gathered on the beach, a video of the incident appeared on the Internet on Tuesday.
The video shows how the warship moor on the beach, full of holidaymakers.
Commenting on the incident, the press service of the Ministry of Defense of Russia said that the ship "Zubr" performed its tactical mission on a wild beach belonging to the Ministry of Defense, reports Komsomolskaya Pravda.
"Mooring on the beach is a normal phenomenon, but what people did on the beach near the military training ground is unclear," the department explained.
In the Baltic
navy
also confirmed the statement of the Ministry of Defense. The acting chief of the press service of the Western Military District on the Baltic Fleet, Andrei Bespaly, explained that the ship was just training - it landed and received amphibious assault.
According to him, the cordon of the marines was set up on the shore so that outsiders did not come close to the ship and that no one of the Bison holidaymakers would catch on.
"After working off the task, the cordon was removed, and the ship went to the base," added Bespalyi.
The media reported that the Khmelevka training ground, where Baltic Fleet units usually train, is located not in Mechnikovo, but a few kilometers north.