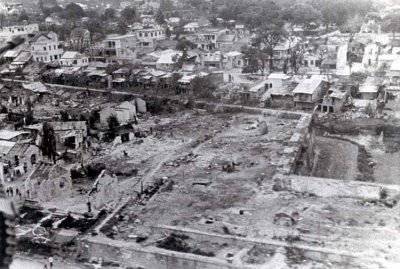 I like the Discovery Channel. Well, like it, and that's it. Lots of fun or educational gear. A barrel of honey straight.
But unfortunately, in her straightforward proverbs happen and fly in the ointment. 19 August, in 22-00 Moscow, for an hour with a small audience regaled bread, called the program "The war from the first person." And this creation was devoted to the US Marine Corps in Vietnam.
Indeed, in the West, Snickers is not able to make even out of feces. And feed it to everyone. Providing a mountain of computer animation, sometimes even very funny (like M-16 pushing bursts in machine gun mode).
Okay, let's spit on the political background like "We brought peace to the people of Vietnam." They carried so many people. But to show on the screen in Russia gray-haired veterans, with enthusiasm telling how they fought there - this is overkill. I want to shout "Give censorship !!!". GIVE!!!!
I was outraged by how they, poor things, regretted that they had fought in Hue, which is
historical
center. How they broke off that you can not use heavy
weapon
and fight only rifle. I must admit, I was waiting for a logical conclusion. And was not disappointed. Then the motive already known from the programs of Discovery went:
"The command believed that the position of the Germans might have been in the monastery of Monte Cassino"
And, regardless of the fact that the monastery was also a historical monument, B-17 and B-25 turned it into ruins. And only after that the Germans appeared there, it should be noted to the honor of the latter.
"Truman could not allow enormous sacrifices that would have been unequivocally in the operation to seize the Japanese islands."
And the atomic bombs flew on Hiroshima and Nagasaki.
"We lost too many people in Hue"
And by permission of the good guys from the command of the marines,
Tanks
and self-propelled guns turned the city into ruins.
The song is old. Oh how old. And, apparently, will sound for a very long time. But the question arises: why does it sound in Russia? Is it time to seriously think about the censorship of programs of Western production?
Let me refer to the words of a certain V.V. Putin's Last year, Krasnodar.
"I believe that reasonable requirements for advertising, media work, Internet content, print and video distribution networks should be the object of serious, increased attention of the public and lawmakers."
Well? Someone rypnulsya ran ran to perform? Unnoticed.
Of course, from the same speech, you can tear out another piece:
"I'll say right away that I have always been against any ideological censorship, it's not only limited, it kills creativity and development, it's about something else: clear rules and responsibilities, as well as priorities and principles of cultural policy."
Here is a shortfall. Censorship is needed. Or really clear rules that will regulate what can be shown on Russian channels and what is not. The American veterans of Vietnam, Korea (there is no sense to continue the list, everyone is able to do it himself), telling of their exploits in the name of democracy, we obviously have no place.