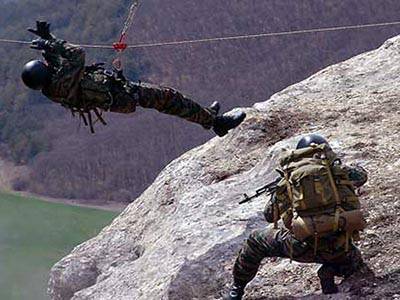 In the Mining Training Center of the intelligence units of Terskol of the Southern Military District (YuVO), trainings are held with soldiers of the motorized rifle brigade (mountain) stationed in the Karachay-Cherkess Republic.
During the month, mountain training instructors will conduct classes on the use of mountaineering equipment in overcoming mountain and water obstacles, climbing, overcoming the most dangerous areas in groups and organizing sites in the highlands.
The main emphasis in the preparation of a special unit will be focused on training in firing methods from standard weapons in the mountains. Different air density and terrain at different altitudes significantly affect the trajectory of the bullets and the accuracy of target destruction.
An important factor in the training of mountain units in overcoming the rocks is physical and special training, movement skills with a raid backpack weighing from 16 to 25 kg on the slopes of various steepness, covered with stones, ice and snow.
At the final stage of preparation of the mining unit, a master class will be held on overcoming difficult mountain sites by experienced climbers. Among the soldiers trained in the mountain center, will be held a personal championship in mountain triathlon.