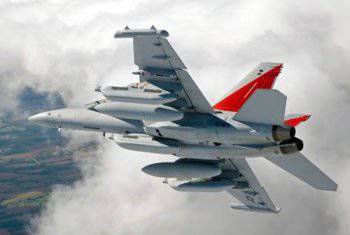 After the first flight of the prototype of the 5th generation Chinese aircraft, the US military is actively discussing options for responding to this event. How to deal with an adversary with at least equal opportunities
aviation
? One answer is to strike the weakest point of the latest generation of aircraft on their electronics.
To this end, the Pentagon is developing a new generation of electromagnetic emitters NGJ (Next Generation Jammer), which must blind the airborne radar, break the connection and even infect computers with malicious code. Supposed to be based like
weapon
will be on EW EA-18G Growler aircraft. Recently, this project became one of the top priorities for the leadership of the US Army, and in 2009, it was decided to expand the planned purchases of EA-18G instead of increasing the production of X-NUMX-generation F-5 Raptor. A few days ago, Defense Secretary Robert Gates promised to stimulate a five-year plan for the development of the NGJ, by additionally financing the program at the expense of funds released as a result of a reduction in command personnel.
Currently, NGJ is designing four development teams from Northrop Grumman, BAE Systems, Raytheon and ITT. After the first stages in the US Navy, they intend to select the best contractor from these candidates. In total, billions of dollars will be spent on the new "jammer", and ideally it will be a modular, adaptable and customizable platform in a wide range, which can be placed not only on the EA-18G Growler, but also on other aircraft, including the fifth generations - and future.
The primary goal of the entire program is a large-scale replacement in the US Navy of obsolete EA-6B Prowler electronic warfare aircraft, which are already in use with 1971. But this is only the beginning. According to a Pentagon spokesman, "The electronic systems of attack, and the whole concept of electronic warfare over the past years, have changed radically. Once they aimed, first of all, at ground-based air defense systems. But if you create a system capable of operating in a wide range of frequencies and at sufficient power, you can use it in other roles. " For example, you can block the detonation of remotely controlled shells, bombs and mines.
You can inject malicious code into the enemy's command systems (the Israelis first carried out such an attack, attacking a potential proving ground for Syria to develop nuclear weapons). And in this way it is possible to disrupt the work not only of the army itself, but also of production and energy centers.