Following the message that a NATO transit point might appear in Ulyanovsk, a stormy discussion of this topic began in Russia. However last
news of Ulyanovsk
they say that the transshipment point, which was positioned as a point of transportation of so-called non-lethal goods, in this city did not work as fully. The Americans decided to use other routes for non-lethal and lethal cargoes.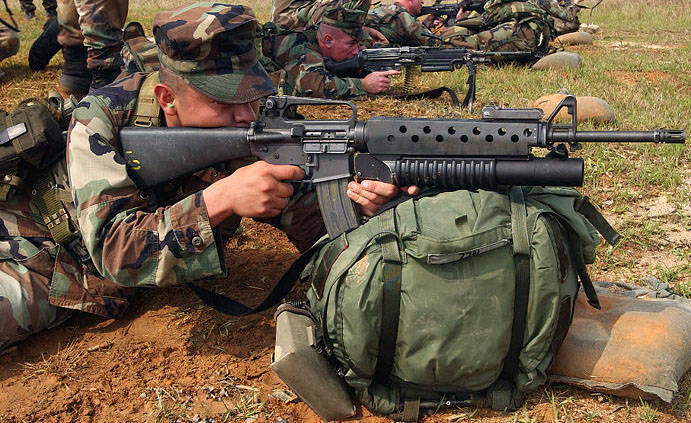 Today, small batches from Afghanistan are being shipped
weapon
at the same time, on a considerable scale, the United States plans to leave it on the territory of Afghanistan. One of the weapons that the US is going to hand over to the Afghan army is the M203 grenade launchers.
The M203 grenade launcher can turn a standard assault rifle into a multi-purpose weapon. The M203 is an 40-mm grenade launcher originally developed by 1967, which attaches to several different assault rifles, including the M16 and M4 karabiner weapons. When a grenade launcher is attached to an assault rifle, such a weapon is immediately recognized as the M203. As a rule, the grenade launcher is attached under the gun barrel. The grenade launcher trigger is in front of the rifle shop. The M203 grenade launcher is available as a standalone weapon and is used separately by some military.
The M203 grenade launcher fires one shot. The weapon is designed to destroy armored doors, windows, bunkers and some light armored vehicles. If we talk about the troops of the United States of America, the M203 grenade launcher is used by US forces around the world. The Canadian armed forces are attaching a grenade launcher to a C7 rifle.
В stories Vietnam
The M203 grenade launcher has been used by American soldiers since the 1960s. The United States military introduced M203 during the Vietnam conflict and used it in place of the outdated M79 grenade launcher. M203 was considered an improved version of older models, because its installation allowed soldiers to switch between using a rifle and a grenade launcher.
The US military now wants to replace the M203 grenade launcher with a new model, known as the M320. This new grenade launcher has an updated look, side loading and dual trigger.
Queues and accessories
The M203 grenade launcher has a number of accessories, including a laser sight. The grenade launcher can shoot a total of ten different bursts. Different queues contain explosives to kill groups of enemy fighters, the white star of the cluster is used to illuminate battles and enemy targets, and a spongy grenade, which is not lethal, is used to control the crowd.