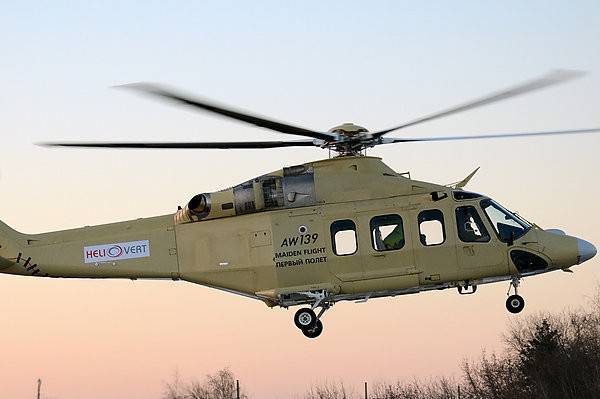 The Russian Helicopters holding company and the Italian company AgustaWestland will conclude an agreement on the development and promotion of a joint 2,5-ton light helicopter at the upcoming Moscow 2013 aerospace show, reports 14 August in aviationweek.com.
Both companies will sign the main documents related to the development and their own shares in the new project, said Dmitry Petrov, Director General of the Russian Helicopters holding company, speaking to reporters in Moscow on August 13. The conclusion of the agreement will take place at the end of this year.
The program was announced in 2012 at the International Exhibition in Farnborough (Great Britain), but then both sides remained silent. Petrov said the new helicopter will be certified by the European Agency
aviation
security by the end of 2016. He also said that an engineering model of the machine was built, but did not provide detailed information about the design and configuration of a promising helicopter.
Helicopters of Russia and AgustaWestland created a HeliVert joint venture in Tomilino near Moscow, where the final assembly of the AW139 medium helicopter was organized. The first co-production helicopter (top photo) took off in January 2012 of the year.
Gas turbine single-engine light-class helicopters have long been in demand in Russia. The Helicopters of Russia holding company is making efforts to promote Western helicopters of this class in the domestic market. Light helicopter Eurocopter AS350 Ecureuil won a significant share of the market of the post-Soviet Commonwealth of Independent States (CIS), also offered for use by the Russian Air Force as a light training machine (bottom photo - negotiations were held on the supply of 200 machines of this type as training and connected ones). "). Other foreign manufacturers, in particular, the American company Bell, are showing interest in this market for light single-engine helicopters.